We are close to two decades into the new millennium era and Indian cricket has changed drastically since 1975 when India played its first ever ODI match. ODIs have evolved a lot ever since. The then 60 over format, has witnessed a lot of changes right from overs limited to 50 now, 1 new ball from each end, fielding restrictions etc. With the advent of the youngest cricketing format - T20s, the game has been more progressive and unique.
However, regardless of the format, Indian cricket has seen a lot of great players come and go. These players have reformed the game completely and etched their names in golden words. Here's an honest attempt at an otherwise arduous task of choosing the all-time greatest XI of Indian Cricket for ODI format.
This team comprises of 5 batsmen, 1 wicket-keeper, 1 all rounder, 1 spinner and 3 seamers. Alongside being a well-balanced team, another quick thing to notice is the versatility of the players and their ability to play on any condition.
The Openers - Sachin Tendulkar and Virender Sehwag
Virender Sehwag - One of the most destructive batsmen of his era. He is regarded as the most fearless batsman and also one of the most feared one. The second batsman to score a double hundred after the god himself. He has a whopping strike rate of more than 104 which was unheard of in his era. With his exceptional hand-eye coordination and the philosophy of relentlessly hitting the ball to reach for boundaries, he used to destroy the opposition.
Mats: 251 Runs:8273 Ave:35.05 Strike-Rate:104.33 HS:219 100s:15 50s:38
Sachin Tendulkar - Needless to say, the master blaster. Most runs in ODIs(18426), most 100s in ODIs(49), most 50s in ODIs(96), the maximum number of Man of the Series(15) and Man of the Match awards(62) are only a few of his feats to be accounted for. One of the best ODI player to have ever played the game. The first ever batsman to reach 200 was the god of cricket himself, as called by fans lovingly. Averaged almost 45 after playing more than 450 games with an even better number of more than 48 when he opened the innings. His leg spin gave him 154 wickets which included 2 five-wicket hauls, more than what was achieved by the great leg-spinner Shane Warne.
Mats:463 Runs:18426 Ave:44.83 StrikeRate:86.23 HS:200* 100s:49 50s:96
The duo has 4387 runs to its name when opened together which is #4 in the list of the highest runs for any opening pair with Ganguly and Sachin topping the list. My choice of Sehwag here is owing to his destructive abilities to take India off to a flying start. Who can ever forget the India Pakistan match of 2003 World Cup? Pakistan had given India a daunting total of 274 to chase and these two made a mockery of the great Pakistani attack of Waqar Younis, Shoaib Akhtar and Wasim Akram. India reached 50 in just 5 overs which eventually made chasing very comfortable.
God of the Offside - Ganguly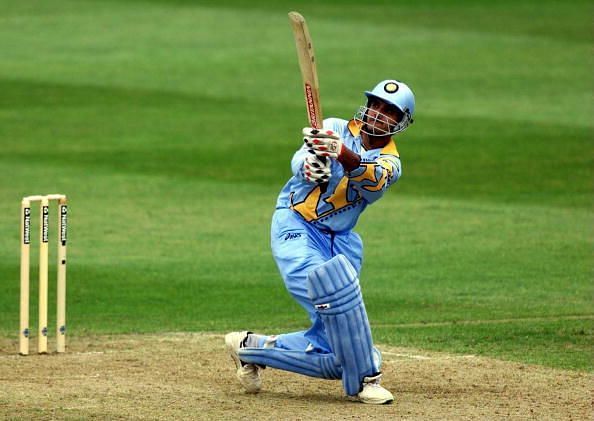 Sourav Ganguly - Dada, as we all know him lovingly, famous for his jersey waving in retaliation to Flintoff's similar celebration in India, is one of the best Captain Indian team has had. He had the right aggression that changed the Indian Cricket and it was under this man's captaincy that India started winning overseas. He should be duly credited for (up)bringing many players, Sehwag, Yuvraj, Harbhajan, Zaheer, MS Dhoni to name a few. He was the one who sent Dhoni at #3 in the ODIs and he eventually took to scoring 148. And this goes without saying, we all know what happened after.
When he started opening with Sachin they formed one of the most destructive opening pairs in the history. He is the second highest scorer in ODIs for India after Sachin. He used to destroy the spinners with his ability to hit gigantic sixes.
Mats:311 Runs:11363 Ave:41.02 Strike-Rate:73.70 HS:183 100s:22 50s:72
The Middle Order - Virat Kohli, Yuvraj Singh and MS Dhoni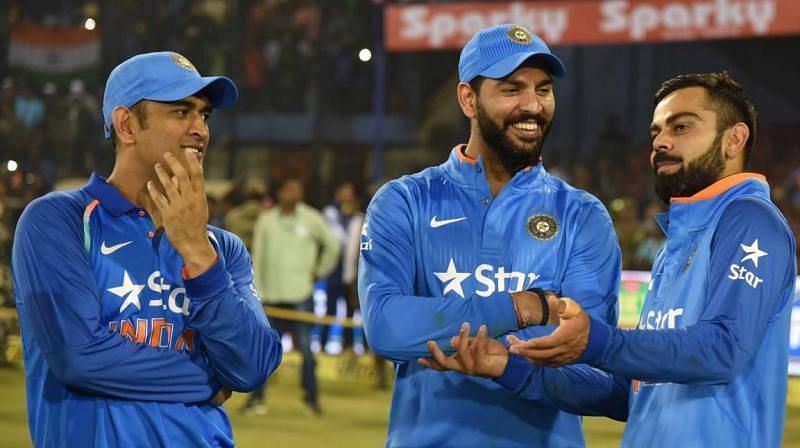 Virat Kohli - The chasing master. One of the best players in the current era. With already 35 hundreds to his name in ODIs, he has already scored close to 10 thousand runs at an astonishing average of 58 which is pretty unheard of. With the way he is batting, it looks like he will break many existing records and establish a new reign in Indian Cricketing history.
Mats:211 Runs:9779 Ave:58.20 Strike-Rate:91.12 HS:183 100s:35 50s:48
Yuvraj - Man of the Series in 2011 World Cup. His brilliant performance in the WorldCup tournament despite being diagnosed from cancer is an inspiration in itself. He has played many match winning knocks for India in the past. In his debut match for India, he thrashed the Aussies all around the park. Not to forget the iconic Natwest Trophy final of 2002 in which he and Kaif steered India towards victory. He could roll his arm over and his exemplary fielding skills is an added asset.
Mats:304 Runs:8701 Ave:36.55 Strike-Rate:87.67 HS:150 100s:14 50s:52
MS Dhoni - The best wicketkeeper-batsman India has ever produced and one of the best in the world. He has scored over 10 thousand, considering that he has batted at #5 or #6 in most of his career, is an astonishing fact. He has taken 300 catches which makes him #4 in the list after Gilchrist, Boucher and Sangakkara. One of the fastest behind the stumps, he has 107 stumpings to his name which is highest for any player. Known for his unconventional style, be it the helicopter shot or his exceptional run out skills, he is one of the sharpest minds to have played cricket ever and his analytical acumen is appreciable. Needless to mention, his winning six in the World Cup'11 final which made India lift the cup for the second time after 28 years.
Mats:311 Runs:10046 Ave:51.25 Strike-Rate:88.13 HS:183* 100s:10 50s:67
Allrounder - Kapil Dev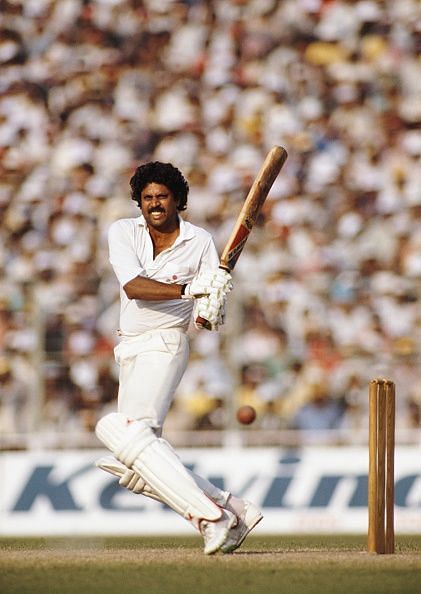 Kapil Dev - His iconic knock in 1983 World Cup which eventually led to India lifting the cup for the first time. India was 17/5 at one stage and then charged down the captain himself, destroying the Zimbabwe bowling attack completely. He scored 175* in 138 balls which was the highest score in ODIs at that time. Although he doesn't have a great ODI record as ODIs were not played very frequently then as they are now, but he'll be the all-rounder in my team as he can also play the role of the finisher if needed.
Mats:225 Runs:3783 Ave:23.79 Strike-Rate:95.07 HS:175* 100s:1 50s:14 Wickets:253
The Bowlers - Anil Kumble, Javagal Srinath, Zaheer Khan, Ajit Agarkar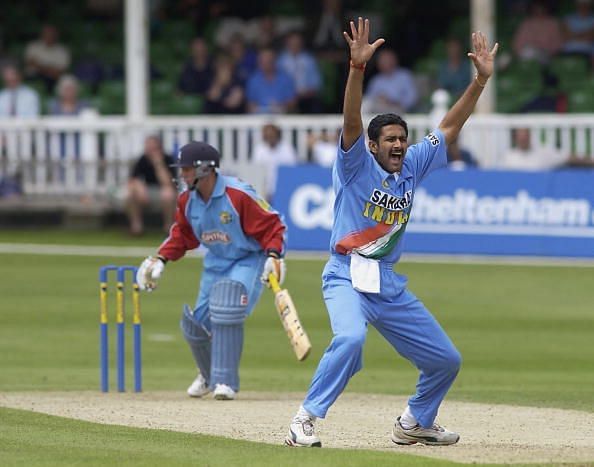 Anil 'Jumbo' Kumble - An unorthodox spinner, who didn't turn the ball much and perhaps India's greatest ever spinner. He took 337 wickets which is #9 on the list of most ODI wickets, highest for an Indian. He also had the best bowling figure for an Indian player when he took 6 wickets for 12 runs at Eden Gardens against West Indies before Stuart Binny took 6/4 against Bangladesh in 2014.
Javagal Srinath - One of the fastest bowlers to have represented India at an international level. He could have achieved a lot more if it weren't for combating several injuries right through his playing days. He took 315 wickets in ODIs which is #11 in the list of most ODI wickets, second highest for an Indian after Kumble and highest for an Indian seamer. One of the quickest seamer of his time. At his best, he was scary - occasionally used to hit in excess of 150 kmph, something that was unheard of in those days.
Zaheer Khan - Arguably the best left-arm fast bowler to have emerged from the Indian soil. With his expertise in reverse swinging (even with the old white ball), Zaheer Khan was a master on subcontinent pitches. An absolute treat to watch in overseas conditions when he could get the new ball to talk. Without a doubt, he is one of the greatest assets of Indian cricket. He eventually ended up being one of the greatest new-ball bowlers of all time (particularly to left-handers). He was the spearhead of the Indian bowling unit in the 2011 WorldCup. He took 282 wickets in ODIs, third highest for any Indian seamer after Ajit Agarkar and Javagal Srinath. Also, who can forget the time when he clubbed Henry Olanga for four successive sixes in the last over of the inning
Ajit Agarkar - Took 288 wickets in just 191 matches at an average of 27.85. He was the fastest bowler ever to take 50 ODI wickets – in 23 matches. He broke the 26-year-old record of Dennis Lillee (Australia) who had done it in 24 matches which was eventually broken by Ajantha Mendis. Additionally, he is the fastest Indian to take 150, 200 and 250 ODI wickets. Not to forget he holds the record for the fastest half-century by an Indian in ODIs. He smashed a half-century in just 21 balls against Zimbabwe at Rajkot in December 2000. After 191 ODIs only 2 other bowlers had more wickets than Agarkar's 288 – Brett Lee (334) and Waqar Younis (307).
The Captain - Ganguly
When you look at the XI you will find a lot of captains in it, two of them even lifted the world cup - Kapil Dev in 1983 and MS Dhoni in 2011. But I will resort to making DADA as the captain because of his ability to galvanise a side. He might not have the best stats as a captain but he changed the image of the Indian cricket when it was going through a difficult phase.
He forged a winning unit from a bunch of talented, but directionless individuals. Also, being a 90s kid I grew up watching a lot of cricket when he was the captain, so there might be a slight bias too. If you carefully analyse the XI, you'll find Sachin, Ganguly, Sehwag and Yuvraj who can also bowl and give you the right overs when needed. This will help in providing a right balance to the squad.
Honourable Mentions
There have been many great players who have played for India and are currently playing and have done India proud which couldn't make it to this XI. To name a few Rahul Dravid, Mohammad Azharuddin, Gautam Gambhir, Harbhajan Singh, K Srikkanth, Sunil Gavaskar, Ravi Shastri etc.
Edited by Vignesh Ananthasubramanian