Latest study indicates Don Bradman's average was 109.42; Sachin not the greatest
9.28K //
14 Oct 2017, 01:01 IST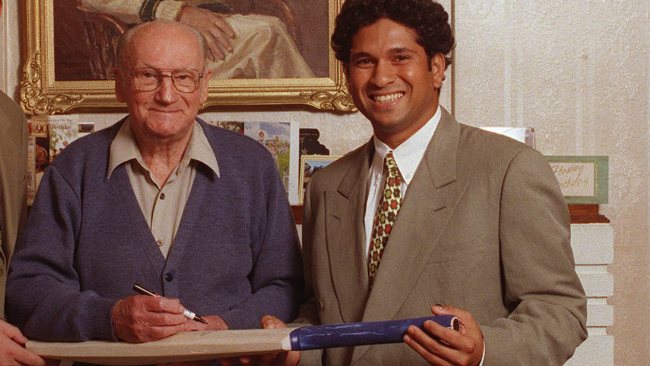 What's the story?
The Sachin Tendulkar-Sir Don Bradman debate is one that has raged on for years with no definitive answer being reached. That debate now seems to have taken an almighty twist following studies conducted by the Indian Institute of Management Calcutta (IIM-C).
According to the Business Standard, the institute decided to try and solve the answer of who the better player was once and for all with a new methodology, taking into account batting performances in various conditions, quality of opposition etc. The study yielded some rather surprising results.
In case you didn't know...
Sachin and Bradman are by far the two greatest batsmen of all time. While many experts have tried to zone in on one name, it has proven to be extremely difficult simply because of the fact that the two players played in generations so far apart. Bradman ended his career with an astonishing average of 99.94, while Sachin broke numerous records and is currently the only player to have scored 100 international centuries.
The heart of the matter
The research paper published by the IIM-C, named 'Measuring batting consistency and comparing batting legends in Test cricket: Innovative applications of statistical tools' takes into consideration various aspects of a player's performance.
"Our study analyses batsmen's performance in terms of five criteria, namely batting average, consistency or dependability, longevity, quality of runs scored and opposition diversity," Sahadeb Sarkar, one of the faculty members, told Business Standard.
"Traditional methods of calculating a player's batting average require assumptions that may not often be justified. Furthermore, a measure of batting consistency of a player is generally not provided, for example, by ICC or ESPN Cricinfo. Our work successfully addresses both of these issues using the Weibull distribution model for a select group of Test batsmen. It provides a reliable estimate of batting consistency which is statistically more rigorous than what is available in the existing literature. Batting average values produced by our statistically more rigorous method are different from those provided by the traditional method," he went on to add.
The results they arrived at were rather surprising. According to their findings, Bradman's average was not 99.94 but instead, a whopping 109.42, after taking into account the factors mentioned above. This in itself should be enough evidence to prove that there was and never will be anyone in his league.
Moreover, the studies also proved that while Bradman churned out runs more prolifically than Sachin, it was the Little Master who was more consistent against a variety of opposition. However, it confirmed that Bradman was indeed the better player overall.
Furthermore, it was concluded that Viv Richards' performance index was less than 1, indicating that his actual average when adjusted for quality of opposition and conditions, is less than the 50.23 and 47 he finished with, in Tests and ODIs respectively.
What's next?
This methodology is expected to be used on players of the current era as well, players who have played more than 50 innings, according to Sarkar.
Author's take
It is not advisable to compare players of different eras simply because of the circumstances in which they played their cricket. The different strengths of opposition, nature of pitches, longevity etc. make it an arduous task indeed. While the IIMC seems to have found a way to incorporate all these factors and arrive at a definite conclusion, it is still not all black and white and fans should not read too much into the findings.