Aakash Chopra has highlighted that Team India persist with KL Rahul because of the flexibility he provides and his consistency across formats.
Rahul has been away from competitive cricket since undergoing surgery on a thigh injury sustained in IPL 2023. He has been picked in India's provisional 15-member squad for the upcoming World Cup despite not proving his fitness and form on the international stage.
In a video shared on his YouTube channel, Chopra pointed out that the Indian team management is always keen to have Rahul in the side because he provides more flexibility than even the likes of Rohit Sharma and Virat Kohli. He explained:
"It has been a topic of intense debate that why KL Rahul all the time - why does the Indian team remain so interested? Although he is an opener, he is among the very few versatile cricketers who can bat in other positions and are equally adept."
The former Indian opener added:
"You can take it with a pinch of salt, if you may, you will not ask Rohit Sharma to play at No. 5. You have less expectation of Virat Kohli performing very well at No. 5. Although both of them have done it in the past, now the best of them is at the top."
Rahul has amassed 1986 runs at an average of 45.13 and a strike rate of 86.57 in 52 ODI innings. He has an even better record at No. 5, having smashed 742 runs at an average of 53.00 and a strike rate of 99.33 in his 18 hits at the position.
---
"You are slightly 50-50 in playing Ishan Kishan as well at No. 5" - Aakash Chopra on why KL Rahul might be preferred at the position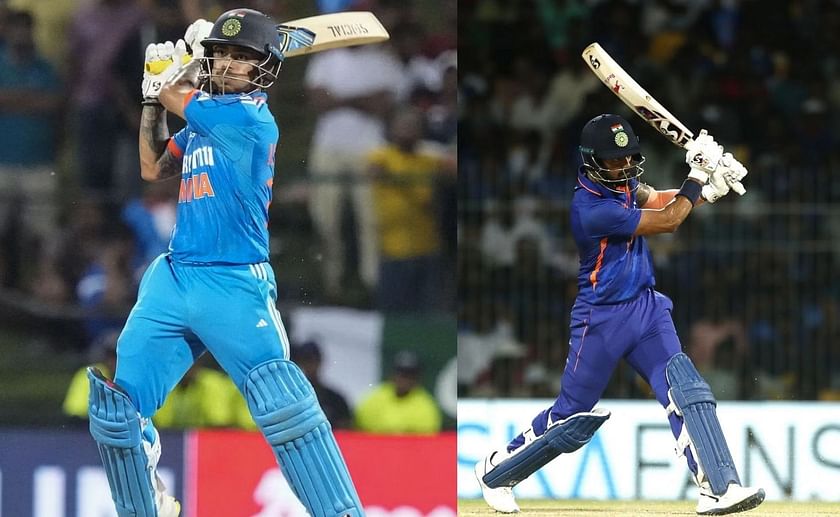 Aakash Chopra added that the Men in Blue are not fully confident of batting Ishan Kishan at No. 5. He reasoned:
"You won't ask Shubman Gill to play at No. 5. In fact, you are slightly 50-50 in playing Ishan Kishan as well at No. 5 because he won't get to bat in the first 10 overs every time and what will happen if spin comes straightaway at the start. What happens if the pitch is slightly slow? So those questions are still on your mind."
The renowned commentator highlighted that the Karnataka player has also excelled across formats. He observed:
"If you see from the Indian team's perspective, there are five players who have hit centuries in all three formats, which includes Shubman Gill, Rohit Sharma, Virat Kohli, Suresh Raina and KL Rahul. So KL Rahul is a player who has done well in all formats."
Chopra added that both Rohit Sharma and Rahul Dravid, as was the case with Virat Kohli earlier, understand KL Rahul's importance to India. He concluded by observing that it won't be a big deal if he is seen playing in the XI ahead of Kishan because he is probably a slightly better option at No. 5.
Poll : Is KL Rahul the most versatile batter in the Indian squad?
55 votes