| | |
| --- | --- |
| Full Name | Ishan Pranav Kumar Pandey Kishan |
| Date of Birth | July 18, 1998 |
| Age | 24 Years |
| Nationality | Indian |
| Birth Place | Patna |
| Height | 5 ft 6 in (1.68 m) |
| Current Team(s) | |
| Role | Batsman/Left-Handed, Wicket-keeper, Left-arm medium pace Bowler |
| Batting Style | Left hand Bat |
| Bowling Style | - |
| Debut | March 14, 2021 |
| Jersey No. | 32 |
| Family | Pranav Pandey (Father), Raj Kishan (Brother), Suchitra Singh (Mother) |
| Game Type | Mat | Inn | R | BF | NO | Avg | S/R | 100s | 50s | H | 4s | 6s | Ct | St |
| --- | --- | --- | --- | --- | --- | --- | --- | --- | --- | --- | --- | --- | --- | --- |
| ODIs | 27 | 24 | 933 | 913 | 2 | 42.40 | 102.19 | 1 | 7 | 210 | 95 | 33 | 13 | 2 |
| TESTs | 2 | 3 | 78 | 91 | 2 | 78.00 | 85.71 | 0 | 1 | 52 | 8 | 2 | 5 | 0 |
| T20Is | 31 | 29 | 686 | 564 | 1 | 24.50 | 121.63 | 0 | 4 | 89 | 74 | 27 | 12 | 3 |
| T20s | 169 | 161 | 4325 | 3306 | 10 | 28.64 | 130.82 | 3 | 24 | 113 | 428 | 187 | 90 | 14 |
| LISTAs | 104 | 98 | 3482 | 3691 | 7 | 38.26 | 94.33 | 5 | 19 | 210 | 342 | 117 | 101 | 11 |
| FIRSTCLASS | 50 | 85 | 3063 | 4423 | 7 | 39.26 | 69.25 | 6 | 17 | 273 | 369 | 69 | 104 | 11 |
| Game Type | Mat | Inn | O | R | W | Avg | E/R | Best | 5w | 10w |
| --- | --- | --- | --- | --- | --- | --- | --- | --- | --- | --- |
| ODIs | 27 | 0 | 0 | 0 | 0 | 0 | 0 | 0 | 0 | 0 |
| TESTs | 2 | 0 | 0 | 0 | 0 | 0 | 0 | 0 | 0 | 0 |
| T20Is | 31 | 0 | 0 | 0 | 0 | 0 | 0 | 0 | 0 | 0 |
| T20s | 169 | 0 | 0 | 0 | 0 | 0 | 0 | 0 | 0 | 0 |
| LISTAs | 104 | 0 | 0 | 0 | 0 | 0 | 0 | 0 | 0 | 0 |
| FIRSTCLASS | 50 | 2 | 5 | 19 | 0 | 0 | 3.80 | 0 | 0 | 0 |
Ishan Kishan: A Brief Biography
Ishan Kishan is a prodigious talent coming from the state of Jharkhand that has given Indian cricket a giant in the name of MS Dhoni. With his fearless approach toward batting, Ishan can take on any good opposition bowling attack and is considered one of the most destructive young batters in Indian cricket. The youngster first came into the limelight when he was named the captain of the India U19 during the 2016 ICC U19 World Cup in Bangladesh. India reached the final but lost to West Indies.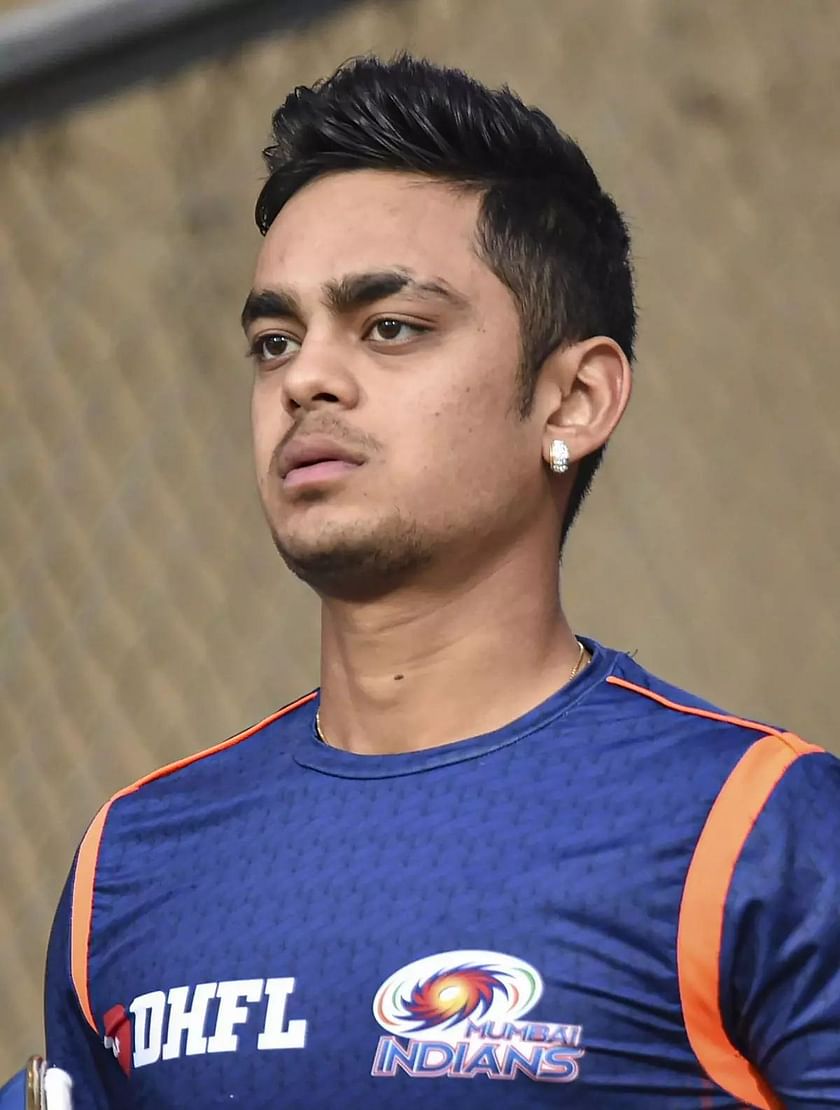 Ishan Kishan - Along the Years
| | | |
| --- | --- | --- |
| Year | Age | Achievement |
| 2014 | 15 | Made List A debut for Jharkhand |
| 2014 | 16 | Made FC debut for Jharkhand |
| 2016 | 17 | Named India Captain for the 2016 U19 World Cup |
| 2016 | 17 | Picked by Gujarat Lions in IPL 2016 auction |
| 2018 | 19 | Picked by Mumbai Indians in IPL 2018 auction |
| 2021 | 22 | Scored Fifty on T20I debut |
| 2021 | 23 | Scored Fifty on ODI debut |
| 2021 | 23 | Named in India's 2021 T20 World Cup Squad |
| 2022 | 23 | Most Expensive Player of IPL 2022 Auction |
| 2022 | 24 | Scored Fastest Double-Century in ODIs |
Career
Domestic Career
Kishan made his first-class debut in December 2014 for Jharkhand. He first caught the selectors' eye when featuring in his debut Ranji season, scoring a hundred and 5 fifties in 2014. Ishan scored a 69-ball 87 against Saurashtra in the 2015 Ranji Trophy.
Perhaps his performance in the domestic arena came on 6 November 2016 when Ishan Kishan scored 273 runs against Delhi in the 2016–17 Ranji Trophy. This was the highest score by a player for Jharkhand in the Ranji Trophy. He was the leading run-scorer for Jharkhand in the 2018–19 Vijay Hazare Trophy, with 405 runs in nine matches.
Kishan slammed his sixth first-class century against Kerala during a group fixture in the 2022/23 Ranji Trophy season. He scored 132 to push his side's score past 300 in the first innings. Jharkhand qualified for the quarter-final in that season but Ishan wasn't available to play owing to national commitments.
Under-19 Career
Kishan's first claim to fame came in 2016 when he was picked to lead the India under-19s for the u-19 World Cup held in Dhaka. Despite a lean run with the bat (73 runs in six innings), in a tournament where Rishabh Pant lit up the scoring charts, he took India to the finals and eventually finished as the runner-up. Kishan drew praise from several quarters for his intelligent captaincy skills.
Ishan Kishan IPL Career
Ishan Kishan was first bought by Gujarat Lions in 2016 after he led India at the Under-19 World Cup in 2016 in Bangladesh, where his team finished runners-up to West Indies. He was bought for Rs 35 lakhs by the now-defunct franchise. Across two seasons, the Jharkhand wicket-keeper played 16 games and scored only 319 runs.
In 2018, he was bought for a whopping INR 5.5 crore by Mumbai Indians. Ishan played 14 games in his first season for MI and managed 275 runs from his blade. With the availability of South African wicketkeeper Quinton de Kock in MI's squad for IPL 2019, Ishan got just seven matches to play and didn't fair well enough with the bat, scoring just 101 runs at 16.83. However, the wicketkeeper-batter got his breakthrough in IPL 2020 when the tournament was moved to the UAE amid the Covid-19 pandemic situation in India.
Kishan scored 516 runs in 13 innings at a strike rate of 145.76, including four half-centuries, to finish MI's leading run-scorer in their title-defending campaign. He missed his maiden IPL century by just a run against RCB as his valiant innings forced the game to be decided in the Super Over.
Kishan was released by the five-time IPL champions ahead of the mega auction in 2022. Mumbai Indians splurged INR 15.25 crore in the 2022 IPL auction to retain the services of the Jharkhand wicketkeeper-batter and made him the most expensive player that year. Kishan scored 418 runs in Mumbai Indians' dismal season in IPL 2022 where they finished at the bottom of the points table for the first team.
Ishan Kishan International Career
On the back of a magnificent IPL 2020 season, Ishan Kishan earned his maiden India call for the five-match T20I series against England in March 2021. He scored 56 off 32 balls on his debut in the second T20I. He played just a couple of games in the series.
Kishan was named in India's second-string squad for the Sri Lanka tour in July 2021. He made his ODI debut in Colombo and scored 59 as India won by seven wickets in the first ODI. He was dismissed for just one run in the second match and later was benched for the final game even though India had sealed the series with an unassailable 2-0 lead.
Kishan was part of the Virat Kohli-led Indian team in the 2021 T20 World Cup in the UAE. He missed the first game against Pakistan but in a surprising move opened the innings along with KL Rahul against New Zealand in Dubai, where he made just four runs off eight balls. It was the only game Ishan featured in that showpiece event.
In February 2022, Kishan scored 89 runs in 56 balls against Sri Lanka in the first T20I of the three-match series and was awarded Player of the Match for his spectacular performance. Four months later he smashed 76 in 48 balls versus South Africa in the first T20I in Delhi. He ended up with 206 runs in five innings at a strike rate of 150.36 to finish as the highest run-scorer in the series.
With the likes of Dinesh Karthik and Rishabh Pant in the mix of the shortest format, Ishan didn't get enough T20I matches to play in the build-up to the T20 World Cup 2022. As a result, Ishan wasn't considered in India's squad and was slotted into the ODI teams in the meantime. In October 2022, scored 93 off 84 balls in the second ODI against South Africa at his home ground in Ranchi.
Kishan was involved in a 161-run partnership with Shreyas Iyer as India chased 282 with 25 balls to spare to level the series 1-1. Ishan was part of India's ODI squad for the Bangladesh tour in December 2022. He didn't play the first two matches only to be named Rohit Sharma's replacement in the playing XI in Chattogram.
While opening the innings alongside Shikhar Dhawan, Ishan blazed 210 runs in 131 balls with the help of 24 fours and 10 sixes. The youngster from Jharkhand broke Chris Gayle's record to slam the fastest double-century in ODIs. Kishan took just 126 balls to attain the milestone while Gayle made his double-ton against Zimbabwe in 138 deliveries.
Background
Ishan Kishan was born on the 18th of July 1998 in Patna, Bihar to Pranav Kumar Pandey and Suchitra Singh. Kishan's father Pranav Kumar Pandey is a builder by profession. Ishan's brother Raj Kishan supported him in pursuing cricket as a career. Due to a registration issue between Bihar Cricket Association and the BCCI, Ishan started playing for the neighboring state Jharkhand based on advice from a senior player and friend. Hailing from the same city as Mahendra Singh Dhoni, Ishan always draws a comparison with his senior. He was coached by Uttam Majumdar during his childhood days.
As of March 2023, Ishan Kishan has played 14 ODI matches since making debut on July 18 2021.
Ishan Kishan's highest IPL score is 99 which was scored against Royal Challengers Bangalore (RCB) in IPL 2020 at the Dubai International Cricket Stadium.
Ishan Kishan will play for Mumbai Indians in IPL 2023 which will also be his sixth season in a row for the five-time IPL champions.
Mumbai Indians bought Ishan Kishan for a whopping amount of INR 15.25 crore in the mega auction of IPL 2022. He became the most expensive player of that season. Before that Gujarat Lions had bought Ishan Kishan for INR 35 lakhs, his base price, to give him an entry into the cash-rich league.
Ishan Kishan has made his presence in India's white-ball format albeit not a regular. However, he isn't considered as the first-choice wicketkeeper in the red-ball format because of the flamboyance of his U19 teammate Rishabh Pant. Ishan was named in India's Test squad for the Border Gavaskar Trophy 2023 against Australia but was overlooked in the playing XI in the presence of Andhra Pradesh player Srikar Bharat.