Pujara is classical, wonderful: English legend Ted Dexter
804 //
03 Dec 2012, 21:37 IST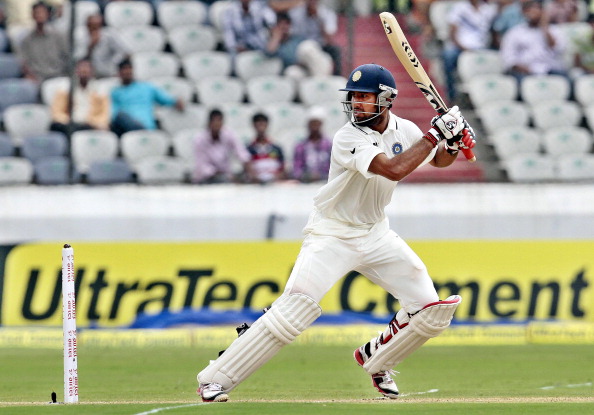 Kolkata - English cricketing great Ted Dexter just cannot stop admiring India's new Mr. Consistent Cheteshwar Pujara. He describes the 24-year-old right-hander as "classical" and "one of the "most correct players" he has seen for a long time.
"Pujara is wonderful, classical and one of the most correct players I have seen for a long, long time," the ex-England captain said in an interview to IANS.
The Rajkot-born Pujara authored back-to-back centuries in the first two Test matches of the current home series against England, earning plaudits from cricketing experts and drawing comparison with Mr. Cool Rahul Dravid.
Dexter, who is in the city at the invitation of the Cricket Association of Bengal, said a few years back in a newspaper article that he had predicted problems for Indian skipper M.S. Dhoni as careers of veterans Dravid, V.V.S. Laxman and Sachin Tendulkar were nearing their end.
"Though Dravid and Laxman have already called time, India have got the likes of Pujara and Virat Kohli," said Dexter, whose aggressive batting was a big draw among the crowd during his 10-year international career beginning 1958.
Kohli, to Dexter, is a "wonderful strokeplayer".
But at the same time, the 77-year-old cautioned the talented youngster about his impatience. "Sometimes it happens with the strokeplayers, they get a little impatient.".
Dexter, known in his playing days for dominating the fastest of bowlers with raw fire power, doffed his hat to another scintillating Indian willower Virender Sehwag.
Asked whether his style had some similarity with the Najafgarh man, Dexter said: "No, I can't match him. He is fantastic".
"But it's true, during my time, I did try to dominate the bowling. That was my mission. I am amused nowadays when I hear commentators talking about a new batsman on the ground as one who is going out to face the music from fast bowlers. I would rather make these fast bowlers face my music."
Dexter, who got 4,502 runs from 62 Test matches at an average of 47.89, also praised batting maestro Sachin Tendulkar.
"He is so steady, so controlled. It's a pleasure to watch him bat. He has his own style, and the way he times the ball, punches the ball without any big movement, that's awesome."
However, Dexter nixed in the bud any comparison of any of the modern greats like Tendulkar with Australian legend Don Bradman.
"Nobody can ever be compared with Don. Even a schoolboy knows that."
Dexter and 78-year-old former Indian cricketer Nari Contractor, the oldest surviving former captains of their respective sides, have been invited by the CAB as part of its commemoration of 80 years of India as a Test playing nation and India-England Test cricket.
The duo will be felicitated at the Eden Gardens here on Tuesday, before being taken round the park in golf carts on the opening day of the coming Test match.
Turning to the ongoing series, now tied 1-1 after two Tests, Dexter said: "It is evenly poised. The English may look more confident, even to know they are capable of coming from behind like the way they have. But Indians are one of the best teams in the world."
Lauding English skipper Alistair Cook and another leading bat Kevin Pietersen, he said: "It needed a very very positive response to play the Indian spinners. I don't think the Indian spin attack is weak. But in Mumbai, Cook and Pietersen… they just didn't allow them to bowl well."