Stuck in transition - What next for Australian cricket?
1.20K //
14 Mar 2013, 23:41 IST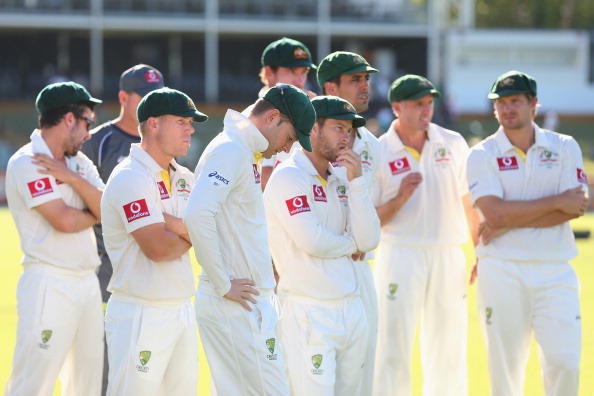 This is perhaps one of the bleakest periods in the history of Australian cricket. They have been reduced to cluelessness and haphazardness, two aspects that they are not familiar with. And to top it all, their dirty laundry is being aired in front of the world – adding more misery to the already mounting heap of insults swinging their way.
This ill-run plaguing Australia at the international level, while expected by many considering the relative lack of expertise available to them, can also be perceived as a causality of their own doing. The long run of success, uninterrupted at every major tournament, while proved the might and capabilities of the Australian cricketers, it also hid the fact that they were probably operating on a continuum. A state where everything was going right for them – the right blend of players, the right kind of talent pool and most importantly, a like-minded attitude that was prevalent among the players.
Fables have been written about that last facet, peculiar to the Aussies. And not just to the cricketers. Like a dogma religiously followed and preached, the mentality of Australian sportspersons has often been quoted to be the differentiating factor between them and sporting professionals from other countries. They play hard each time they come out to play and play hard to win.
And while the Australian team of the past had this in plenty, the colossal wave of success they were riding on failed to provide them with the foresight that a change of guard would be due, sooner or later. When such an eventuality happened, if none of the old guards were there to shed a mentoring light, the newer generation of Australian cricketers would be left bereft, like a log floating aimlessly in a vast, churning ocean.
Michael Clarke in his tour of India bears the brunt of this misguided ineptitude. He has to deal with a raw and un-moulded talent pool which has no idea about which foot to put forward. Against a mediocre opponent, his team has been hung and quartered – a fact that history will never allow him to forget. And more than anything else, he is left scrambling to sort out the mess that four of his teammates have left in their wake.
Change is imminent. No one can evade it, though ways and means can very well be carved out to deal with the repercussions that change will bring in its wake. And since change is a progressive occurrence, empowerment to find out these alternate measures and resources also becomes easy to choose and establish. Like a trial and error period. For Australia, though there is no more recourse available this time round. They might have the best possible coaching assistance in the world, but their lack of premeditation becomes their foil as they struggle to cope against all cricketing elements – batting, bowling and fielding, in conditions that have always troubled them in the past.
Aside from the fact that the Australians were embarking on an overseas cricketing tour with the least possible convincing bunch of cricketers, their inability to learn from their past errors while touring India – a region where tracks essentially favour spinners – also underlines their approach to this tour. After the tour ends, no matter how whether they redeem themselves or they sink to new lows, perhaps this would be yet another area for them to focus on. Especially with the Ashes scheduled for later this year.
Past Australian cricketers may still be optimistic about Australia's prognosis in the days to come, but none of the past matters in the present. None of their past records matter at this very moment, a moment which hangs quite precariously in the balance as the Australians grope to lift themselves up on their feet.
But whatever it may be, momentary inconsistency or direst of straits, it's for the Australians to find their salvation ultimately. As solely as it was up to them to not let their triumphs and accomplishments go to waste in the first place.