The culture of Indian cricket: In support of an overhaul
2.24K //
13 Dec 2012, 01:22 IST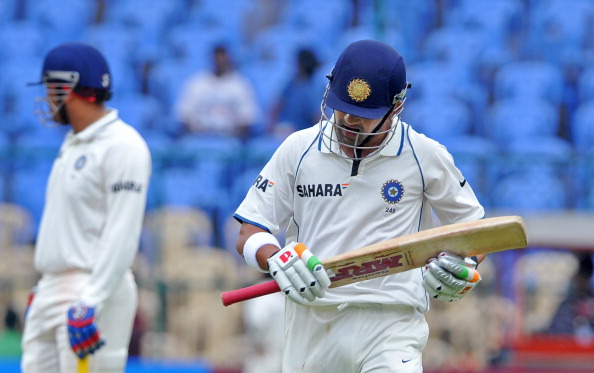 The facts are out there, and they need no explanation. India has lost 10 of their last 11 test matches against quality opposition. They have lost on flat wickets, on wickets aiding seam bowling, on those favouring spin, and on wickets that have a bit in it for everybody. Their spinners have failed them consistently, as have their batsmen and quicks. Indian cricket fans and the narrative-spinning-machine media have a turbulent love affair with the team, and at most times should be taken with a pinch of salt. Patience is often the key to weather any storm. But the facts are out there and the truth is that the Indian cricket team is simply mediocre. And mediocrity does not warrant patience. Mediocrity requires an overhaul, a jolt to the system to restore its vital capacities.
There are two types of mediocrities. One comes from a genuine lack of talent, because in the end, not even the fiercest and most competitive team can win at the international level without quality talent. The second, and far worse form of mediocrity is due to the lack of will; a functional inertia that grows and festers in an apathetic environment. At different points of time in the last two decades, the Indian cricket team has suffered from either the first (rarely) or the second (more often) form of mediocrity. Only, it now appears that they finally are fielding a squad that suffers from both.
Questioning the team's chemistry, dedication and approach to the game might seem a bit extreme. Indian sports fans, after all, are prone to overreaction. But the events of the last day or so have once again opened the can of worms that is the bureaucratic and institutional functioning of Indian cricket, and it would be an under-reaction to not overreact now. This series has thrown up precisely the low blows that often KOs Indian cricket.
Mohinder Amarnath's revelation to the media concerning the decisions made behind closed doors after the Eng/Aus debacles might be motivated, and its timing manipulated to suit some hitherto unapparent purpose. Nevertheless, that a former selector should choose this route at all (and such grenades to the press have scarcely been lacking in Indian cricket) speaks volumes of the dysfunctionality of the system and its components. And the fact is, Amarnath's right. Dhoni has no business being in this squad as a batsman. In 2011, Dhoni averaged 26 in 21 innings. Coupled with his performances this year (avg 34 in 12 innings), it becomes distinctly uncomfortable for anyone to argue that Dhoni's a better batsman that Ravi Ashwin. You cannot keep a player in the squad on past laurels alone. In Dhoni's case, being dropped might have helped him considerably. It's not a state secret that he has been overworked over the last five odd years, and some time off from the international circuit, relieved from responsibilities of captaincy might just have revived his Test career. But the institutional failings of Indian cricket would not permit that. The problem is that the BCCI is often more concerned with how things look than how they really are. It does not matter if Amarnath's revelation is motivated; it matters that the system failed him and for no discernible reason.
Another grenade today came by way of a report (sourced to an "unnamed individual in the Indian team") of Dhoni's displeasure with Gambhir's lack of concern for team success and "selfish" approach, as it were. While running with this sort of explosive news, one should do better than an 'unnamed source' (how about a confirmation from an independent source?), that doesn't take away the bitter fact that Dhoni's right. What's even more farcical is that Dhoni – if indeed this is legitimate – has to approach the BCCI in this matter. After the comical 'tiffs' between Sehwag and him, this new issue further underscores the fact that Dhoni is no longer in control of the team. A captain having to SOS the Board to get his senior batsman back on his side, is a clear indicator in this regard. A team does not win big in cricket unless its players work together, are on board with each other and function as a collective unit. Apathy or self-centeredness has a toxic effect on the rest of the team. This, the latest in a line of farces amongst the seniors, only suggests the lack of will and mediocrity of this squad.
India has a bevy of spirited cricketers on the bench, even if their techniques and seasoning for international competition may be suspect. A positive move here by the BCCI, irrespective of the result of this test match, would be to completely overhaul the team and replace its deadweight players. It does not matter if the team drops a few notches talent-wise, because at least they will have young cricketers, hungry, motivated and eager to prove themselves on the field of their dreams. Change – like Winter in Westeros – is coming, and the BCCI would be best served acting positively and creating a new environment for the next generation of cricketers. Politics, behind-doors controversies and public linen-washing have somehow become the norm, to the point that most fans meet such news with a jaded sigh and passivity.
Ajinkya Rahane, Wriddhiman Saha and the like may not have the talent of Gambhir and Dhoni, but they sure have the heart to play hard. Gambhir has averaged 31 in the last 29 innings without a century. Perhaps it is just a lean patch; nevertheless, it must be dealt with at the domestic level. Let him rest and prove his form before being selected in the Indian team. Berths on the team cannot be gifts; they must be earned year after year. To think seniority merits immediate respect is fallacious; you are only as good as your performance, just like every day is a new day in a test match, no matter what score you're on as a batsman.
Seniors in the Indian team do not merit an axing on form alone; they do because of their lack of urgency and respect for the fans watching the game. Poor performances can be explained, not shoddy attitudes. And for too long this farce has been kept up, a don't-ask-don't-tell lack of accountability between selectors and the players. Playing young players isn't just a way to prepare them for the South Africa tour, it's also a way to rejuvenate this team; bring hunger and motivation back to its performance. It does not matter if the team loses and loses often, as long as they play with heart. For a decade, Bangladeshi fans have been faithful, not because their players have been extraordinarily talented, but because they have, more often than not, played with hunger and motivation.
Virat Kohli might be outspoken, but he is spirited. He may be too young to be named test captain, but it's not as if there are any other options. Perhaps Sehwag as a short-term captain might work. But in his case too, the match-winning knocks have grown more infrequent and the duds more common. How long before we start asking for his dismissal? The ethos of the team is as important to its success as its players and Kohli can prove to be an able leader who learns with every passing match. A team without Dhoni, Gambhir and Duncan Fletcher will not be a terrible loss as long as the new team is greater than the sum of its parts. The glory of the Indian team as #1 in the rankings is long passed and now a miasmal cloud hangs over the dressing room. If ever there was a chance for the BCCI and institutions to bring about a change in culture, this is it. Less politics, less bureaucracy and less drama could considerably assist in the inevitable transition. Overhauling this team will not diminish Indian cricket. Failure to do so will.