The Little "Great" Master - Tendulkar nearing his end
908 //
12 Dec 2012, 18:36 IST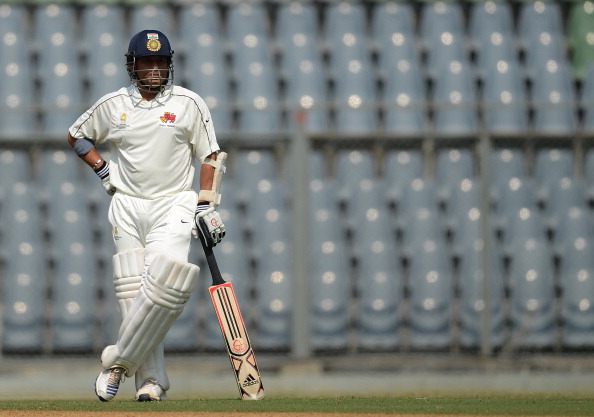 With the skeleton of the India cricket team breaking down to pieces in consecutive test matches, big changes in the team are on the cards. This team definitely needs a complete overhaul. Experts, former cricketers, fans, footballers, tennis players, movie stars and almost anyone you can think of, is calling for the heads of some players, starting with the skipper! Well, we can't really blame such souls as the performances of some players in this team has been only going downhill for quite a long time now.
But things were not so gloomy always. In fact, with the World Cup victory in 2011, the picture was very bright. Then, the IPL happened and nobody bothered to take note of where the Indian cricket was going, especially in the more conservative format of the game. The ultimate test for a cricketer is to succeed in the 5 day format. In the shorter versions (specially the 20 over format), one can hide many shortcomings and still be successful, but the longer version of the game does not forgive any such lapses, both in terms of technique and temperament. Test match cricket is not for the faint hearted, or those who feel that they can somehow 'manage' their weaknesses, and also those who are bit-part players – doing a bit of bowling, a bit of batting and a bit of fielding, but never really dominating any department.
Test cricket is for the brave hearted warriors; players who are ready to give whatever it takes, players who can go out to the centre and play through sessions, gruelling it out against the fiercest of bowlers in the most hostile conditions. To succeed in the 5 day format, one not only has to possess the talent, but also the right kind of mentality. As for the bowlers, they have to be ready to keep on bowling for sessions on end, at times on wickets that provide minimum assistance or even no assistance at all. In test cricket, one cannot hide their weaknesses; sooner or later they will be exposed. The only mantra to overcome such shortcomings is hard work, hard work and more hard work!
Unfortunately, the new breed of Indian cricketers are quite reluctant to put in that effort and hard work which is required to succeed in test cricket. Gone are the days when the likes of Gavaskar,Vengsarkar, Ganguly, Dravid, Laxman or Kumble used to toil hard in the middle. The days of Tendulkar on the cricket field are also numbered and will soon be over. These were people who used to put cricket before anything else. Yes, they also endorsed innumerable brands and smiled at us from hundreds of billboards all over the nation, but more than anything else, they had that hunger of being successful with the bat or ball. For them, playing cricket was akin to worship and succeeding on the cricket field was more important than anything else. That they were playing for their country, meant everything to them. They fought for the honour of the nation and never hesitated to look into the eyes of the enemy.
It is quite unfortunate that the new breed of Indian cricketers lack this urge to succeed. They prefer to concentrate more on IPL than testing themselves in the tougher format. The huge influx of money that IPL brings, has attracted most youngsters towards itself and these genY cricketers are more than happy to stick with IPL and T20 cricket rather than representing India in test matches. This is where things are going wrong. It seems the newer generation of cricketers lack the talent and prowess to succeed at the highest level and the results are clear as daylight!
So, as is commonplace in the Asian cricketing universe, people are calling for exclusion of many players from the team and maybe rightly so! Among others, the name that is making the headlines is that of Sachin Tendulkar. Well, to say the truth, Sachin has been having a lacklustre run for more than a year now. Of course, that occasional century and that odd 50 has been there and may keep making an appearance every now and then, but then, it is only an occasional occurrence! The Sachin Tendulkar we are used to see – that dominance on the cricket field – is a thing of the past now. It would be foolish to expect him to play the way he did 10 years back (or even have a 2nd renaissance, like in 2010). Even if he hits a big score in the next match, a century or even a double, it will be one of those 'occasional' innings; it won't indicate that he is back to his best. And this, we Indians need accept as a fact, the sooner the better. No matter how bitter the truth is, it's best to accept it the way it is. The reality is that India's biggest match winner for more than 20 years, has grown old now and it's time for him to go. His mind and body are tired and need rest. Every sportsman has a shelf life as one cannot carry on forever and everyone, including Sachin himself, has to realize it.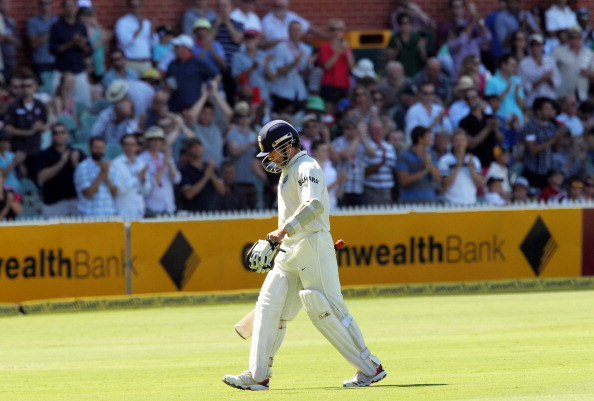 But till the time he is there, let us all enjoy his batting as we have done for the last 23 years. Let us not curse him. After all, he has been the biggest entertainer in the country (yes, bigger than the movie stars) for such a long time. He has given us so many happy moments; we have all cheered at every boundary he hit, and we have cried together every time he has got out! So let us enjoy whatever more he has to gift us. Let us leave it up to the selectors and the great man himself as to when his exit will be and let us make sure that it is done in a grand way!
During the recently held test match at the Eden Gardens, I was lucky enough to be present at the stadium on the first day. I attended the last couple of sessions that day and consider myself fortunate enough to witness the hysteria that Sachin, even at this age, creates among the cricket fans. Every single run was cheered by almost a packed Eden (most of the spectators had turned up to witness Sachin bat), every boundary he hit caused an eruption among the crowd and people seemed to be ignorant of any limit to a certain term called "decibel"! This is the respect he commands even today, even after such a bad run for more than a year. So let us all stop criticizing him, sit back and enjoy the remaining matches when he would walk into the ground with his bat.