The Maestro, the Mayhem and the Desert Storm - Part 1
3.34K //
25 Dec 2012, 12:35 IST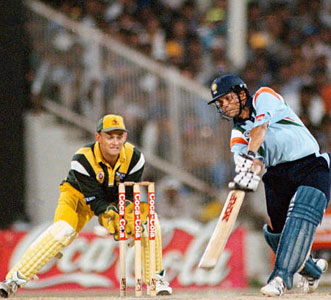 India - 20/0
(5.4 overs)
A steady breeze did nothing to keep perspiration at bay, but the lanky southpaw was hardly aware of either. He stood behind the crease, waiting for the imposing Australian to charge by him. The chase was into the sixth over now, and they'd mostly dealt in ones and twos. The bowlers had kept it tight, aided by fielders who seemed ready to dive-bomb everything that moved. He involuntarily looked at the scoreboard. Chasing 284 was never going to be easy, and they'd needed to floor it from the word go. He looked at his partner, the short guy who was into the business of making headlines for quite some time now. The latter was a picture of concentration. He saw him take a quick glance at the fielders, do that strange little crunch-thing with his knees, and bare his teeth.
Michael Kasprowicz turned, and the crowd got noisier, if such a thing was possible. The next second, Kasprowicz reminded him of an express train looking to run him over.  Fine leg is in the circle, he observed at the periphery of his vision, as he readied himself for a likely single. Kasprowicz heaved, and the ball blasted off like a meteor.
Thwack!
He heard the sound even as he began to realize what had happened. Sachin Tendulkar had danced down the pitch, and waved that massive 30-mm edged club of his, catching the ball in mid-air. The ball disappeared from view with incredible velocity. The crowd turned into banshees-on-steroids, it was the first good thing to happen for India in this match. As he punched gloves with Tendulkar, Kasprowicz made sure his scowl wouldn't be missed. Saurav Ganguly returned to the non-striker's end, and waited. The next delivery. Kasprowicz was fuming all the way back to begin his run-up and Ganguly knew how much fast bowlers hated to be hit like that. Hurting, angry and deadly accurate, Kasprowicz heaved again, faster. So did Tendulkar. His famous economic footwork came to play and the back-foot played anchor.  This time the ball sailed higher. Consecutive sixes. There was nothing Ganguly could hear over the noise for the next few minutes. Tendulkar had not moved an inch, and was smiling at him.
India - 151/4
(32 overs)
The sandstorm had come out of nowhere and play had to be halted for half-hour. VVS Laxman was deep in thought as he walked up to the non-striker's end. This was bad. Now the target would be revised. The scoreboard brought his worst fears to life. 276 to get off 46 overs. Or 237, if only to edge past New Zealand into the finals due on Friday. Less than ten matches old, he knew he'd cement his place in the team if he helped conjure up a miracle here.
He breathed, and saw Shane Warne warming up for round 2. Round 1 had been public-flogging at the hands of the guy at the striker's end. Having been dropped in as early as the 8th over, Tendulkar had unloaded on every Australian who'd bowled yet without discrimination, but Warne had always been his sweetheart. Five boundaries had crashed to the fence, and that included some cheeky paddle-sweeps and flicks to the on-side that had beaten fine-leg God-knows-how.
There was plenty of stuff to worry about too. Sachin had been in lone-ranger mode up until now: Ganguly's dismissal in the ninth over had provided Sachin with a disciplined partner in Nayan Mongia, and they had the scoreboard ticking, but after Mongia went up in flames, skipper Mohammad Azharuddin and in-form Ajay Jadeja had departed in quick succession. Four down with just over an hundred on board was never good news. And now with the revised target, they needed divine providence to win this.
Tendulkar is ready. Laxman drags his bat behind him, ready for the running. Shane Warne rolls his arms, and the turn is almighty.
Tendulkar charges down and lofts that one straight over Warnie's shock of blonde. Long-off tilts up his head like a kid watching an airplane. Warne turns purple. What he doesn't realize, however, is that it's only the first of the spanking he's about to get in his second spell. Between him and Tom Moody, they bleed over 50 runs in the next 6 overs. Tendulkar's 'wagon-wheel' resembles the crown of thorns that had adorned the head of Jesus Christ. Warne would later admit he was clueless about where to bowl to him. Skipper Steve Waugh seemed to be conducting instant-therapy-sessions for his bowlers now.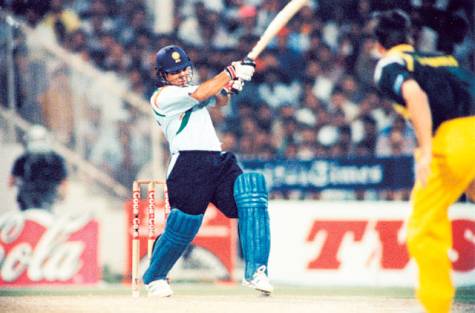 India - 192/4
(39 overs)
The world seemed to have assembled on the edge of a precipice, nervously looking down into an infinite abyss below. Nervous chatter all around, but mostly just people looking anxious. The level of suspense reached Hitchcockian heights even as Tom Moody paused before his run-up.
Sachin Tendulkar was on 98, and such occasions were frequently known to bring an entire nation to a screeching halt. Moody jogged up and swung him one. Tendulkar, who has kept his nervous twitchiness to barely-imperceptible levels flicked it towards leg and scrammed. Easy two, century#14 and the crowd went absolutely bonkers. Dwarfed by every living soul on the ground, he removed his helmet and raised it above along with the bat to get an applause that sounded more like a hurricane.
It had taken him 111 balls to get here.
India needed 82 off the final 6 overs. To qualify, they needed to score half that, but Tendulkar was out for blood.
Somewhere, something snapped. The next minute on, Tendulkar was in rampage-mode.
Damien Fleming and Steve Waugh found themselves at the wrong end of his blade as he unleashed a flurry of sixes and fours to the ecstasy of an adrenaline-juiced crowd. Michael Kasprowicz was then brought in for his final spell, which brings us to…
India- 223/4
(41 overs)
Tendulkar is spewing fire, and there is hardly a more beautiful sight in a hundred-mile radius. Kasprowicz wades in like a punch-drunk fighter, asking for more, to which Tendulkar happily obliges. A towering six finds the sight-screen. Another finds Damien Martyn.
The commentators had already announced Tendulkar's dismissal when Martyn grabbed the ball with both hands at the long-on. What followed was a moment of insanity which involved the biggest fumble of the night in UAE, and somehow the ball ended up on the other side of the boundary rope.
Reprieve, and a boundary. Sweet. Sachin Tendulkar kept his blitzkrieg going, and tore through the 237-mark with another leg-glance-magically-turned-into-a-boundary. At the same time, he reached his personal best of 141. All VVS Laxman has done until now is give strike to Tendulkar and look pretty. Their 104-run stand had taken all of 14 overs. India needed another 40-odd runs in 4 overs. It all seemed possible, until…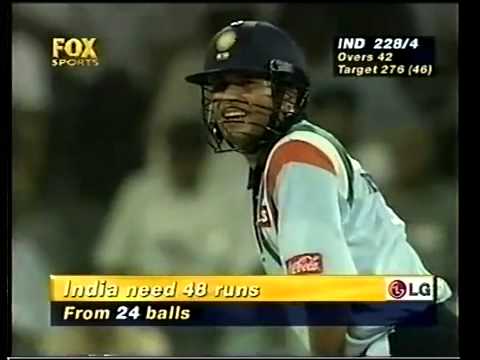 India- 242/5
(43 overs)
For the last ball of his ninth over, Damien Fleming kept it fast and pitched it short. Tendulkar saw it coming from a mile away, and went for the textbook-hook. The ball soared above shoulder-level, caught his glove and landed in the keeper's. Everyone wearing yellow in the vicinity went up like cheerleaders.
Tendulkar looked at Ian Robinson, who stood like a Buddhist monk who'd taken a vow of silence. Fleming kept up his appeal for one whole minute, and Tendulkar walked. This man doesn't need to be told to do what's right.
India went to lose the match, but Sachin Tendulkar's magnificent display overshadowed the Aussie victory. Perhaps this was unfair, but two days later, both teams would meet again for an encore performance. Sachin Tendulkar had given India a fighting chance to win the coveted trophy, and two days later on his birthday, he would be ready for Warne and Co. And they would be ready for him.
For Part 2 of this story, click here.