The problem within..
831 //
09 Dec 2012, 15:13 IST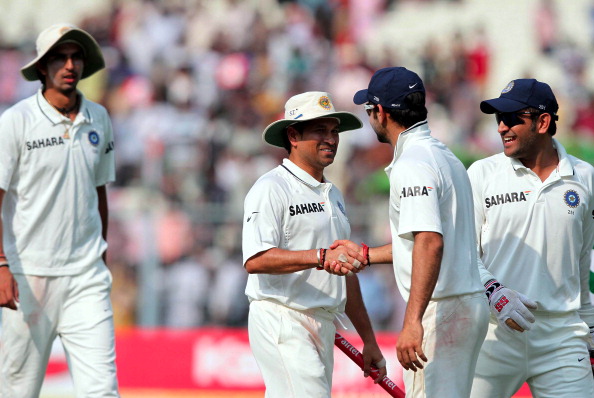 Well, another loss for the Indian team, and thanks to R Ashwin, an avoidance of an embarrassing innings defeat. But even Ashwin's stern resilience could not avoid England beating us by 7 wickets. And as expected, all Indian fans and media immediately started jumping on all our players performance, and the debate to remove non-removing seniors (read Sachin) has grown even more stronger. Like any other Indian fan, I, on first thought, started blaming all the players and captain for successive defeats, that too in home conditions. But on looking deeper into it, I felt that it is a collective failure of the whole nation. Not only the players. Not only the selectors. But the whole cricket system in our country and even us as fans.
First, let us look at the players. Well,the problem with the Indian cricket team is that there is no collective team performance, especially in the batting department. The openers have been in rocky form over the past two years or so. The middle order seems brittle ever since the retirement of VVS Laxman and Rahul Dravid. No one has actually cemented the no. 6 spot even 4 years after Dada's retirement. Sachin is not the same player he used to be.
Yes. They have underperformed. They have failed to live up to the expectations of we, the fans. But one must realise that even they are new to the cricketing world. Comparing Pujara to Dravid and Kohli to Tendulkar just adds up the pressure on these young batsmen. One must realise that they have barely played 10 tests or so, whereas legends like Dravid and Sachin have played over 150 tests.They cannot become legends we want them to be within a night. It is a long process. There will be failures. But we, the fans, must not lose hope. They are still young. Slowly and steadily, they will mature to become better batsmen and perform better.
Speaking about Sachin, he knows when to retire. Many say that his retirement will pave way for talented youngsters on the bench. But if you look closely, even the performances of other batsmen are not great either. The openers are having a lean patch for over 2 years, but it's okay for the fans. But when Sachin faces a lean patch, everyone just jumps on him, criticising him. Well, even he has admitted that not much cricket is left in him. But our team needs him now, more than ever. It is his responsibility to give confidence to the young, inexperienced middle order. Any young batsman who shares the crease with Sachin will have a boost in confidence. So it's up to Sachin to decide when to retire.
And about our captain, he himself is clueless. One must admit that he does not have the leadership skills that Ganguly had. Yes,he is a great limited overs captain. But in tests, his captaincy is being tested now. Till last year, the team had a strong and very experienced middle order, a firing Zaheer Khan, and new spin twins in Ojha and Ashwin. But now it is clearly visible that he does not have the ability to nurture the youngsters like Ganguly did. I am not criticising Dhoni for his bad captaincy, but just saying that he is ill-fit to captain an inexperienced side.
Our bowlers. Well, no one doubts their talent. But like Kohli and Pujara, they are also inexperienced. This series will be a learning curve for them. One must not lose hope on them.
Then comes our selectors. They have made some outrageous decisions before this series. Irfan Pathan should have been selected. He was in reasonable form and had more match experience than Ishant Sharma. Also, the very talented Manoj Tiwary is always kept on the bench. I feel that he will be the solution for the problematic no. 6 problem the batting order is facing. But still, it's time for selectors to look into the performance of the openers. Gambhir has been out of form for a long time. Maybe Rahane can be tried.
Finally, we, the fans. We celebrate with our team when the team wins. Then we must stand by them when they are facing a bad patch. They have not disappointed us. They won the World Cup for us. Let us show some support now, when times are bad for them. It will give a huge confidence boost to the team.
Team India, we stand behind you.