The sixth edition of the cricket's biggest tournament which is the World Cup was hosted by India, Pakistan and Sri Lanka in 1996. There were 12 teams who took part in the competition with 37 matches played including the semis and the final. The format for this edition had two groups with six teams each. The top four teams from both the groups made it to the quarter-final.
Sri Lanka qualified for the quarter-finals even before playing a match as the Australian team and the West Indies team raised concerns over security threats. On the other hand, India and Pakistan faced off in the quarters with India emerging victorious setting up the semi-finals against Sri Lanka. But India's dream was crushed when they lost heavily in the semis.
On reaching the final, Sri Lanka faced the mighty Aussies. To everyone's surprise, Sri Lanka defeated the favorites to win their only World Cup till date. Even though India's campaign ended in the semi-final, the batting and the bowling charts were led by Sachin Tendulkar and Anil Kumble respectively.
Let us find out as to what the Indian players from that semi-final are doing now.
---
#1 Sachin Tendulkar and Navjot Singh Sidhu: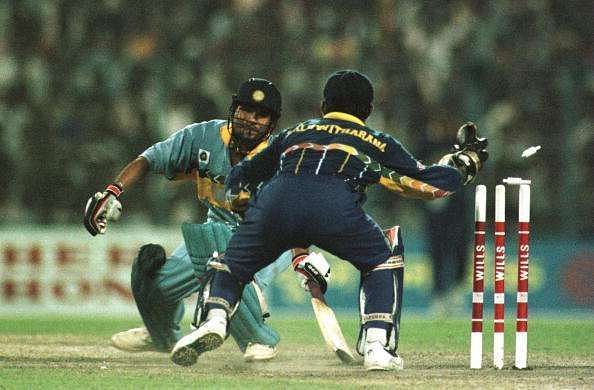 After a fantastic debut in 1992 World Cup, Sachin Tendulkar was at his imperious best in the 1996 World Cup. He started off the tournament with a century against Kenya, following up with a half-century against West Indies that helped the team to make it to the quarter-finals. In the all-important semis against Sri Lanka, he got the team to a good start scoring 65 runs after which the team suffered an unusual collapse.
He had an illustrious career that ended in 2013 after which he has assumed various positions. He is one of the members of the Cricket Advisory Committee and has also been an "icon" for Mumbai Indians.
On the other hand, Navjot Singh Sidhu returned to the squad in the 1996 World Cup. He was an explosive opening batsman who played two match-winning knocks against Zimbabwe and Pakistan. After a decent cricketing career, he was seen as a commentator and a judge in comedy shows. Besides, he is a full-time politician who is serving as a minister in the Punjab government.
Also read - Man of the match world cup 2019
#2 Sanjay Manjrekar and Mohammad Azharuddin: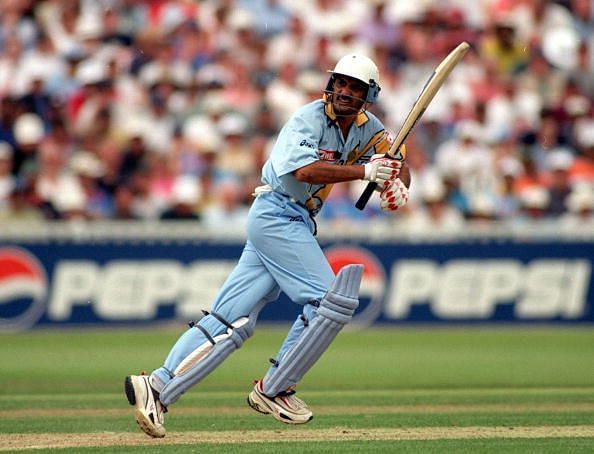 Sanjay Manjrekar played for India between 1987 and 1996 as a middle-order batsman who scored 2000 runs in Tests and ODIs respectively. He was also part of the squad in 1992 and 1996 World Cup. In the 1996 World Cup, he played in 5 matches scoring a fifty against Australia in a high voltage game. After retiring, he has been a part of the commentator panel for almost two decades.
Mohammad Azharuddin played for the country in four World Cups. In 25 world cup innings, he scored 826 runs with eight fifties. He also captained the squad in 1996 that reached the semi-finals. Even though he was out of form, his captaincy was on point. His career came to an abrupt end when he was alleged to be involved in a match-fixing scandal. It took almost 12 years for him to come clean. He is currently a politician from Indian National Congress.
#3 Vinod Kambli and Javagal Srinath: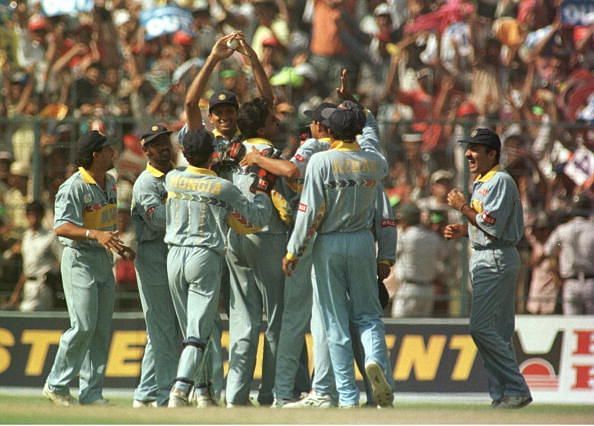 Every Indian fan remembers Vinod Kambli walking back to the Eden Gardens pavilion in tears when Sri Lanka were declared the winners in the semis of the 1996 World Cup. He was a left-handed middle-order batsman known for his attacking style. Even though he was a quality player, he was unlucky to have retired at a very young age. He represented India in the 1992 and the 1996 World Cups. He played his last international game in 2000 after which he has been seen as a cricket analyst and a commentator on various TV channels.
If Kapil Dev led the Indian bowling in the 80s, it was Javagal Srinath who was the frontline pacer for India in the 90s and the early 2000s. In an amazing career, he captured 551 wickets across formats. He took part in four World Cups contributing to the team's success. After retiring from all forms of cricket, he has assumed various positions in ICC. He is currently an ICC match referee. He was also the secretary of the Karnataka State Cricket Association.
#4 Ajay Jadeja, Nayan Mongia, and Aashish Kapoor: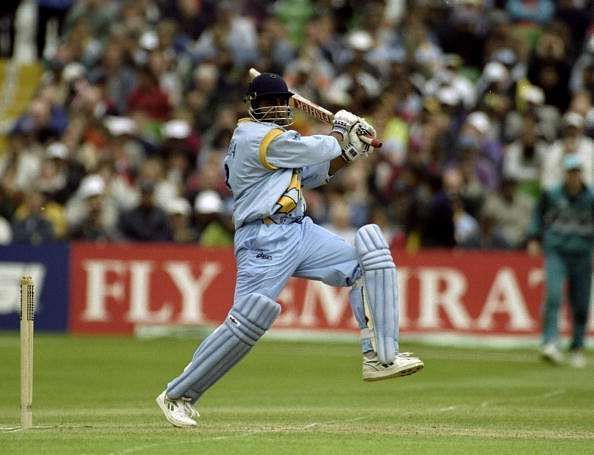 Ajay Jadeja was a player who was known for his exceptional fielding as well as for his finisher role in the team. Having represented the team in three World Cups, he accumulated over 500 runs in 18 innings. The most remembered innings of his would be against Pakistan in 1996 World Cup when he scored a quickfire 45 off just 25 balls that took India to a winnable total. Despite his popularity, the fixing scandal stuck a huge blow to his cricketing career. Since then, he has acted in several movies and has hosted several shows on TV. He is also seen as a cricket analyst and a commentator nowadays.
Nayan Mongia was seen as the go-to keeper whenever Kiran More got injured. He waited for a couple of years to cement his spot in the side. In his ODI career, he has taken 110 catches and was responsible for 45 stumpings. He was excellent behind the stumps and occasionally played a cameo role for the team. After retiring, he coached Thailand and Malaysian cricket teams. He was also seen as a wicket-keeping coach in a domestic tournament for Vizag Victors.
Aashish Kapoor was a right arm off-break bowler who played only in two World Cup matches. He failed to make the most of his opportunities as he was dropped from the national side. After that, he played for different teams at the domestic level but didn't succeed.
#5 Anil Kumble and Venkatesh Prasad: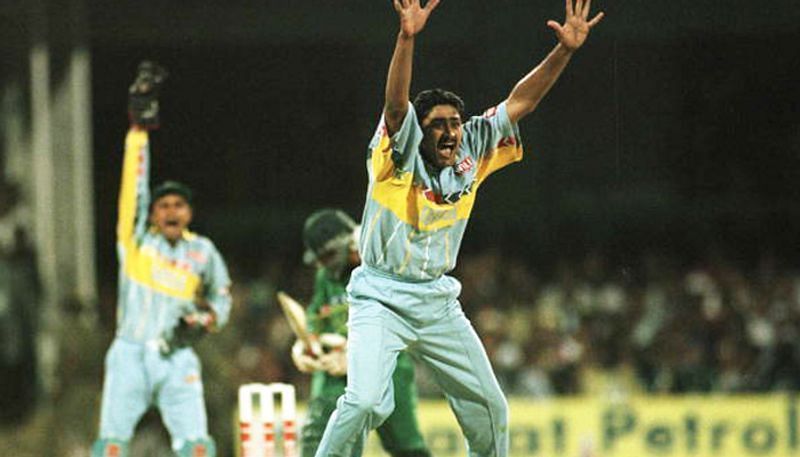 Even though Anil Kumble had established himself as the number one Indian spinner in the early 90s, he had to wait until 1996 to play his first world cup. He couldn't have asked for more as he grabbed 15 wickets in 7 matches, becoming the highest wicket-taker in that edition. He has played in 18 world cup matches taking 31 wickets at an average of 22.84. After retiring from international cricket, he has taken various administrative jobs. Currently, he is re-appointed as the chairman of the ICC Cricket Committee for the third term.
If you made the top five India versus Pakistan moments, the first thing you would add to the list should be that comeback by Venkatesh Prasad after being sledged by Amir Sohail in the 1996 World Cup quarter-final. He was known for his variations that would deceive the batsman. Having played in two World Cups, he has taken 17 wickets for the team. After retirement, he coached various team including the U-19 team and the Indian team. He was also the bowling coach for RCB and KXIP. He is now seen as a cricket commentator on TV.