Hogwarts Legacy is an in-depth RPG experience with a vibrant open world. The game consists of lore-faithful spells, creatures, and locations that intertwine sublimely with the gameplay mechanics. The story is set in the 1890s and thus has no fan-favorite characters to speak of. However, this is an amazing opportunity to give players a new tale and personality.
Hogwarts Legacy comprises companions that players can tag along with in various side quests, professors, and new antagonists. All these additions are new to the series and present a fresh narrative for fans. Hogwarts Legacy aims to stick to the source material in its world-building but revitalizes the story with a new character ensemble.
---
Key characters in Hogwarts Legacy
Introducing new characters in Hogwarts Legacy has created an opening for different storytelling areas in the magical Harry Potter franchise. Despite a fresh coat of paint regarding characters, the game strictly adheres to the wizarding world fans know and love.
The game features a robust character creator as well. One can spend hours trying to create the best-looking student.
Hogwarts Legacy's vast open world is ripe for exploration, but the story is incomplete without a unique set of characters.
The following are some of the key figures in the game:
Professors at Hogwarts
Phineas Nigellus Black is the headmaster of Hogwarts and is portrayed by Simon Pegg. Phineas has a grumpy personality and is touted as the least impactful headmaster Hogwarts has ever witnessed. He is Sirius Black's ancestor but is nothing like him, thanks to his self-absorbed nature.
Matilda Weasley: Fans can instantly connect with her because she is Ron Weasley's ancestor. Players will get to know about the wizarding world through Matilda. She is the polar opposite of Phineas' non-supportive personality.
Professor Eleazar Fig: He teaches magical theory in Hogwarts Legacy. Fans can interact with him to know more about the goblin rebellion.
Professor Abraham Ronen: He is a jovial and enthusiastic professor. Wizards can learn about Charms from Abraham.
Professor Dinah Hecat: She is the Defence Against The Dark Arts expert. Despite her age, she is quite witty and stern.
Professor Mirabel Garlick is a charming Herbology teacher whose name matches her expertise.
Professor Aesop Sharp is a potions expert and has a gruff persona. He was a successful auror until an injury forced him to change profession.
Professor Kandace Onai: Kandace is involved in teaching Divination arts. She is the mother of one of the companions in the game known as Natsai Onai.
Professor Satyavati Shah: She is an expert in Astronomy. She has a deep affinity towards scientific endeavors and is inquisitive about the machinations of the world.
---
Companions
Poppy Sweeting: She belongs to the house Hufflepuff. Poppy is a compassionate human being fascinated by the wizarding world's magical beasts.
Natsai Onai: She is the daughter of Professor Kandace Onai. She is in Gryffindor.
Amit Thakkar: Amit loves Astronomy and the history of the magical world. He is a companion that is in the Ravenclaw house of Hogwarts.
Sebastian Sallow: Sebastian is a cunning member of Slytherin. Like Malfoy in the Harry Potter movies and books, this companion acts as a troublemaker in Hogwarts Legacy.
---
Antagonists
Ranrok: He aims to wipe out all the ministry's wizards and wield all the powerful magic to preside over the wizarding world. Ranrok is allied with the Dark Wizards and leads the Goblin rebellion.
Victor Rookwood: Victor is allied with Ranrok and is the leader of the Dark Wizards. Despite the alliance, he has his motives.
---
Miscellaneous Characters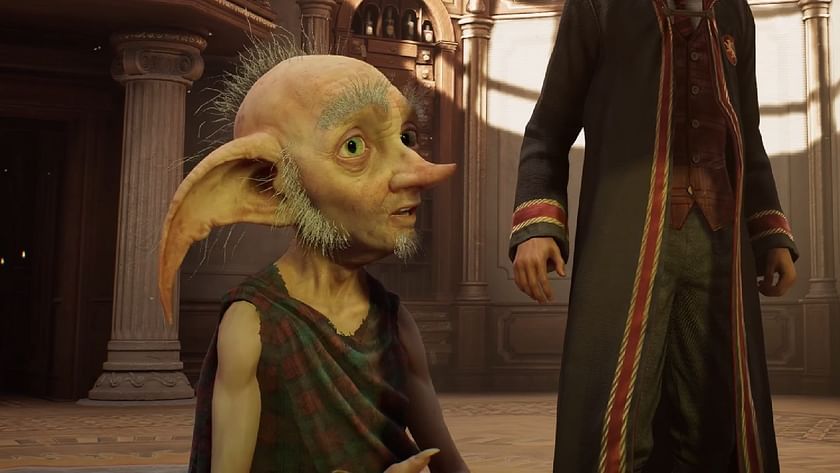 Deek: Deek is a friendly character in Hogwarts Legacy. Players will run into him when the room of requirement first unlocks and can interact with him to manage the vivarium.
Nearly Headless Nick: This a fan-favorite character and instantly recognizable. Nick will appear in the game occasionally.
Cuthbert Binns: He is also a ghost character in this game. Cuthbert is a new addition and hasn't been a part of Harry Potter movies.
---
The title is receiving positive reviews too. The decision to set the story before Harry Potter's existence seemed to favor Avalanche Software. This allows fans to create their own story in a familiar world.
Hogwarts Legacy is on the verge of release, and fans are ready to begin their journey as a wizard. Players are eager to interact with the magical beasts and fly around the castle on their trusty brooms.
Owners of the deluxe edition can preload the game and play it starting today, February 7, 2023. Ones with the standard edition have a two-day waiting period until the game eventually releases on February 10, 2023.