It was a long time since any game got me as excited as Hogwarts Legacy did. It's a dream many of us muggles have had for a very long time - to be able to get our own Hogwarts letter and attend the prestigious school of Witchcraft and Wizardry. I had a million questions in mind before I could finally start playing, the biggest and most important being - will it be worth the hype?
To get an answer to the question, read on to find out everything Hogwarts Legacy has to offer. From discovering the secrets of the castle, fighting against enemies who are lurking in the depths of the Forbidden Forest, to exploring Hogsmeade, flying on a broomstick, and taming your own mount, the title offers fans everything they can ask for.
The magical world of Hogwarts Legacy stays close to the source material and adds plenty of interesting lore to the already rich story. I frequently found myself roaming the cobbled streets of Hogsmeade, exploring cute little shops, running around the hallways at Hogwarts, or just casually talking to students. The map is huge and has a lot of depth to it.
I got engrossed very early into my walkthrough, taking on sidequests, trying on different outfits, and customizing my character. RPGs can have vast worlds that are empty when it comes to exploration. In this case, Hogwarts Legacy certainly did not compromise. As of now, I cannot wait to get back to discovering all the locations and secrets that the developers have added to the game.
However, no title is perfect and Hogwarts Legacy comes with its own flaws. While none of the issues that I faced were game-breaking, there are certain aspects that I wish were handled better.
---
Kickstart your journey into the Wizarding World of Hogwarts Legacy
Developed by Avalanche Software and published by Warner Bros. Games, Hogwarts Legacy is the latest video game adaptation of the Wizarding World. Staying true to the source material, the developers have managed to create a magnificent universe surrounding the lore of the Harry Potter novels.
Being a fan of both role-playing games and the magical world, I was thrilled at Hogwarts Legacy's announcement. It takes place in the 19th century, with players taking on the role of a fifth-year transfer student at Hogwarts. The story is not restricted to the world of Harry Potter or Fantastic Beasts since it is set way before Dumbledore and Voldemort were around.
While this might be a let down for some, I was overjoyed when the character customization was revealed. Which Potterhead hasn't dreamed of getting their own Hogwarts letter, choosing their wands, and gearing up for their magical journey? I definitely have. Well, this is a dream come true for many since Hogwarts Legacy meets most of the expectations the community has from the title.
---
Core gameplay mechanics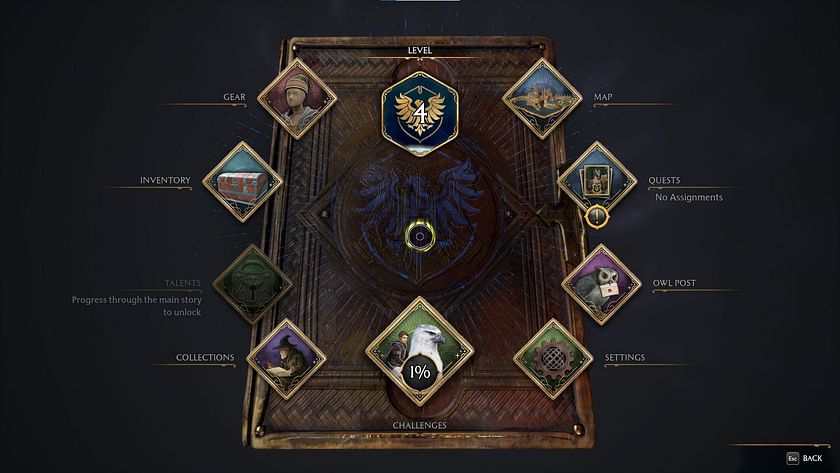 It takes a while before you get access to all the mechanics that the game has to offer, but that's good since you are not overburdened with all the information at once.
There are multiple options when it comes to the core features, but how does one access them? Essentially, Hogwarts' professors have created an aid to help you catch up with other fifth-year students, which comes in the form of a book.
All options, namely Gear, Inventory, Talents, Collections, Map, Quests, and Owl Post, can be accessed through this book. However, you will not be able to get your hands on this from the get-go, and it takes a while before you reach Hogwarts and start your classes. Until then, all the customization features and map(s) are locked.
---
Gear
The gear system consists of all the accessories and clothing items you own, divided into different sections. Broom and wand customizations, once unlocked, can be accessed from this menu as well. During my walkthrough, I've come across multiple items with great stats but goofy aesthetics.
Since one cannot compromise stats in an RPG, the developers tackled this brilliantly to meet the needs of the playerbase. You can camouflage the look of an item with another, which will then allow you to keep the stats of the superior gear and give your character the pleasing look you desire.
---
Talents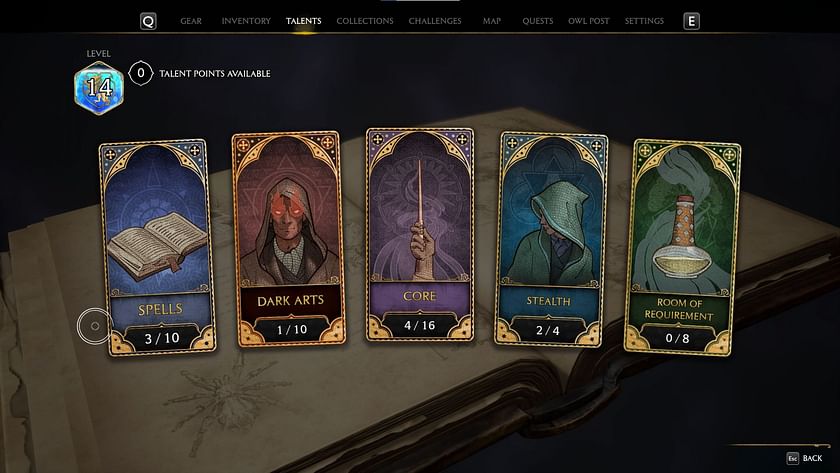 The talent system unlocks once you have invested a few hours into the game. They can be acquired by using Talent Points, which you can get by leveling up your character. The entire skill tree system is divided into five sections - Spells, Dark Arts, Core, Stealth, and Room of Requirement.
Spells - Deals with basic spell upgrades.
Dark Arts - Deals with combat spell upgrades.
Core - Focuses on a macro aspect of game-mechanic upgrades (like spell slots).
Stealth - Related to stealth combat upgrades.
Room of Requirement - Deals with upgrades necessary for the Room of Requirement (like upgrades focusing on a potion's potency).
---
Combat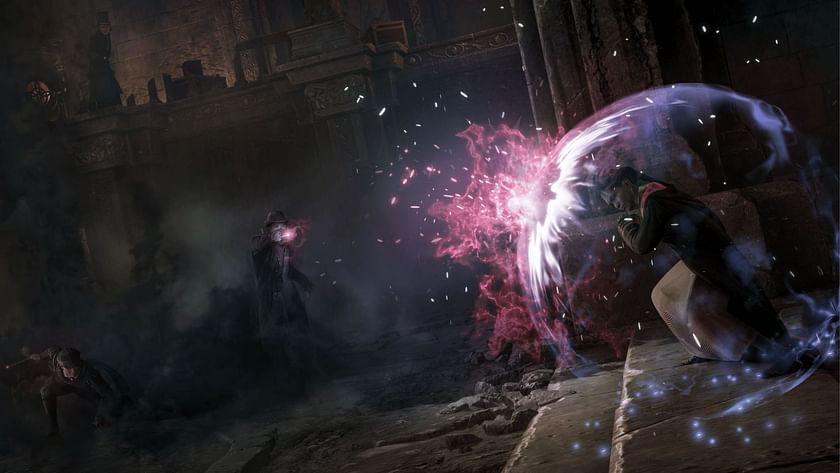 Since it takes some time before you reach Hogwarts, you might be wondering if you'll be able to cast spells before you get enrolled. The answer is yes. However, there will be limitations to what you can use.
Combat breaks down spells into two sections - basic casting and advanced. The entire system is well-built and works very smoothly. Dodge, Block, and Parry features are also available, as seen in most RPGs. Additionally, there's a combo meter that grants you the ability to use Ancient Magic when it fills up (Signature and Ultimate attacks).
---
Exploration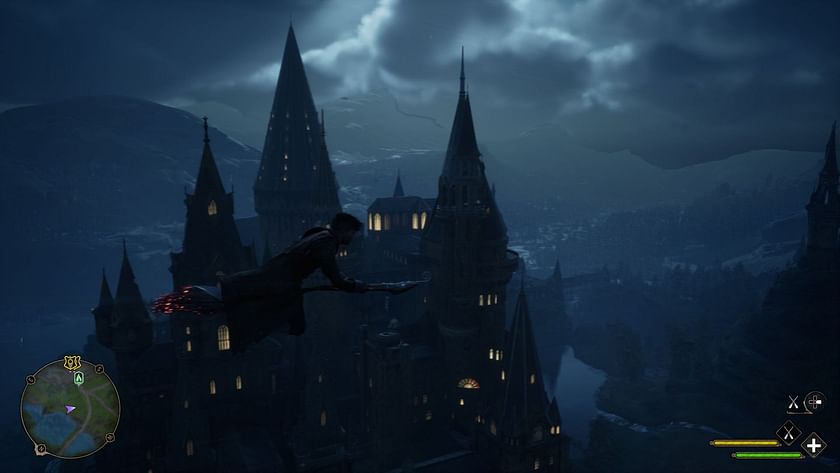 Hogwarts Legacy gives you the independence to roam the streets of Hogsmeade, the halls of Hogwarts, the creepy woods of the Forbidden Forest, and more. In other words, there's plenty to do when not taking on quests. The map can be divided into three parts:
Hogwarts - The entire school
Hogsmeade - The town
World map - The entire map as a collective
I was a bit skeptical about the map's depth before I got my hands on the Early Access, but the developers at Avalanche Software definitely did not disappoint. It is immersive and has lots to offer. I often found myself exploring different locations, hunting for secrets, digging for lore, and even flying around on my broom.
Mounts and broomsticks are unlocked a few hours into the game, so you'll have to wait for quite some time before you get to look at the map from a whole new perspective.
Similarly, the entire world becomes free to explore once you complete a certain quest while at Hogwarts. I don't consider this as something bad or restrictive because the game kept me engrossed, and that's exactly how I wanted things to play out.
When it comes to the Room of Requirement, there's a lot to do in terms of conjuring and transforming objects. You can upgrade your potions, reveal items and their stats (for the ones that are unknown), and also feed your beasts and pet them.
Moonstone, extensively found in the open-world map, is the primary currency in the Room of Requirement.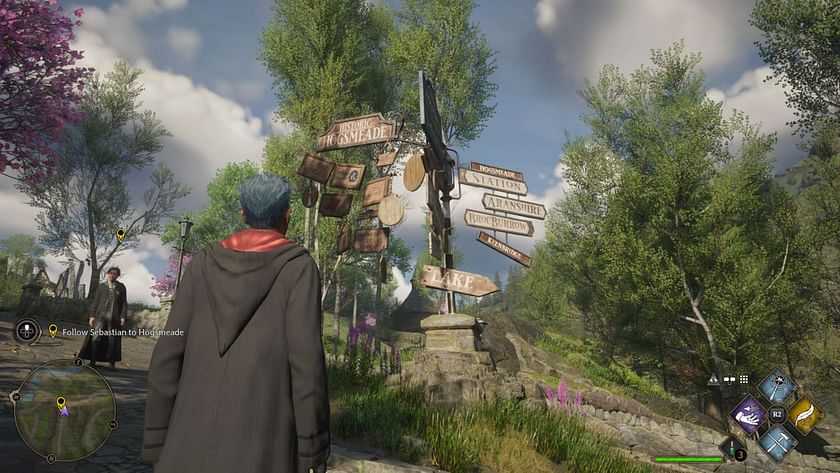 On the other hand, the supporting characters lacked depth to them in terms of facial expressions. Even though I never found the need to skip any dialogue, the robotic features of the NPCs bugged me quite a bit.
I also found myself waiting before trying to move on to another section of the castle as I was stopped by a small loading pop-up. This probably occurred to render the next part before moving forward.
The loading time may vary for players, based on their systems. Regardless, it disrupts the flow of the game. At times, I also observed that the textures took a few seconds to load completely.
---
Performance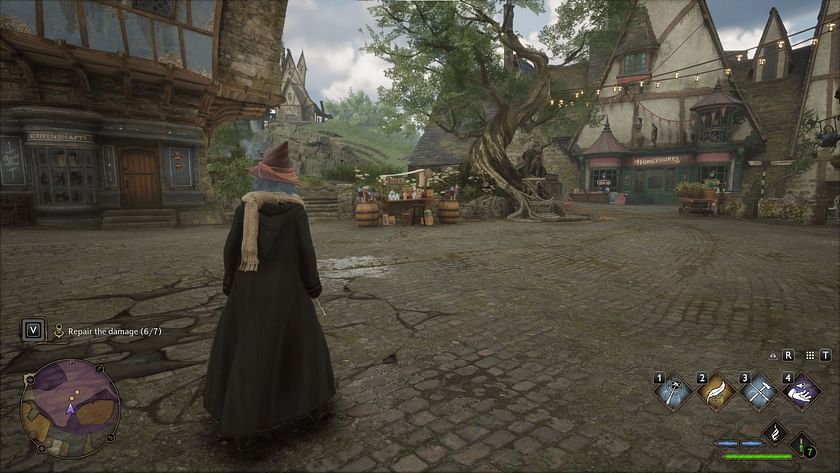 When it comes to performance, Hogwarts Legacy's developers have done a fairly decent job. I was able to get a stable 60 FPS at High settings. However, there were some weird stutters at locations that had high population density. The interruptions weren't frequent, but kept occurring every once in a while.
The stutters did not fade away completely at lower custom settings either. During my playthrough, I faced some bugs, and although none of them were game-breaking, one was deeply concerning. Hopefully, the issues will be resolved with the Day 1 patch.
System specifications
Graphics Processor - NVIDIA GeForce RTX 2060; 6GB
RAM - 16GB
Processor Variant - Intel Core i7 10750H
---
In conclusion
Hogwarts Legacy meets most of the expectations one has when thinking about an open-world Wizarding World title. The day-and-night cycle feels real, with the environment feeling completely natural.
Side quests are engaging and offer interesting lore, along with additional items and spells to aid in combat. There are plenty of customization options for characters, brooms, wands, and more.
Mission Puzzles and Merlin's Trials kept me engrossed like no game has ever had yet. So, when you get tired of taking on story quests, you can just go on to explore the map and try other side activities.
So, to answer the big question - is it worth the hype? Yes, it is. I can't wait to start over, take different pathways, and see how certain choices affect the gameplay and storyline. While there is room for improvement, I did not face any issues that got between me and my desire to become the most powerful wizard of my time.
---
Hogwarts Legacy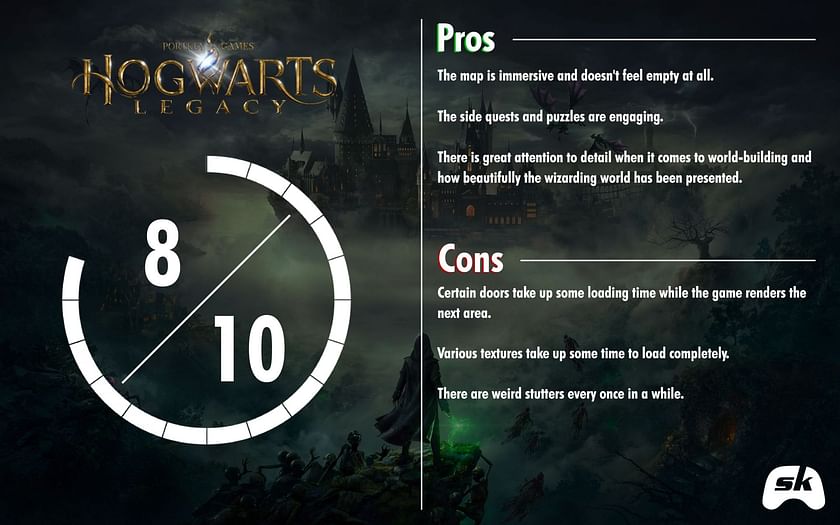 Reviewed On: PC via Steam (Code provided by WB Games)
Platforms: PC, PlayStation 5, Xbox Series X|S, PlayStation 4, Xbox One, and Nintendo Switch
Developer: Avalanche Software
Publisher: WB Games
Release Date: February 10, 2023 (Early Access from February 7)