On February 1, YouTube Gaming star Thomas "Sykkuno" went live on his channel to play a variety of games. He spent the first few moments of the livestream interacting with fans and discussing his time living in the old OfflineTV (OTV) house.
Sykkuno also explained how he once saved Twitch streamer Jeremy "Disguised Toast's" life. The former recalled seeing water leaking from one of the house's lightbulbs and realized it was happening while the latter was taking a bath.
Sykkuno said he became alarmed by the situation and ran to Disguised Toast, pleading with him to turn off the lights. While explaining the incident, the Las Vegas native exclaimed:
"This was a long time ago, so I'm assuming that this is fine. But the house was a disaster! I thought Toast was going to die!"
---
Sykkuno talks about his time living in the old OfflineTV house
At the 17-minute mark of his livestream, Sykkuno's attention was drawn to a viewer who asked if the new streamer house was "worse" than the old OfflineTV house.
After reading the comment, the YouTuber chuckled and recalled the time he noticed water leaking from a lightbulb while hanging out with Yvonne "Yvonnie" He stated:
"Oh man, the old OTV house was... I don't know if this story is ever been told and I'm going to assume since it's so long ago that it's fine to tell. But there was one time at the old OTV house that I lived at. And it wasn't even raining but I think me and Yvonne were like, chilling in the kitchen, and like, there's just a leak! Coming out of one of the lightbulbs and we were freaking out!"
The 31-year-old personality was curious about the source of the leak and soon realized that the water was leaking from where Disguised Toast was bathing:
"Turns out, I think Toast was taking a bath or something and somehow the bath was leaking into the wall and it went through a lightbulb! And I was like, 'Oh my god! Turn the lights off! It's going to kill him!"
Sykkuno described the interaction he had with Disguised Toast and stated:
"And then I remember running in and I was like, knocking on his door. I was like, 'Toast! Toast!' And he's like, 'I'm taking a bath!' And I'm like, 'Toast, it's, you don't understand! It's leaking! There's a lightbulb!'"
Timestamp: 00:17:15
The former Twitch streamer went on to say that the old OfflineTV house was a "disaster" and added:
"I think eventually he could tell, like, something was weird because I was being very, like, I'm usually not a very... what's it called? I'm not very, like, persistent. Usually, like, I'll just leave people alone. But I feel like he could definitely tell, like, something was weird when I was like, yelling at him. And he was like, 'I'm taking a bath,' and I'm just like..."
The conversation concluded with Sykkuno claiming that houses in Los Angeles "sucked":
"Oh man, that house was dank. But let me tell you guys, the problem with L.A. houses is, it's just very expensive. And like, they suck! Most of them suck. I don't know how but..."
---
Fans react to the streamer's story
The YouTube comments section featured more than a dozen fan reactions to Sykkuno's story. Here's a snippet of some relevant ones: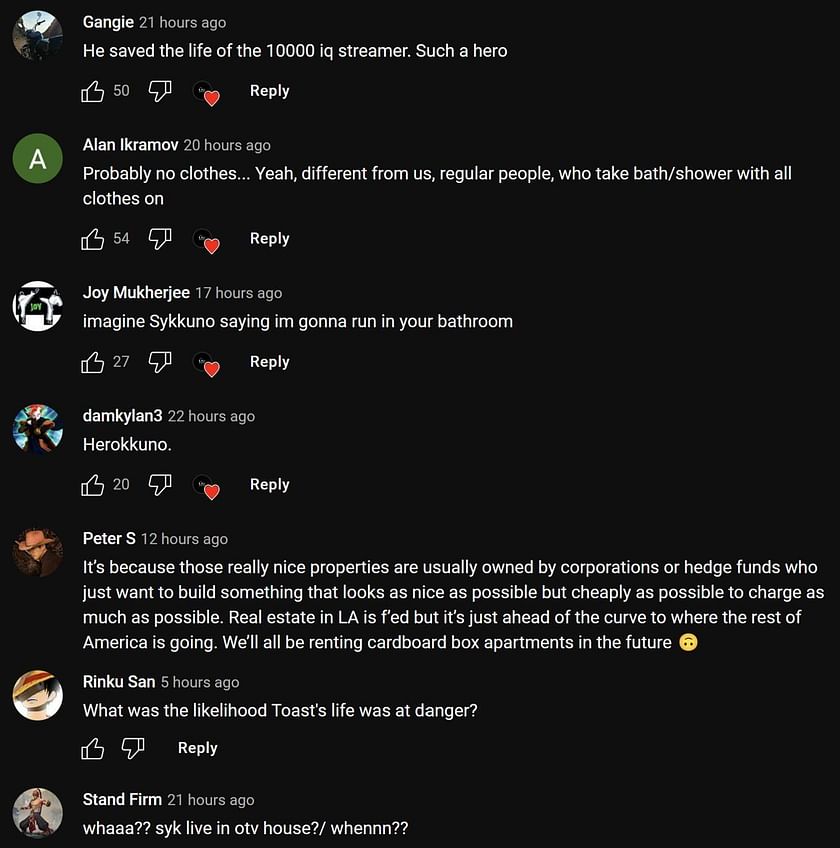 While one viewer stated that Sykkuno saved the life of a "10,000 IQ streamer," another community member inquired when the streamer resided in the OfflineTV house.
Edited by Rachel Syiemlieh