On October 13, a Twitter burner account @burner39413705 shared an archived thread, allegedly accusing Minecraft star Clay "Dream" of grooming and pedophilia.
The thread showcased a series of Twitter user Anastasia (@oxeclean) updates. She claimed that Dream revealed his face to her two years ago while he was "flirting" with her when she was a minor.
Anastasia stated that Dream connected with her through his personal Snapchat number and Twitter handle. She also claimed that he revealed his face because "he was scared."
---
Twitter user Anastasia (@oxeclean) accuses Dream of grooming
Following the initial statements, Anastasia shared a screenshot from her Snapchat conversation, revealing that the YouTuber had been in touch with her since March 19, 2020.
The burner account then shared a response by a community member, stating that they were skeptical about the accusations and that they were waiting for a response from YouTuber Boyinaband.
Anastasia responded and shared a snippet of her personal conversation with Dream. She said:
"I'm not here to fully prove my experience that I know happened. I don't care about showing every receipt. Here's me telling him I'm 18 SOON (not yet). I also believe I clearly had '17' in my bio the same time I have 20 now. I have him asking for my snap and we talked about school."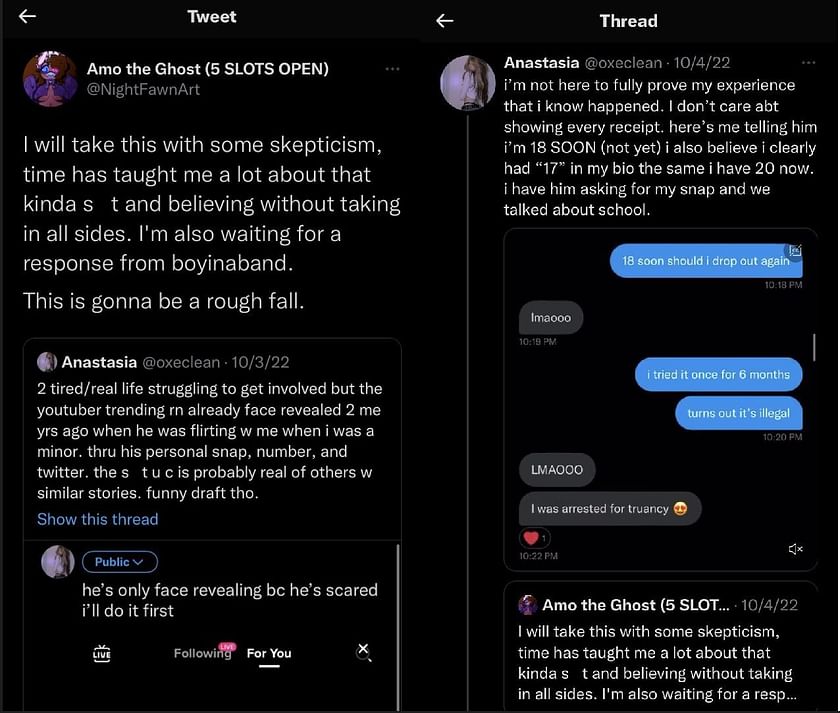 Anastasia followed up by sharing some more texts and stated that the conversation was "cringe and gross":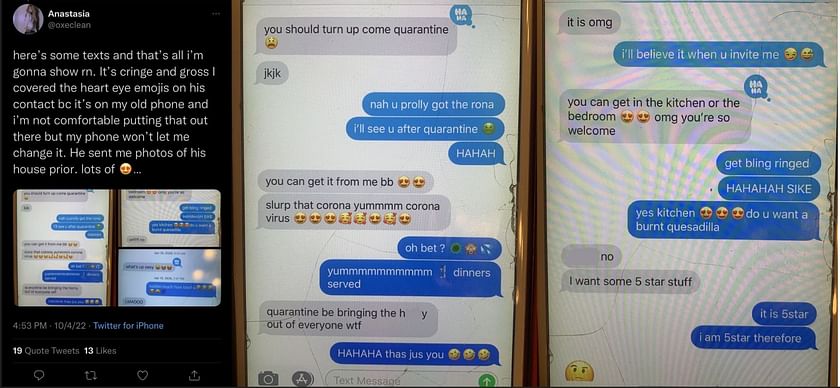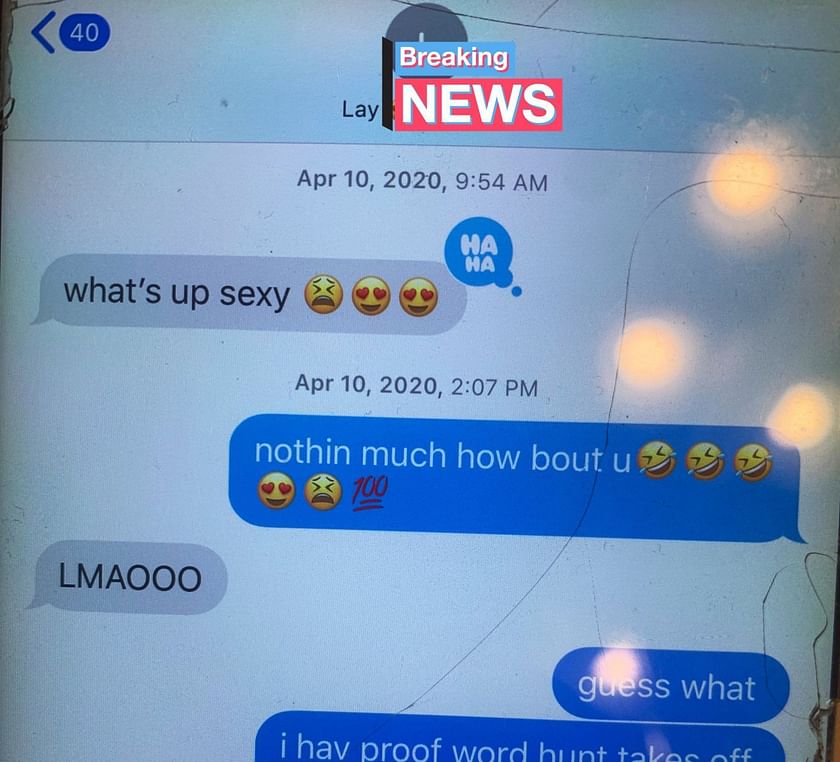 The burner account shared Anastasia's final update regarding the situation. She revealed that Dream's "worst flirt" came from Snapchat, which was subsequently deleted:
"None of it is appropriate for a 'fan' and influencer to be this close, especially since I was still 17 and in school and he knew that. It crosses the line when he's sending me his huge house/inviting me. The worst of flirt that I recall was on Snapchat and obviously those delete."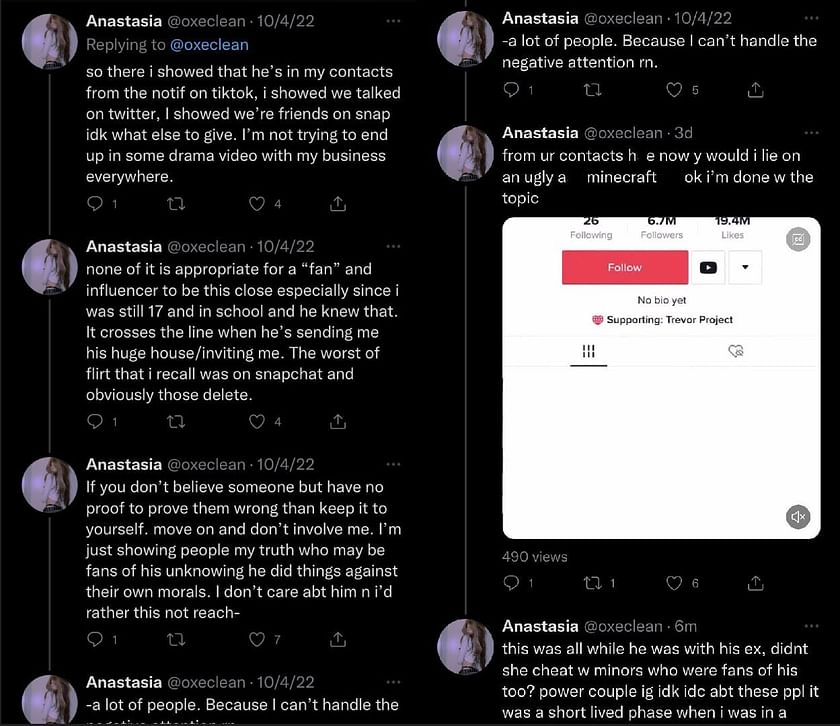 Anastasia lastly mentioned that Dream got in touch with her while he was still with his ex-partner and alleged that the latter "cheated" on Clay with his minor fans:
"This was all while he was with his ex, didn't she cheat with minors who were fans of his too? Power couple ig (I guess) idk (I don't know) idc (I don't care) about these people. It was a short-lived phase when I was in a very bad place and after I started talking to him as a person. I stopped supporting bc (because) he wasn't interesting."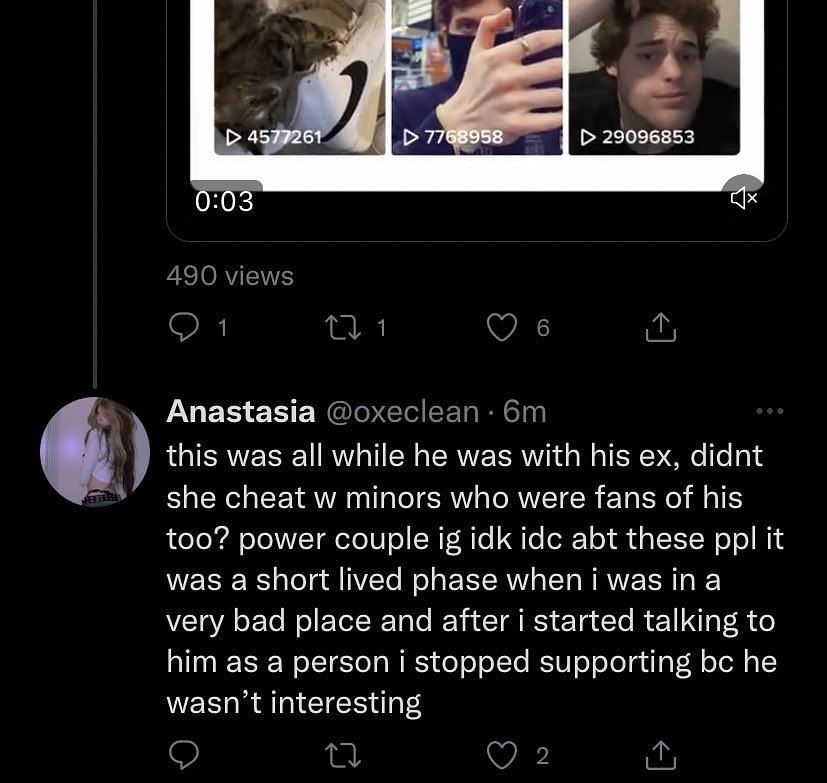 ---
Twitter community reacts to the accusations
The burner account's tweet went viral on social media, with more than 142 community members joining the conversation thread. Here's what they had to say:
---
Dream responded and addressed the community via a TwitLonger post on October 15, 2023, and refuted grooming allegations. According to him, the interactions were "friendly conversations." He added:
"I believe these DMs are real. in these DMs, there are no inappropriate comments whatsoever. It was just friendly conversation. In these screenshots, them being 18 years old is mentioned in their bio, and I also very clearly asked them for their age. I did not act inappropriately with this person, and any attempt to equate these messages to grooming is not only disgusting but is insulting to victims who actually experienced grooming and still have trauma as a result."
Readers can access Dream's TwitLonger by clicking here.