British GP tyre fiasco - What can be done?
876 //
01 Jul 2013, 15:17 IST
What a race! It had everything, from safety cars and suffering race leaders, to an extremely scary event occurring not once, not twice, but an astonishing four times! How often does one see a tyre explode to pieces just like that; and for that to happen only to the rear left tyres of cars of four different teams? Spooky to say the least.
What makes it even more strange is that (with the exception of Sergio Perez, who suffered the same earlier in the weekend) the tyre blasts occurred only on race day. It was never an issue on Friday and Saturday. Clearly, something went wrong yesterday.
Let's start with Lewis Hamilton. Leading the race from the start and being pushed to the limit by a chasing Sebastian Vettel, and it being his home race, Lewis was under severe pressure. But he was responding well enough. The Mercedes's lead did not evaporate within a space of a few laps as one may have expected. Hamilton was pushing hard, and more importantly, attacking the kerbs. More importantly, we are interested in one kerb here – at turn 4.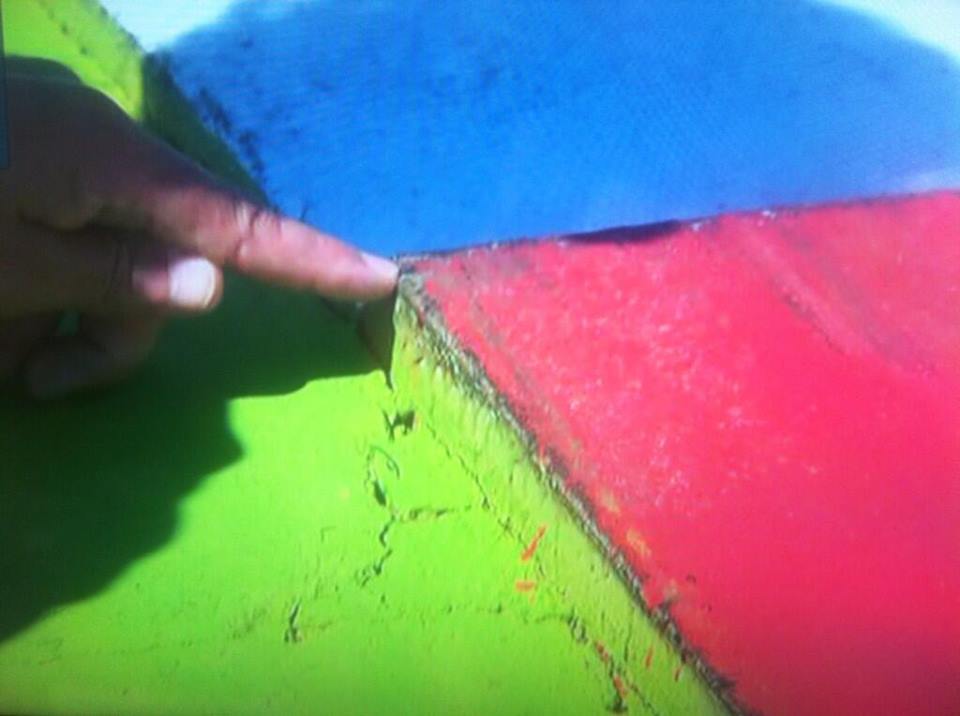 The kerb was damaged, evident from the above picture. Felipe Massa, who had made a brilliant start, also suffered the same fate as Hamilton. But is it sufficient to blame only the kerb? Each track has at least around 25 kerbs, and considering the number of tracks that we have been racing on, a singe kerb cannot be put to fault for ruining the race. If it were really an issue of track negligence, all kerbs should have been in the same state as the one on turn 4, which were not. So the kerb cannot be blamed entirely.
A theory was put forth in some quarters about the new bonding process used by Pirelli for this race. Here's what Pirelli had to say about it:
"We can exclude that the new bonding process which we introduced at this race is the cause for the tyre failures we have seen."
Clearly, Pirelli want to distance themselves from the mess, and such statements are not helping anybody at the moment. But could that be the only reason for the exploding tyres?
Now, they supply identical tyre sets to all the teams before the weekend begins. And for each track, the tyre construction, composition and durability is different. Not only that, each tyre piece's characteristic is unique to the place where they are fit onto the car. That is, depending on the track layout, and how much load each tyre on the car takes during the course of a lap, or the extent of punishment of the tyres over a lap, each position's tyre parameters are calculated.
Could Pirelli have got this estimation wrong for the left rears at Silverstone? Could these failures be a result of a simple miscalculation?