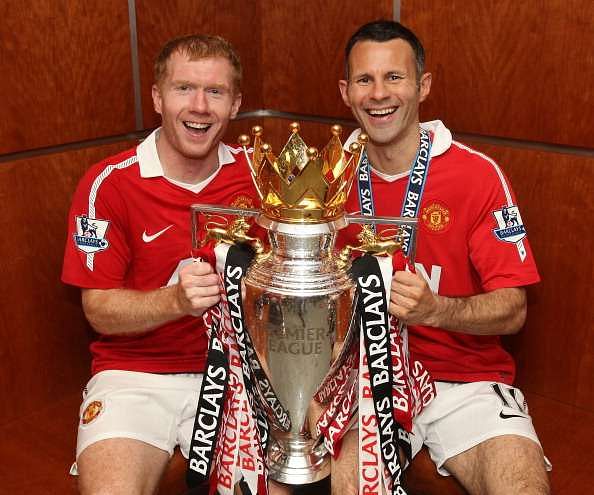 Ever since the Premier League was formed in 1992/93, we have had a number of amazing players leave their indelible mark in this wonderful competition. Manchester United, followed by Arsenal and Chelsea have been the most successful clubs in this era.
Unsurprisingly, most of the players on this list are from those three sides. Manchester United during this period have won an incredible 13 titles and as many as 4 of them make it to the top 10. Without much ado, let us take a look at the 10 greatest Premier League players of all time.
Note: Players have been ranked based on their performances in Premier League only, number of League titles won and the impact they had on their respective teams.
#10 Ashley Cole
The Premier League's greatest left-back is undoubtedly England international Ashley Cole. Cole was a left-back who never feared going forward. In Arsenal, Cole was a huge attacking threat working tirelessly on the flanks and helping out in both defence and attack.
Cole was an integral part of the Arsenal's invincibles side putting in some stunning performances for the Gunners. However, he soon managed to rub Arsenal fans the wrong way when he made a controversial transfer to bitter rivals Chelsea in 2006.
He had some of his best years at Chelsea, playing a pivotal part in the Blues' successes. Cole has won 3 Premier League titles in his career, with 2 coming at his spell in Arsenal and the third one coming with Chelsea when they won the League under Carlo Ancelotti.
Love him or hate him, you cannot deny the fact that Ashley Cole is one of the greatest Premier League players of all time.
#9 Alan Shearer
The highest ever goalscorer in Premier League history, Newcastle United and Blackburn Rovers legend Alan Shearer is considered to be the greatest English striker of all time. The legendary striker has a number of records to his name such as the most goals in a 42-game season (34), most goals in a 38 game season (31) and the most number of hattricks in Premier League history (11).
Winner of the Golden Boot award 3 times, Shearer guided Blackburn to a stunning Premier League title win in 1995 and even came runner up with Newcastle United in the 1996-97 season. The only player in the history of the Premier League to score more than 100 goals for two separate clubs, Shearer is easily one of the best players to ever play in the Premier League.
Winner of the PFA player of the year in 1995 and 1997, Alan Shearer will forever be remembered for his incredible goalscoring prowess and his ability to influence games single-handedly.
#8 Patrick Vieira
A dynamic midfield player whose ability to bring the ball from defence to attack was a marvel to behold, Patrick Vieira was the captain of the incredible Arsenal "invincibles" side. Vieira led his team by example. Known for his tackling, passing ability and determination, the French midfielder was a natural fit in the Premier League. A combination of height and strength added to technique and composure led to him rapidly becoming a vital cog within Arsenal's gameplan.
The facts of Vieira's career speak for themselves; at the time of his retirement he had amassed 107 caps for France (including the '98 World Cup and 2000 Euros), featured in six seasons in a row in the PFA team of the year at Arsenal, won three Premier Leagues and four FA Cups.
He had a brief spell at Manchester City before retiring but the legendary French midfielder is best remembered for his time at Arsenal. The Gunners are yet to find a true successor to their legendary French captain.
#7 John Terry
Captain. Leader. Legend. Three words that aptly sum up one of the finest centre-halves of this generation. A true champion, John Terry has earned several accolades for his services to both club and country.
Consistency has been the key for John Terry. In an illustrious career that has spanned 18 years and still counting, there has hardly been a day when Terry's commanding presence hasn't been felt on the pitch. A no-nonsense and uncompromising defender with flawless aerial ability, Joh Terry made up for his lack of pace with his brilliant positioning and intelligence.
One of the most important players in the Mourinho era, Terry was one of the key factors in making Chelsea the European and Premier League superpower it is today. Having won the Premier League 4 times so far, John Terry is one of the finest centre-backs England has ever produced.
#6 Frank Lampard
Frank Lampard has played for West Ham and Manchester City but he is best known for his time at Chelsea. The Englishman spent the majority of his career from 2001-2014 at Chelsea and he was one of their best and consistent performers in the Premier League.
A three-time Chelsea Player of the year and the club's top scorer with 211 goals, Lampard has been an amazing player for Chelsea. His goalscoring exploits have been absolutely sensational.
He has been deployed as a central midfielder, as an attacking midfielder and as a defensive midfielder on occasions. A hard-working player with stamina and an ability to read the game, Lampard is also capable of functioning creatively, due to his technique, vision, and passing range.
3-time Premier League winner and scorer of an incredible 153 goals from the midfield position, Frank Lampard is definitely one of the greatest Premier League players of all time.
#5 Eric Cantona
One of the most charismatic and controversial footballers to play the game, Eric Cantona was a supremely gifted and talented footballer. Another legendary number 7 to play for Manchester United, the Frenchman is considered to have played a vital role in the revival of Manchester United's fortunes.
Cantona walked about on the football pitch with a natural swagger and he is famous for wearing the number 7 shirt with his trademark upturned collar. The Frenchman had something of a cult status at Manchester United with fans affectionately calling him "King Eric."
Although Cantona was part of the infamous 'kung-fu' kick incident, his impact in the Premier League cannot be discounted. King Eric won four Premier League titles with United and is widely credited with kickstarting Red Devils' dominance in the Premier League era.
#4 Cristiano Ronaldo
One of the two stand out footballers of this generation along with Lionel Messi, Ronaldo is one of the greatest players ever to play the beautiful game. Ronaldo spent six years at Manchester United and here is where he announced himself as one of the best footballers in the world.
Winner of three consecutive Premier League titles from 2006-2009, Ronaldo is arguably the most gifted player to ever play in the Premier League. The Portuguese superstar's mazy runs and dribbles often left defenders flat-footed and it was for his amazing performances with Manchester United, that Ronaldo was awarded his first ballon d'Or award in 2008.
Also read: The 10 greatest La Liga players of all time
In his 6 year spell at United, Ronaldo made it to the PFA team of the year 4 times, and won the PFA player of the year award twice. While Ronaldo today is already a legend at Real Madrid, he first made a name for himself as one of the game's premier footballers during his time at Manchester United.
#3 Paul Scholes
Xavi called Scholes as "the best central midfielder he has seen in the last 15-20 years". The ginger genius has been one of the best players the Premier League has ever seen. He has won an astonishing 25 trophies with Manchester United which includes 11 Premier League titles and two Champions League titles.
Highly regarded for his technical skills, Scholes was renowned for his passing range, clever moment and the ability to score some stunning long-range goals. A versatile player, Scholes was capable of playing the box-to-box role, central midfielder role and even a holding midfielder role with equal aplomb.
Widely regarded by his peers as one of the best in the world, Scholes has received praise from players like Zidane, Edgar Davids and Guardiola. One of the best players Manchester United have ever had, the ginger genius controlled the flow of play and was an integral part of United's dominance under Sir Alex.
Quite simply, Paul Scholes is the best midfielder the Premier League has ever seen.
#2 Ryan Giggs
Ryan Giggs one of Manchester United's greatest players needs no introduction. The most decorated player in British football, the Welshman was known for his marauding runs down the left flank. Often leaving defenders flat footed, there was a time when people used to say "you cannot see his feet when he runs"
To play at the highest level for so many years and still have the same hunger as he had back in 1991 is simply amazing. The major honours won by him with Manchester United(not including his personal achievements) are: 13 Premier League titles, 4 FA cups, 3 League Cups, 2 Champions league, 1 Club World Cup, 1 Intercontinental Cup and 1 UEFA Super Cup.
His longevity at the top of the game was just amazing his ability to influence games left everyone spellbound. He broke into the first team at the age of 17 and made the left flank his own. After having played the majority of his career on the wings, he also excelled as a central midfielder in the latter stages of his amazing career.
Included in the PFA Premier League team of the year for an incredible 6 times, Giggs is the most successful player in the Premier League era.
#1 Thierry Henry
Thierry Henry is an Arsenal legend and one of the greatest forwards to have graced the Premier League. When Henry was at his best, he was almost unplayable and he tormented defences with his quick runs, close control and clinical finishing.
Henry always delivered in the biggest of games and he was an integral part of the Arsenal invincibles squad. His stunning goals and run on the wings made Arsenal a very threatening side at their peak. Henry won two Premier League titles with Arsenal. He also won the Premier League Golden Boot for four seasons.
Henry is a Premier League legend and its greatest player not just for what he did on the field, but for the way he did it, making the game look like an art.
Honourable mentions: Steven Gerrard, Wayne Rooney, Dennis Bergkamp, Tony Adams, Roy Keane, and Rio Ferdinand