9 weirdest career changes made by footballers
Timeless
7) Thomas Gravesen – Poker Player
If playing professional football in the highest leagues wasn't enough to earn a fortune, Thomas Gravesen has amassed wealth more than his playing career by plying his trade in poker. Apart from poker, he also enjoys playing roulette and blackjack.
Gravesen enjoyed a decent playing career, being a key cog in the Evertonian team. His rave performances earned him a fatter pay cheque when he became a Galactico for Real Madrid. However, his technical limitations and his weak defending were caught out time and again at the highest level. He also represented the Danish national side, 66 times, including appearances at World Cups and Euro. He retired at the age of 32, having decided to pursue his luck at poker.
He is now reported to be worth over €100m and has just announced his second 'retirement' at the age of 37.
---
8) Ramon Ray Wilson – Undertaker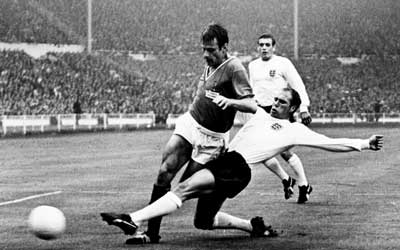 One of the greatest full-backs England has ever produced, Ray Wilson blended his attacking strengths, pace and defensive awareness with aplomb. Named after the Mexican silent film actor Ramon Navarro, Wilson started his career at Huddersfield Town after being singled out by the great Bill Shankly. He made 266 appearances scored six goals and entrenched himself in Terriers' folklore. Wilson also represented Everton for 4 years where he achieved FA cup success.
However, the shining moment of his career came in 1966 when England overpowered the Germans to lift the World Cup. Wilson, at the age of 32, was the oldest member of the squad. Upon retirement, Wilson had a forgettable spell as the caretaker manager at Bradford City.
After this, he took the unusual step of joining forces with his father-in-law to run an undertaker's business in Huddersfield. From kicking a ball to provide services for the people "kicking the bucket", quite a transformation for a World Cup winner.
---
9) Tim Wiese – WWE Wrestler
The German Bundesliga star decided to pursue an offer from WWE to become a professional wrestler at the age of 32. The career choice made by the German remains erratic, strange and unconventional just as his professional footballing career was.
An acrobatic, entertaining and promising shot-stopper, Wiese was gambled by Werder Bremen for his incredible talent in front of the goal. He had all the attributes in his repertoire to be a world-class goalkeeper but his off-field rants became even more prominent than his attention-seeking saves. He openly voiced his problems about the German Football Association and even had the audacity to have a go at Jens Lehman, then the No.2 German keeper.
"The man [Lehmann] belongs on the couch," Wiese said, per The Telegraph. "He should be committed, preferably locked up."
His final act proved to be spending a couple of more frustrating years at Hoffenheim where he was a club captain. However, poor form and loss of his place see him mutually terminating contract with the club. This definitely allowed Wiese to beef up and start on his lucrative hobby of professional wrestling.
"I had to deal with all the negativity, and lifting weights is fun." – Wiese