The 9 worst owners in club football
10.88K //
20 Jul 2011, 02:17 IST
What does a club need? Good set of fans; a nice stadium; a decent manager, but most of all, in today's day and age, a sensible and sound owner could prove to be the quite essential element in the recipe for success.
Over the years with the financial downturn, increasing costs, and the incoming financial regulations, the importance of having a good owner have increased even more. So, we look at owners might do well to avoid.
1) Ken Bates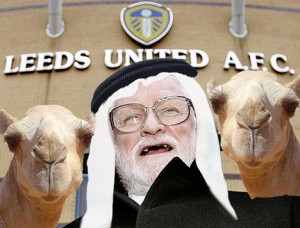 Bates: This is my style
Ever heard of electric fences at football grounds?
This was the brilliant idea of Ken Bates who decided to put electric fences at Stamford Bridge to keep the hooligans at bay, although the idea was eventually rejected by the authorities, the fact that Bates came up with this idea was enough to antagonise the Stamford Bridge faithful.
The fans will always be grateful to him for all the help during the financial crisis and for winning the case for Stamford Bridge and its modernisation, but he did rub a lot of people the wrong way during his ownership of the club.
Never shy to voice his opinion, his columns in the match-day programmes were always full of evocative statements and brought strong responses from all corners.
Calling your own sets of fans parasites, or fighting with fan's favourite: Matthew Harding, banning past players such as Ron 'Chopper' Harris and late Peter Osgood from attending matches was never going to go down well with fans, was it?
The second most successful owner in club's history literally brought the club to the similar torrid financial state in which he initially brought the club when he eventually sold the club in 2003.
Ken Bates is still going strong as the owner of Leeds United, and was lately forced to reveal his ownership of the club,
but it remains to be seen how ultimately he'll be viewed by the Leeds supporters.
2) Florentino Perez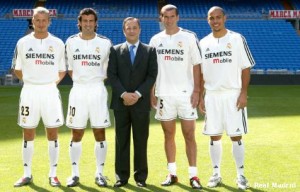 Perez: My Galacticos!
The man who once infamously said; "We will not miss Makélélé. His technique is average; he lacks the speed and skill to take the ball past opponents, and 90% of his distribution either goes backwards or sideways."
Florentino Perez started the, now defunct, Galácticos policy after winning the presidential election in 2000. The policy sounded pretty well on paper, but brought much criticism for the club.
Signing of one Galáctico every summer brought global publicity and revenue for this historic club, but didn't get much success on the pitch to show for it, as they added only one European trophy in their cabinet after so much outlay.
The 9-time European Champions were suppose to be much revered for their successes, but due to Perez's policy the club was loathed all-around, and is still recovering from it.
He is in now in his second spell in charge of the club, and luckily for all the Madridistas it seems that he has learnt from his initial mistakes.
3) Mike Ashley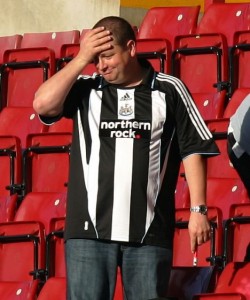 Ashley: I don't have a clue!
The owner who was supposed to be the fans man, the guy who sits with the fans, follows the club home and away; unfortunately it's all too good to be true.
Mike Ashley was expected to be the owner who would help Newcastle take the next step and challenge at the top again, but instead he became a public enemy. All the popularity that he had gained by installing Kevin Keegan was lost as the fans favourite resigned following interference in first team matters. The club was subsequently put for sale with Joe Kinnear, a hugely unpopular choice, in charge.
The club wasn't able to find a buyer and was relegated at the end of the season with Alan Shearer in charge. Chris Hughton was given the task to get back the club into the Premier League, which he handsomely did, and then led the club to a stable mid-table position by December, but that still wasn't enough to secure him his job as he was sacked for no apparent reason.
What goes on in Mike Ashley's head is as unpredictable as the English weather, a far cry from the stable days of Sir John Hall and Freddy Shephard, but it's something that the Geordie faithful can't avoid.
4) George Gillette and Tom Hicks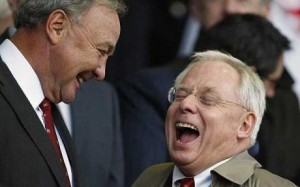 Money, money, money!!
Any set of owners who can make surpass Manchester United on the most hated lists for Liverpool fans must have something special going for them.
The American duo promised the world to Liverpool fans, but literally brought the club to its knees as the burgeoning debt went out of control. The club was made the joke of the town with public squabbles becoming a routine.
Every time the money was talked about, it was about the pending interest payments, rather than the transfer fees as one generally associates with a football club.
It was no surprise that the arrival of new owners was greeted with an enthusiasm normally reserved for silverware.
5) Peter Ridsdale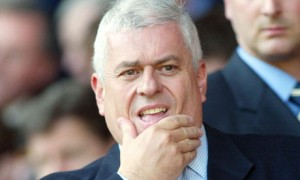 Hmm, another one bites the dust..
He is another of those serial offenders; every club that he puts his eye on has seen a downturn in fortunes that one may believe that there's a devil's eye in place. Supporters of Leeds United, Barnsley and Cardiff City very well know the pitfalls of having Peter Ridsdale at the helm of your club.
All three clubs were literally brought to the verge of insolvency before being rescued by various consortiums. First is the much publicised story of Leeds United, as they went from being Champions League semi-finalists to Championship football in space of three seasons, and subsequently into League One. Fire-sale of players, administrations and the sale of their stadium, Elland Road, to pay-off the various debts made it an ensuing nightmare for the supporters.
Barnsley and Cardiff City faced similar financial irregularities, meaning that the clubs stretched far more than what they were capable of, thereby it didn't matter what they did on the pitch, there was always going to be a bad ending.
Now after much deliberation he has taken over at Plymouth Argyle, and they have already suffered one administration and relegation, although it's not entirely Ridsdale's fault one must add, but one can only hope that these are not the signs of things to come as they start their life in League two.
6) David Gold and David Sullivan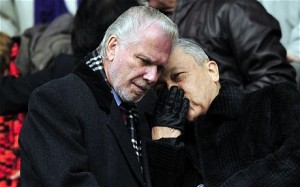 So, whose next now?!
The two Davids have held the top position at Birmingham in the past and are the current owners of West Ham United. Wherever they go they have shown tremendous appetite to come out and display their non-existent knowledge of the game.
Their board spearheaded by the main lieutenant, Karen Brady, has shown tremendous inefficiency over the years. Alongside this lack of expertise in running football clubs they also have had to face corruption charges, although later both, Sullivan and Brady, were cleared, but the doubt still lingers.
Now at West Ham, they seem to have continued where they left off at Birmingham and haven't learnt a thing. Appointing a manager whose team finished 20th in the season before; saying every player bar Parker is for sale; giving more authorities to agents for the signings; publicly pursuing another manager, and then not sacking the incumbent manager during mid-season allegedly for financial reasons, and I could go on.
The former kings of the adult film industry have run football clubs in the sort of way that will make most fans cringe.
7) Jesus Gil
He was the president of Atletico Madrid from 1987 to 2003, a sixteen year reign which was as turbulent as it gets. He was the man who shut down the Atletico academy in 1991, which resulted in Raul of all people joining their arch-rivals Real Madrid.
After making his fortune in real-estate, in somewhat condemnable manner, in the 70's and 80's he became the club president and began the changes to bring success to the club.
He did succeed in his plans initially, but the joy was only short-lived and the managers began to bear the brunt of his wrath with more than 40 managers coming through the revolving door during his reign.
He was quoted as saying; "I pay the bills, and so the coach has to agree with my ideas about the team."
He famously gave speeches from his swimming pool with a group of ladies beside him.
8) Roman Abramovich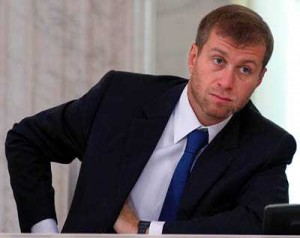 You'll never hear me speak!
The most successful period in Chelsea Football Club's history has also been the most volatile in terms of comings and goings in the managerial hot seat, with no less than six managers being shown the door during his trophy laden eight year reign at the West London club. The only thing that keeps you in the job in the managerial job is success.
And as most would know by now, this list of managers doesn't include just anyone, but the one of the best around. Claudio Ranieri, Jose Mourinho, Luiz Felipe Scolari, Carlo Ancelotti, all of these include numerous Champions League wins, League wins, and even a World Cup winner, but that doesn't save them from the wrath of the Russian.
Even though there has been lot of success at Chelsea, somewhere down the line one has to think if the trophies could have been even more had some of these people been given more time and some of the £65 odd million compensation paid out over the years to managers and their staff could have been better utilised.
(It wouldn't be fair to include Guus Hiddink in this list since he was only here on a short-term basis, and also Avram Grant, as I still don't understand what he did while he was at Chelsea.)
9) Massimo Moratti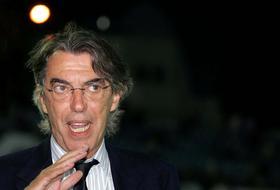 I'll do what I want
If anyone can be likened to being similar to Roman, then certainly Mr. Massimo Moratti would be it. He has been doing what Roman has just started to do. The Inter Milan supremo has been shuffling coaches at his will, as he looks to emulate the success that his father brought for this club during his reign in the sixties.
Inter were in dire straits before Moratti took over, avoiding relegation by a point in 1993-94 season, so there was much rebuilding to do. Much like Roman, he too spent millions of his own money to turnaround the fortunes and bring success to his cherished club. The desire to succeed was so strong that sometimes it brought a negative impact on the club, rather than a positive one.
A range of expensive signings, changing of managers at the helm of the club, and countless millions weren't enough as he searched for the right formula. One can only assume that their own failure, combined with Milan's success both in European and domestic competitions, often resulted in rash decisions which brought him in the firing line of fans.
After the nightmare of final day in 2002, Mancini and Mourinho have overseen the most successful and stable period for the club in over two decades, but the ramblings and changes over the past year may have given some sleepless nights to the fans and would have them worried with a sense of déjà vu.
I must add that this list is purely subjective, and there there are no rankings in here. As one may expect, some names/owners could easily have been missed, and there might be some names with which you might not agree with all together.