Arsenal – Giving a fight to finish in Top 4
871 //
19 Mar 2013, 23:52 IST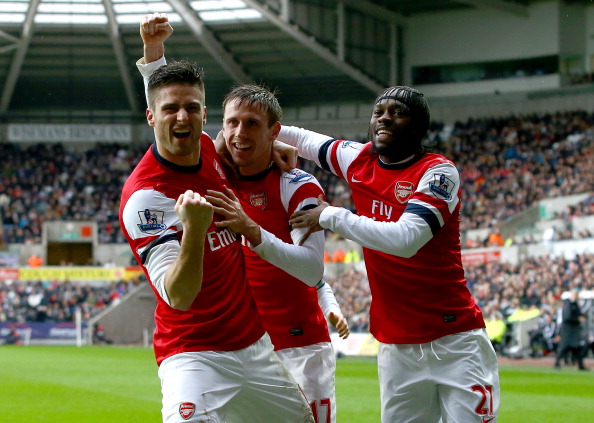 Arsenal were handed a lifeline of sorts by fellow Londoners, Fulham, when Tottenham's former player, Dimitar Berbatov, stepped up to ensure maximum points. Tottenham are currently now at 54 points from 30 games, one point shy of Chelsea, who have played a game less. Right behind Spurs, is Arsenal at 50 points, again with a game in hand. So if Arsenal were to win their next one, they will come within a point of Spurs, and touching distance of another 4th place finish. Also, a subjective look might give Arsenal a shot at third, but let's not get ahead of ourselves. Only 9 games remain in the season for a majority of the clubs, and it is time that the gloves hit the floor. Let's take a look at why Arsenal might just be able to survive.
The Munich outing
Having lost the first game at home to an overpowering Bayern Munich, Arsenal were looking to recreate the magic they had conjured against Inter Milan, rather than the performance they pulled up against Milan last year. But playing in the Allianz Arena is whole different ball game, literally. The Germans are sure-footed and even more confident in familiar territory. The occasion was nothing short of extraordinary, and Arsenal thwarted Bayern by two goals, again falling short by one. But this wasn't a very convincing victory, not by any length of the imagination. Arsenal did draw first blood with Olivier Giroud smashing Walcott's low cross, but they were lacking in imagination for most of the remainder of the game. Jenkinson, Rosicky and even Walcott failed to complete simple passes, losing possession with through balls to imaginary teammates, and lackadaisical attempts at runs down the flank. Either way, nothing spelled frenzy until Koscielny headed one in, just 5 minutes from time. Overall, a moral victory, if not more.
Form
If you take in to account the last six games played, with regard to the points earned, Manchester United leads with 18 points out of the possible 18. No surprises there, given their grit and determination to correct what was an anomaly last time around. What does raise eyebrows is the team at number two. Arsenal have collected a solid 13 points, having drawn one and lost one. Tottenham comes third having lost two, with Fulham in fourth. Clearly, Arsenal have this after Christmas party every year where they continue picking the pieces before managing a respectable top four.
The Defence
Now that was the last thing anyone expected to be here, especially when it is in a favourable light. Ask any regular football loving bloke and he will snap at the leaking back four. Per Mertesacker is like a German sack of potatoes, Vermaelen has lost his mojo since he became skipper, Gibbs is hurt and Sagna is about to leave for distant shores. Jenkinson is too young and temperamental and Monreal is just getting his stuff of the plane.
Now some of that may be true, but it is too simplistic an approach for the aforementioned self-respecting football fan. Mertesacker may be ill-suited to the English Premier league, but his tackles are timed to perfection, and his stature is a huge advantage in the opposing penalty area. He was brought in for his technical ability, not for his ability to scamper back. Vermaelen is a true case of being weighed down by expectation, plus the occasional rumour of how he will depart for Real Madrid/Barca. Gibbs is a star for the future and injuries are a part and parcel of the job. Sagna is touching 30 or time-to-sell age for Wenger and this uncertainty is bound to creep in to his play. Jenkinson, is another youngster who looks all set to follow Gibbs in terms of ability and stability. His runs against Swansea, when both sides resorted to inverted wingers, showed great promise. A possible long term replacement for Sagna, his 11 successful balls out of a total 16 in the final third made all the difference. Monreal too may be absolutely new, but he has caught on fast, and provides a legitimate choice for his manager.
What works in the defence's favour is the fact that they have the midfield's support. As ridiculous as that may sound, Swansea showed the chasm between the zones, and how they self-destructed after putting up a decent show. Another number that suits Steve Bould is the number of goals conceded in the Premier League. At 32 Goals Against, Arsenal are fourth in the list, with Manchester City leading with only 26 goals conceded. Even Tottenham have let in 37, which shows that at least the basics are in place. Digging a little deeper, we see that Arsenal have conceded only 13 goals on the road, making them the best defence on foreign turf, with City behind them with 15.