Arsenal: The 4-2-3-1 – is it effective?
1.28K //
08 Jul 2013, 02:14 IST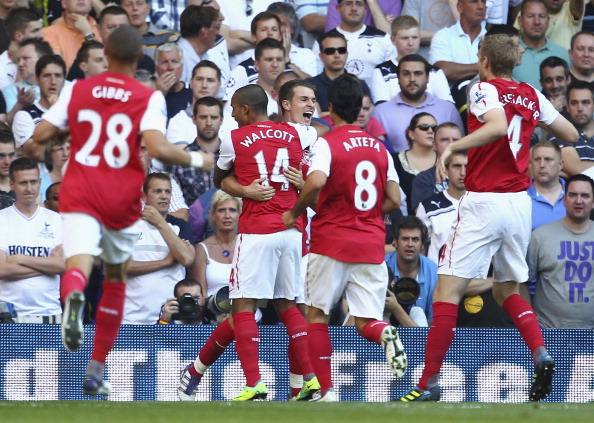 After watching some of the best collective performances this year, with Bayern Munich's emphatic result and Brazil's total pressing whilst keeping a disciplinary structure against arguably some of the most memorable teams the world has ever seen – both Barcelona and Spain came unstuck against the perfectly set 4-2-3-1 formation that their opposition used.
Arsenal have used this formation for years to implement the possession based philosophy that Wenger believes in. Many have adopted this way of playing using this formation, making it tried and tested. Clubs and nations have also made a few tweaks to it by evolving it into other formations or using a 'False 9? system – Götze with Germany/Hazard with Chelsea.
Adjusting to a 4-4-2 when defending like Dortmund have done in the past and also England. Of course it also has some faults to it, like the dependency on the single striker. Sometimes the striker has to do more than just score. For example, the Croatian Mandzukic, whose work-rate for the team is outstanding.
Juanma Lillo, the youngest man ever to coach in the Spanish First Division, mentor of Pep Guardiola and also seen as the creator of the 4-2-3-1 formation, states this structure offered him the best distribution of players across the pitch. Guardiola once stated that Lillo and Cruyff were two men who had a massive influence on him.
This era seems to be about keeping the ball and recycling it, playing attractive football – aesthetic football. This formation allows players to keep the ball as there's only one striker and sometimes even that striker drops deep to be involved in the build up. Majority of the top European teams use it – Bayern Munich, PSG, Real Madrid, Arsenal, Dortmund, Chelsea, Manchester City and the list goes on.
Those mentioned all average around about 83% pass accuracy and are in the top 20 teams with the highest amount of possession across Europe. Due to players being scattered around key areas of the field, there's always an option for the man with the ball, giving the team a chance to recycle possession. Movement is also key to creating angles.
For example, Arsenal tend to build from the back with Per Mertesacker, who usually edges forward whilst waiting for a player to drop to give him a passing option – Wilshere/Arteta/Ramsey. Whilst this is happening, Gibbs and Sagna tend to push up and hug the touchline, creating width and dragging the wingers with them. Walcott and Cazorla come infield between RCB/LCB, giving the player in possession another option.
The ball is then played forward, putting Arsenal in new found territory to work in and start building the next stage of attack. A strength of the 4-2-3-1 formation is that it offers different types of routes to creating goalscoring chances – out wide/ in the middle. If the team is set up right, then the club can vary their play up.
Variations make teams unpredictable and therefore harder to break down. Teams could create a numerical advantage out wide, by the fullback overlapping the winger. If that doesn't work, then the team could create chances playing through the opposition's defence.
Diagonal passes – Straight runs – Straight Passes – Diagonal runs. Watch Theo Walcott's goal against Chelsea, straight pass from Cazorla, diagonal run towards goal by Walcott. This is arguably a move that Arsenal can improve on if they are to see this formation flourish. Lack of movement and fluidity cost Arsenal numerous times last season; key additions and more instinctive football can improve that next season.
4-2-3-1 allows the team to press the opposition, if they are all positioned right. If the goalkeeper has the ball, then the two wingers stick to their full back, whilst the striker stays central to the defenders. Defending is a collective responsibility, not just down to the centre backs, but the striker can be seen as the first line of defence.
Managers/coaches/tacticians don't always rely on winning a game by the opposition's mistake, but you can pressurise the opposition into making a mistake. The conditioning of the players doesn't come into too much effect because if the individual players work collectively for the team, then his team mates won't have to cover, therefore not damaging the shape of the team.
Intelligent organisation and understanding is key to a team's success. Legendary Italian coach Arrigo Sacchi talks about how important it is to have intelligent footballers and not just footballers – 'Football is born in the brain, not in the body. Michelangelo said he painted with his mind, not with his hands. So obviously I wanted intelligent players. That was our philosophy at Milan. I didn't want solo artists; I wanted an orchestra. The greatest compliment I received was when people said my football was like music.'
This was shown by Bayern Munich's victory over Barcelona. They defined efficiency and mastered the fundamentals such as being narrow and compact when defending, closing the passing lanes and then opening up the pitch when attacking, creating width and space centrally. Players such as Javi Martinez and Bastian Schweinsteiger were constantly covering and checking their blind spots.
It isn't all about running but positioning and being organised. Championship players run more kilometres than players in the Premier League. However, if you can balance all these elements, then the 4-2-3-1 formation can be seen as 'the' formation right now, even if it is subjective.
The formation tends to bring out the best in technically gifted players, No.10?s or the traditional out and out winger. Mueller, who's more an intelligent wide man, always finds himself in key positions, curiously wandering into spaces, anticipating the chance that may present itself.
You have traditional wingers/inverted wingers such as Ribery and Ronaldo, who vary their play. 4-2-3-1 brings out the best in players like Ozil, who has racked up near 30 assists every season and also scored a decent amount of goals. It's the perfect formation to utilise and build your team around one player.
Arsenal and Wenger here, look to have put out a plan for Jack Wilshere being the conductor in the team, the No.10. The formation has allowed Wenger to experiment, teach and try out few players in their not so familiar role.
My previous article on Ramsey stressed that he was played out wide, to improve his close control, quick decision making so when he was later put in the middle, his breathing and thought process was a little more relaxed. Arsenal have experimented, you could say, with the technically superb Cazorla. A major strength of the 4-2-3-1 is that it allows for fluidity and players interchanging with each other, creating and painting different types of patterns of play.
Arsenal excel at playing aesthetically, beautifully spraying the ball side to side, forwards and backwards. However, they have lacked that final penetration in the final third; maybe the introduction of a new striker can change this, we'll see. This season and past seasons, we've seen the direct counter attacking football that Arsenal have been known for.
The West Ham game comes to mind, when Podolski was played through and Walcott, parallel to Podolski, was sprinting up the other end. This can be seen as a major strength to this formation, the way one minute the team is almost harmlessly passing the ball about, the next they're through on goal.
Arteta's contribution to Arsenal this season has also been key to their successes. Playing in a more defensively minded, restricted position, he has done very well. He's been at the heart of Arsenal's possession model, often seen as the link between defence to midfield and then midfield to strikers.
Majority of the double pivots have a box to box midfielder and a dictator. Dortmund – Gundogan/Bender – Madrid – Alonso/Khedira – PSG – Verratti/Matuidi – Arsenal – Arteta/Ramsey. Arteta being the distributor, whilst Ramsey acts as the more functional one, being the carrier in midfield.
Of course it can be improved, but I personally feel, Arsenal can carry this duo into the new season and believe they can challenge for the league. 4-2-3-1 is definitely the formation to go ahead with, it just needs a few tweaks. Subjective, but if Arsenal can sign two world class outfield players, then I see them mounting a challenge.
Thank you for taking the time out and reading.