Arsenal: There is light at the end of the tunnel
1.09K //
22 Mar 2013, 18:03 IST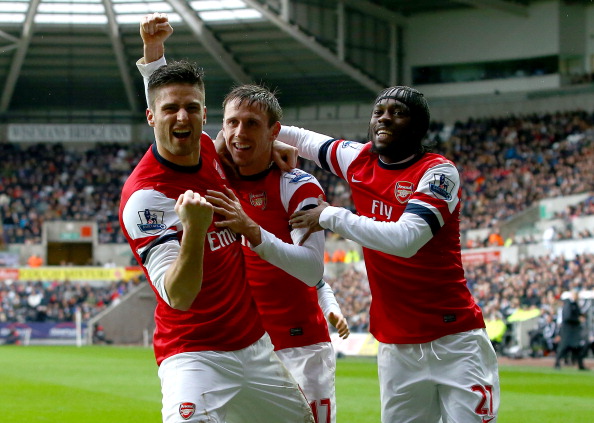 As we are in the middle of the international break, there will be breathing space for managers across England to rethink their strategies to achieve their goals. For Arsene Wenger though, he might have found the winning formula already.
Two 2-0 wins away to Bayern Munich and Swansea City isn't what Arsenal fans would have expected, even by their high standards. And how the defence stood up to the challenge was simply extraordinary. Maybe Wenger took a cue from Barcelona who decided to change tactics against AC Milan to reach the quarterfinals of the Champions League. He has realised, even the best teams aren't the most stubborn.
If Barcelona played the way they did at the San Siro, they wouldn't have done it. But by playing Messi in the No.10 position and playing David Villa in the centre-forward position and by using more width in their game than usual, Barcelona made it to the next stage. They clearly learnt from the Chelsea debacle where they remained unchanged in their tactics and paid the price dearly.
Clearly, Arsene Wenger has learnt from them and decided to shuffle the cards at Arsenal to keep themselves afresh. Dropping Wojciech Szczesny and captain Thomas Vermaelen against Bayern isn't always a good choice but Lukas Fabianski and Laurent Koscielny made sure Wenger's choice was vindicated by their performances which condemned Bayern to their first loss in 24 matches as well as their first home loss since the 2-1 loss to Bayer Leverkusen in October.
Arsenal, in their game against Swansea, kept their midfield duo of Mikel Arteta and Abou Diaby deeper than usual in the first half. This was to ensure that Michu would be strangled between the midfield and defence. Although there was a lot of space in midfield and Swansea kept lot of possession, their performance in the final third was poor to say the least. Angel Rangel and Michu fired wide as Lukas Fabianski wasn't given any work to do that day.
In the second half, Arsenal maintained their lead in the second-half Premier League by involving the holding midfielders more forward. Abou Diaby, despite being a superb dribbler, I personally close my eyes as he tries unsuccessfully to get any decent end product and I was relieved to see him subbed off for Aaron Ramsey (with due respect to Diaby, he gets into the best positions and destroys the good situation with his pass/shot).
Just when a creative run by Santi Cazorla was about to be ruined by Olivier Giroud, stepped up the delicious Nacho Monreal. He finally got it past Arsenal targets Ashley Williams and Michel Vorm, who till then were having a great audition in front of the professor. The second goal was assisted and scored by two players you wouldn't expect to be among the numbers. Aaron Ramsey fed off Gervinho first time and he delivered a calm, cool finish past Michel Vorm for the win. The win also brought relief to Arsenal, who now, with Tottenham 's 1-0 loss to Fulham, lie 4 points behind Tottenham, but with a game in hand.
We now face Reading at the Emirates in a series of relatively easy set of fixtures, with only Manchester United and Everton at the Emirates of note. Combined with the fact that Chelsea and Tottenham have FA Cup and Europa League games respectively, and Manchester City in turmoil at the moment, 2nd position suddenly doesn't seem such a tough task as it might have been a few weeks ago. At least we could attract more supporters, saying "Hey! At least we tried!" with our rank. In all seriousness, Arsenal must be above Tottenham at any cost by the end of the season, so we can have St. Totteringham's day: Chapter 17 as part of our seasonal celebrations.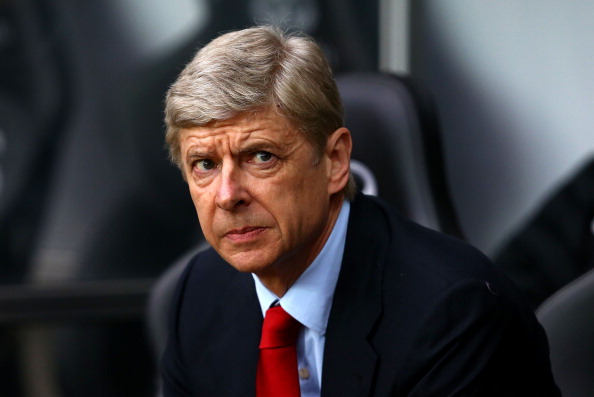 What Arsene Wenger has realised is that his starting line-up is fearless, in the sense that players now aren't scared of losing their place in the starting line-up because they don't have any serious competition, or that's what they earlier thought. Szczesny and Vermaelen were shown the door first, and now it could be anybody. So, what Arsene has to realise now is that this team doesn't have the same class as the team of years gone by. He has to force them to play at their best through sustained pressure and this shows in the transfer targets.
I think to enforce quality, we need (some suggestions):
1. A goalkeeper – Victor Valdes of Barcelona.
2. A right-back to replace Sagna – Micah Richards of Manchester City.
3. A new centre-back – Ashley Williams of Swansea City.
4. A defensive midfielder – Victor Wanyama of Celtic.
5. A playmaker – Isco of Malaga.
6. A striker – Stefan Jovetic of Fiorentina.
This will transform Arsenal into a title-challenging team. Although your preferences will be different, you can always make your views known in the comments section. Let's have a toast to Arsenal finishing in the top-4 again, more importantly, at the expense of Tottenham. Cheers!