Arsenal to benefit from selling Nasri, Fabregas and Clichy?
900 //
10 Jul 2011, 12:47 IST
A whole lot of stories revolving in the media about Arsenal, mostly its all negative, with stories about Nasri, Fabregas, Theo, Van Persie, Arshavin all jumping ship and following Clichy out. And then there is the regular silly season gossip about who will replace them with names like Mata, Alvarez (now with Inter Milan),Gervinho,Oxlade Chamberline, Gary Cahill, Christopher Samba, Scott Dann, Scott Parker, Hugo Lloris, Craig Gordon and many many others.
Seeing all these rumours, I have decided to put the strongest ones together, and see how life would be after Fabregas, Nasri and Clichy all leave, as the media has been saying for a while now.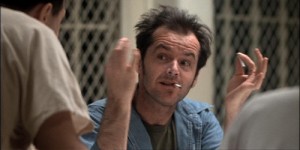 Remember this image, this is very close to how you will portray me in the next 8-10 minutes, once you realize the journey I am going to take you on and try to convince you of a hypothetical yet beautiful world, that probably never will be.
So without further ado, lets first start with the players that are said to be leaving/have left Arsenal.
Outgoing
Gael Clichy- Already signed for Manchester City for a 'reported' fee of 7 million
Cesc Fabregas- Will not travel with the squad to Asia because of his hamstring problem, but also because he wants to seal his move away by the weekend, well at least that is what the papers will report ;) – reported offer 35 million
Samir Nasri- 'Reported' to have rejected the latest contract offer from Arsenal and 'reportedly' will ask Wenger to let him leave. Offers between 20-25 million are said to be enough to get him.
Nicklas Bendtner- Has said he will leave '100%' and has been left out of the traveling party to Asia as its rumoured the club have accepted an offer for him with teams from Italy, Germany and Portugal all interested in him. Reported asking price 11-12 million
Denilson 'Winner' Neves- Has spoken clearly about how he is a 'winner' and was distraught and depressed that he didn't win and cannot stand another season of that. With Santos (Brazil) and Villarreal (Spain) said to be
interested in him, he could find his way out. Reported asking price between 5-8 million
Sebastian Squillaci- With Wenger looking for at least one center half, it looks like Squillaci may be the one that has to give up his place. An offer of around 5 million is said to be enough for Wenger to sell.
IF all those players leave, it would mean a profit of anywhere between 83-92 million
Now lets look at all the 'possible replacements' that are close to/have joined or could possibly join us this summer
Incoming
Gervinho- Signed and delivered yesterday for a fee of around 11 million
Gary Cahill- Said to be Wenger's #1 target for his defense. Apparently one cash+player bid was rejected and another one will be made in the coming days, though Bolton manager Owen Coyle has said that no bid was received and have issued an ultimatum to get the deal done by next friday or its off, strange seeing how Arsenal will be in Asia for a week starting from today! Has a release clause of 17 million
Aly Cossokho- Said to be the new #1 target to replace Clichy at Left-back. With ex Arsenal player, Remi Garde, coincidentally Wenger's first signing with Patrick Vieira when he joined Arsenal, taking over, it could help in Wenger's approach. With Lyon president Aulas, known to overprice his players, the minimum offer looks to be between 11-13 million.
Karim Benzema- A Wenger favourite and player out of favour at Real Madrid makes this rumour go round. If Real Madrid boss, Jose Mourinho keeps his promise to ex Arsenal player Emmanuel Adebayor, that he will do everything to bring him back, and maybe a move for Aguero or Neymar on the cards, Benzema could see his limited first team opportunities dwindle even further. According to the latest report, he is a target to replace Nasri and is valued at 27 million by Madrid.
Those 5 players together cost 88-90 million
Taking into consideration the profit generated by sales, it would mean that a net, out of pocket expenditure of around 8-10 million would be all that is needed to turn the team around completely and build one of the strongest lineups in the league, as shown below:
———————–Szczesny—————–
Sagna——Vermaelen——Cahill——Cissokho
————–Song————–Wilshire——–
————————-Mata———————
Benzema————RVP—————–Gervinho
That would leave Fabinski, Eboue, Gibbs, Koscielny, Djourou, Ramsey, Diaby, Frimpong, Chamakh, Walcott, Arshavin, Vela all fighting for a place on the bench.
Not a shabby squad,eh? Maybe just needs one Defensive midfielder that can cover for Song,or Chris Samba from Blackburn who can play both center half or to cover Song, an outlay of possibly another 10-12 million at the very worst. That would mean a net expenditure of around 20 million, well within Arsenal's budget, one would assume.
We can only dream.
Author's Note- This piece has to be taken with a pinch of salt, well ok a bucket full of salt,if you may. I have only gone by what the papers have been claiming and tried to piece it altogether in a fun way. In no way do I claim to know what Arsene Wenger is thinking but if this is his master plan, then its genius, if i say so myself! If nothing else, it shows that you shouldn't believe everything written in tabloids during silly transfer season.