Battle of the Blues: Chelsea vs Manchester City
993 //
25 Nov 2012, 00:03 IST
Stadium: Stamford Bridge
Referee: Chris Foy
Kick-off: 9:30 PM (IST), Sunday, 25th of November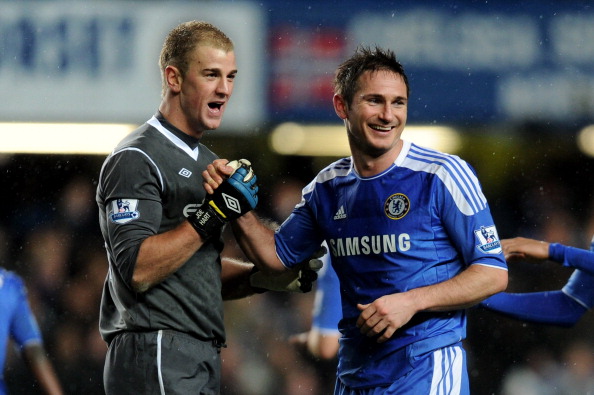 Taking charge of a football team for the first time in nearly two years since being sacked by Inter Milan, all eyes will be on Spaniard Rafael Benitez as his Chelsea take on the champions, Manchester City at the Bridge. With the Blues now sitting fourth in the league, below a surging West Brom, three points will be crucial for Benitez if he is to even start swaying the fans in his direction, especially those who remember him from his days at Merseyside.
Manchester City, who went into the weekend on top of the table now find themselves toppled by fierce rivals, Manchester United, and are 2 points adrift of regaining top spot. Considering how United have scored victories over Chelsea, and Arsenal already, Roberto Mancini will believe that his side have to do the same to retain their title, and should send out an attacking line-up. With 6 wins in their last 7 league matches, including a 5 – 0 demolition of Aston Villa last weekend, City are slight favourites going into this game against the London club who have been rocked by a series of unfortunate events.
Chelsea: D W D L L
It has been a month to forget for the European champions thus far, and it has only been reflected further in the dismissal of manager Di Matteo. With Champions League progress already dependent on the results of other teams, Chelsea have failed to divide their attention adequately between their European and league campaigns. With just 2 points in their last four fixtures, Chelsea have gotten into a rut, and have the second worst tally in the league, only ahead of bottom placed QPR.
Desperately needing a win, it will be interesting to see if Benitez deploys a team with a defensive mindset, with which he has more success, or an attacking one, which seems more suited to the squad that Chelsea have. In terms of numbers, Chelsea have scored just once on their last three league showings, and failed to find the back of the net against Juventus during midweek. Thus, with a misfiring bunch up front, the early season results have nearly been wiped off the memories of all involved, and one hopes for Benitez's sake that Torres rekindles some sort of form akin to the one he displayed under the manager at Liverpool.
Manchester City: D D W W D
In contrasting style, Manchester City have overcome a sluggish start to the season, and have displayed grit and maturity to slowly head to the top of the table. With all three strikers finding the back of the net on a regular basis now, City will feel that they can get a result at Stamford Bridge, and push for top spot yet again, especially if they come up against a Chelsea side looking to sit back and defend. The initial lack of creativity has been thrown out the window since David Silva's return to full fitness, and the Spaniard's performances over the last couple of weeks have been key for the Sky Blues.
With the best defensive record in the league, City have kept clean sheets on four of their last six outings, and have conceded just once each on the other two occasions. With Chelsea's problems up front already highlighted, this could mean that the result of the game may come down to whether or not Aguero and co. manage to breach Cech's goal.
Injuries, Concerns & Suspensions
Chelsea: John Terry, Frank Lampard, Daniel Sturridge.
Manchester City: Jack Rodwell, Micah Richards, Vincent Kompany, Gael Clichy.
David Silva vs Gary Cahill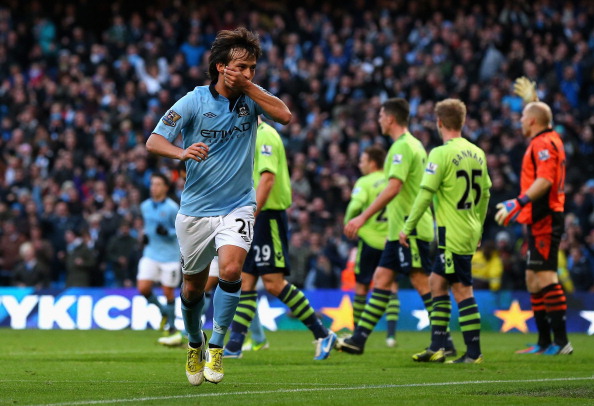 The importance of the Spaniard's creative spark to the City attack cannot be stressed enough, and he has proven it time and again, with an assist and a goal in his last two league outings. Even in the midweek's 1 – 1 draw against Real Madrid, it was Silva who provided the English club with any real sort of opportunities to foray behind the defence, and was unlucky to not score himself, as Casillas denied him on more than one occasion. Now up against the formerly formidable Petr Cech, whose influence has been slowly waning, Silva will have to be stopped by the defence, if he is to be contained from causing real damage. Gary Cahill is the man likely to be tasked with that job, and he will hope that his pace and agility will aid him in doing so.
Juan Mata vs Matija Nastasic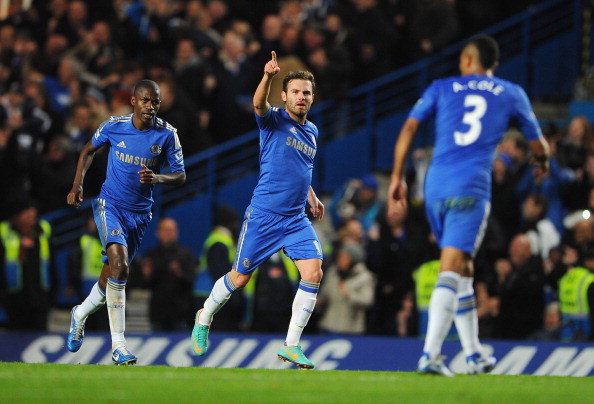 Juan Mata, yet another Spaniard, has been even more crucial to his team than Silva; topping the club charts for both goals scored, and assists provided with 4 and 6 respectively. Resting him last weekend in anticipation of the match against Juventus proved costly for Chelsea, who crashed to a defeat at West Brom, and it is a mistake they can ill afford to repeat. 19-year-old Serbian Nastasic, on the other hand, has stepped exceptionally well into the void left by Lescott and could well retain his spot in the starting line-up ahead of the English defender. He saved City the blushes against Madrid in midweek with an excellent clearance off the line; a skill which might come in handy against Mata who is excellent at finding the goal from range.
A low-scoring draw, perhaps. With Chelsea sitting just four points behind City, there is enough incentive to win, but the confidence seems to be lacking, with recent results knocking the wind out their sails. City, on the other hand, will be mindful of their 2 – 1 loss in this corresponding fixture last year, where a 2nd minute goal by Balotelli was met with goals from Meireles and Lampard. Thus, a wait-and-watch approach may be adopted by Mancini, leading to an engaging battle for midfield supremacy, with few clear cut opportunities at goal.