Bayern Munich: Knockout rounds await!
992 //
12 Dec 2012, 15:49 IST
The Group Stages are finally over and the major upsets have already happened. Most of the regular biggies are through while most of the minnows have been put in their rightful place. Bayern Munich, now fielding a side many have labelled stronger than last year's, have very naturally cleared the group stages and are now into the knock-out rounds with the widest possible range of opponents – a grand total of 7 possible challengers. In this article, we'll be considering each match and Bayern's chances in it.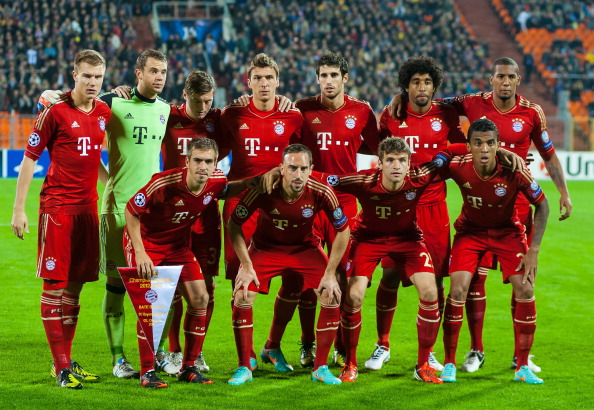 Rules for selecting opponents from the knock-out rounds:-
1. No team from the same group may compete against each other in the first round
2. No team from the same country or association may compete against each other
As a repercussion of the first rule, Bayern will be unable to face Group F Runners-up Valencia.
Therefore, the possibilities and probable outcomes are:
1. Bayern Munich vs Porto
Having finished runners-up behind PSG does give the Portuguese giants quite a lot of credibility, given Zlatan's incredible run. Impressive wins against Dynamo Kyiv and Dynamo Zagreb saw them into the knock-out stages. The team, however, doesn't look like the one that conquered Europe in 2003-04 under Jose Mourinho and  Bayern will want opponents like these on their course to the final if they want to end their 11-year drought.
Prediction: Easy win for Bayern Munich
2. Bayern Munich vs Arsenal
Arsenal finished second in the Group B, just behind Bayern's German compatriots, FC Schalke 04. Although Arsenal have great history attached to their name, they have never managed to replicate their form in Europe, and given Arsenal's current dip in the Premier League, it seems unlikely for the London giants to have something on Bayern. They do, however, have a mean goal or two in them, and might cause upset occasionally, so it will be unwise to strike them off altogether.
Prediction: Bayern Munich win by a one goal margin
3. Bayern Munich vs AC Milan
After the departures of some of the biggest names in football in forms of Ibrahimovic and Thiago Silva, AC Milan were no longer the same team in anyone's books. Their form, however, is far from the appalling than most fans feared, and 90% of the credit for that goes to the young and dashing Stephan El Sharaawy. Finishing second in Group C, just below Spanish surprise package Malaga CF, AC Milan look to have a decent shot at their 8th European Cup, but that seems like a faraway dream if the given fixture takes place. Bayern's defense is likely to have a tough time with Sharaawy, but they haven't been leaking goal's lately and Bayern's forward line-up can rip through just about any defense in the world right now, so it will be quite an uphill task for Milan.
Prediction: Bayern win at home and tie at the San Siro to go on through
4. Bayern Munich vs Real Madrid
Perhaps Europe's most competitive and most awaited rivalries is one of the possibilities for the Round of 16. It would be a shame to see either of these two sides bow down and bow out, but the rules don't have anything on this and thus, this fixture is likely, however
unwanted at this stage. Real Madrid finished second in the Group D, just below German powerhouse Borussia Dortmund, and Cristiano Ronaldo is currently the top scorer in Champions league with 6 of them to his name. Their domestic form and tendency to slip up, however, make the scales tilt a bit towards Bayern's way. The same fixture also took place last year in the Semi-finals, where Bayern went on through after a penalty shoot-out, and with a team that looks even more potent than last time, I'd give Bayern a 60% percent chance of going on through.
Prediction: Both matches end with the same difference, and Bayern go on due to the away goals rule.
5. Bayern Munich vs Shakhtar Donetsk
The Group E surprise package from Ukraine is also a potential threat to Bayern in the first knock-out rounds. Finishing second below Juventus, Shakhtar stunned the footballing world by qualifying instead of Chelsea, thus making it the first ever occasion where the defending champions have failed to qualify from the group stage. Shakhtar are fielding a side that only a fool would underestimate, and can very easily go a long way. Their chances of beating Bayern, or any other top team for that matter may seem higher given the situation, but it seems unlikely for them to beat the team that the UEFA ranks at the second spot in Europe.
Prediction: Bayern win by a two goal margin.
6. Bayern Munich vs Celtic
Another surprise package that emerged from the group stage, Celtic maintained enough quality to outclass the minnows of the group, but the real shocker arrived when they beat Barcelona with the same highly criticized and just as effective methodology as Chelsea did last year, which has been described effectively and appropriately as 'Parking the bus'. Chelsea also managed to beat Bayern last season in the finals with the same tactics, and what remains to be seen is whether Celtic can defend with their life just as well as Chelsea can or not. If it is the former, then Bayern do have some pretty stiff competition, but if Bayern have devised their own method to beat the bus or if Celtic cant show the same class Chelsea did, it's a certain win for Bayern.
Prediction: Match rolls on till penalties and Bayern go on through.
7. Bayern Munich vs Galatasaray
Galatasaray were the runners up from the Group H, coming second to Manchester United. They did, however, beat Manchester United at Old Trafford (although Manchester United were playing with a reserve team), and they do have Burak Yilmaz in their ranks, who is the joint top scorer with Cristiano Ronaldo, although he has only played a fraction of the time Ronaldo has. Galatasaray might stun Bayern Munich by catching them off guard, but that is as likely as my candidature for the President of the United States.
Prediction: Bayern hammer through these minnows.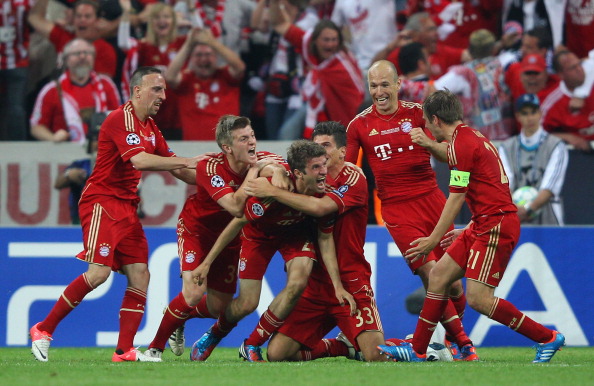 So there you have it, Bayern's probable opponents and likely outcomes. The side looks to be very promising for now and might just go all the way this time after falling short of just one step on two occasions in the last 3 seasons. Let's hope for the best and keep calm as the red army conquers Europe!