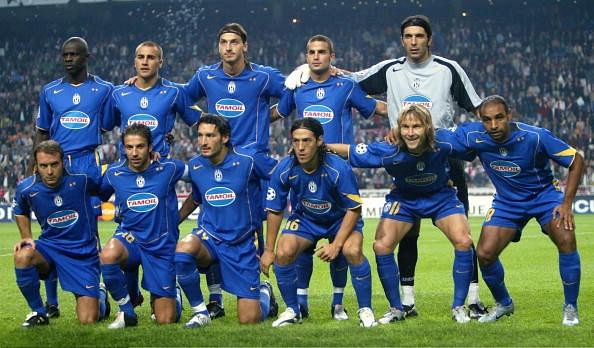 Just days before the start of the FIFA 2006 World Cup tournament, Italian National team captain Fabio Cannavaro and his team-mate at Juventus, Frenchman David Trezeguet, travelled to Rome to bear witness to the allegations of 'illegal competition with use of threats and violence' at GEA.
Goalkeeper Gianluigi Buffon, the Juventus goalkeeper and one of Azzurri's best players in the tournament, was more seriously threatened, with charges of 'involvement in illegal betting on domestic games' being levied against him.
Trezeguet missed a crucial penalty as France lost the final and a jubilant Cannavaro held the World Cup aloft for the world to behold. However, a very different fate awaited the players back in their nation.
It was the first time in history that a side recently crowned as the World Champions were flying back home to appear before investigators who, effectively, were accusing them of being corrupt.
The Calciopoli
Back in 2004, two very different yet startling rumours started doing the rounds. One alleged that the Juventus players were susceptible to doping while the other talked of illegal betting and corrupt referees. Naturally, a taskforce was set up and the Italian police began investigating these claims.
Though both rumours proved to be ungrounded, the investigating magistrates' wiretaps turned up something much bigger: The Calciopoli.
In the spring of 2006, the Turin magistrates approached Italy's football authorities but swiftly realised that the governing bodies were themselves implicated. Then Prime Minister Silvio Berlusconi, president and owner of AC Milan, was not in favour of a public investigation as his club was one of the big four in the line of fire.
Hence, the magistrates turned to the press and the Calciopoli became front page news.
Voluminous but inconclusive evidence from the wiretaps showed the then Juventus sporting director Luciano Moggi communicating in an "exclusive" manner with the referee designators of Serie A, attempting to influence results by picking certain referees he considered more favourable to Juventus or more likely to rule in favour of the Old Lady on a dubious call.
The scandal painted a shady picture of a vast and shadowy network of untraceable phone cards, secret payoffs and Godfatheresque proposals no match official could refuse. It was further alleged that throughout the season, top players of rival clubs were shown a calculated number of yellow cards in a bid to ensure their suspension when their teams faced the record Italian champions.
But the question remains, how was all this done? Who orchestrated the whole operation? Who was to gain from all this? The answer to all these questions is Luciano Moggi and his system termed as 'Moggiopoli'.
Moggiopoli: The approach and system behind Calciopoli
To understand the system, one must have a little insight about Luciano Moggi. Born in Tuscany, Luciano quickly rose to the rank of a railway station ticket office manager and it was during this time that he befriended a baker who worked as a scout on the sides and took him to watch football matches.
Moggi was a brilliant salesman with an eye for young talent and began his career in football as a youth scout for Juventus in the early 1970s. He befriended the players and was like an elder brother to them.
In a move characteristic of the Tuscan native, Moggi hired the baker who he befriended as an assistant. This was the basic principle of the Moggi system - what goes round comes round, once a friend, always a friend.
The late 70s were a key time for Moggi as he worked tirelessly, networking assiduously with politicians, magistrates, diplomats, military officers, celebrities and especially journalists. The 80s presented turbulent times for the Italian as he found himself embroiled in a huge corruption scandal at Lazio, the famous match-fixing affair involving Paolo Rossi, who returned from a two-year ban to inspire Italy to World Cup victory in Spain in 1982.
'Lucky Luciano' escaped the spotlight and subsequently worked in administration for Roma, Torino and Napoli before returning to Juventus as general manager or 'chief managing director' in 1994. At Juventus, Moggi's power continued to grow and his system was firmly in place.
No one doubts that Moggi was able to have a huge and nefarious influence on Italian football which was profound in helping Juventus (and possibly several others) win.
However, there is no proof which suggests definitively, that the matches were rigged. No players or referees have been shown to accept brown envelopes.
Yet, Moggi was somehow able to select referees for games, influence the selection of other teams, have games postponed or cancelled and also influence the media coverage of football in a country in which the sport is regarded as a religion.
Evidence
One of the first to be heard by the tribunal was Italy coach Marcello Lippi.
On 19th May 2006, three weeks before the FIFA World Cup in Germany, Lippi appeared in front of magistrates to answer charges that his selection of players for Azzurri had been influenced by Moggi. It was alleged that Moggi had put pressure on Lippi to select fewer Juventus players for the national team so that the club can minimise injuries and fatigue ahead of the new season.
Lippi did name five Juventus players for the World Cup (13 players out of the 23 man squad played for clubs that were found guilty in the scandal) but they were all cleared of any wrongdoing.
Conversations between Moggi and Italy's most famous sports commentator Fabio Baldas (on 18 October 2005) showed how Baldas pre-decided to make a referee (Rodomonti) look bad with his comments during the match between AC Milan and Cagliari.
Moggi had great knowledge on the workings of the media and had worked out that the best way to conceal any bias that referees showed towards Juventus. Luciano argued that on an average 50,000 might see the game in the stadium, but millions who watched the match on television had their opinions formed by men such as Baldas.
According to investigators, Baldas and Moggi spoke before every programme to discuss what was going to be said and shown, who was going to be given the thumbs up and who got the thumbs down.
However, one might wonder. What was Baldas to gain out of all this?
In return for his biased views, Baldas received access to Juventus and had a good source in Moggi, who was always resourceful in finding out stuff. Also, of course, Moggi had friends everywhere, in the senior ranks of the football federation, in clubs, among players and could always call in favours with them.
Moggi's sports agency, GEA, looked after 200 players and also employed the children of a dozen of the most powerful financiers and sports investors in Italy, which also included the sons of Lazio president Sergio Cragnotti and of Italy coach Marcello Lippi. If Baldas or anyone else wanted GEA players on their programme or wanted a pass to Juventus's ground, they required Moggi's assent.
But sports journalists are hardly the key to throwing games. For that, one needs referees.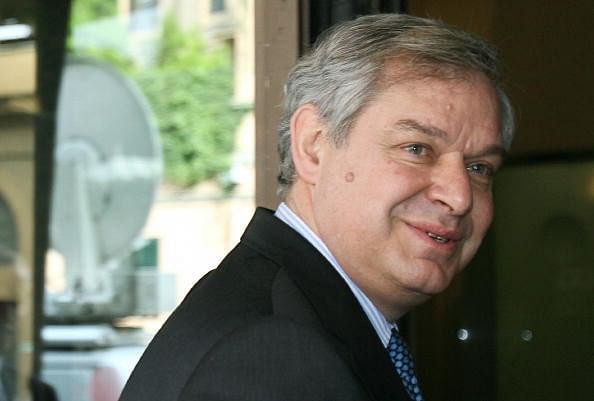 Conversations Moggi had with the head of national referees' association, Pierluigi 'Gigi' Pairetto, clearly showed the two preferring some particular referees for Juventus games. This evidence was found courtesy a wiretap on the conversations between the two, and some of the details are pretty shocking.
A conversation between the two on 11th August 2004, a day after the Old Lady's Champions League third qualifying round game, showed Moggi expressing his disapproval of the match official after he had ruled out a goal that was scored by Fabrizio Miccoli.
On 23rd August 2004, right before the second leg of the Djurgaarden game, Moggi and Pairetto discussed the crucial European match. Pairetto assured Moggi that Juventus will win 4-1 and they do just that.
The next conversation between the two was about the possible candidates to officiate the upcoming Juventus and AC Milan fixture, where Moggi very clearly instructed Pairetto to make Tiziano Pieri the match official. The referee at the game between the two Italian giants on 28th August 2004 was indeed Pieri and Juve won the match 1-0.
Pairetto called Moggi again just one week later and once more talked about the Champions League. Juventus were due to play their opening group game against Ajax in Amsterdam and much to Moggi's jubilation, Pairetto informed him that he would send Urs Meier to officiate the match. On 15th September 2004, Juventus played Ajax in Amsterdam and won 1-0. The referee was indeed Urs Meier (Not investigated nor suspected of wrongdoing).
There were many conversations like the above ones that took place between the two, but Moggi wasn't the only one calling in favours. Officials at Milan, Lazio & Fiorentina were all guilty of influencing the choice of referees too.
So why did the referees, who in Italy are well-paid professionals, do what they did?
The answer is simple – They had no real choice, they were weak, they were ambitious and also because they were caught up in a corrupt system.
If they didn't favour Juventus they wouldn't get picked to referee big games. If they displeased Moggi, they might lose their jobs.
Punishments
As a punishment, Juventus were relegated to the Italy's second division Serie B and were docked enough points to ensure that they would remain there for at least two seasons. They were also stripped of the Serie A titles they had won in the previous two years.
Fiorentina were relegated with a 12-point deduction and missed out on their Champions League spot just like Juventus. Lazio joined them in Serie B with a seven-point penalty and were stripped of their UEFA Cup place.
The fourth club to be implicated, AC Milan, escaped relegation but started their next League campaign with a 15-point handicap and were barred from playing in the Champions League.
Italy, even with its history of sporting and political scandals, had never seen anything like this.
Final Verdict
The Naples tribunal ruled that the 2004-05 season was unaltered by any illicit means and that the results (and therefore, the championship title won by Juventus) were valid and regular.
Moggi was charged with attempted sporting fraud – but the attempts were found to be completely unsuccessful in altering the results.
It is also important to note, as the proceedings in the High Court have found, that Moggi was far from alone in his possible attempts at illicit behaviour. New evidence indicated similar dubious actions from the directors of Milan and Inter among others.
Calciopoli in short was both more widespread and less influential than originally thought and the original verdict from the FIGC that pointed the finger at Juventus clearly deserves the revision it has undergone over the years. Cannavaro, Trezeguet and Buffon were all cleared of any wrongdoing by the Naples Tribunal.
Nine years after the case came into the spotlight, the Italian Supreme Court (Corte di Cassazione) gave the final verdict on the case.
Moggi was acquitted of "some individual charges for sporting fraud, but not from being the 'promoter' of the 'criminal conspiracy' that culminated in Calciopoli." The remaining charges on him were cancelled without a new trial due to the statute of limitations.
Appeals by Fiorentina owners Andrea and Diego Della Valle and Lazio President Claudio Lotito against their sentences were also rejected on the ground that their cases passed the statute of limitations.
The court accepted the prosecutor's request to clear the charges of former referees, Paolo Bertini, Antonio Dattilo, and Gennaro Mazzei but rejected the appeals for Massimo De Santis and Salvatore Racabulto.
On 9 September 2015, the Supreme Court released a 150-page document explaining its final ruling on the case. The court made it clear that Moggi's unwarranted activities incurred significant damage to Italian football not only in a sporting sense but also in economic terms.
Conclusion
The scandal will forever leave a black mark in Juve's otherwise illustrious history, but they have turned over a new leaf since then.
The Bianconeri have been dominating the Serie A in the past few years, winning the league four times since the 2011-12 season. The reigning Italian Champions had also reached the Champion's League final at the back end of the 2014-15 campaign, although they succumbed to 3-1 defeat to eventual winners FC Barcelona.
Considering their impressive form in Italy and Europe in recent years, Juventus look destined to forget the fateful affair and achieve even more sporting greatness in the years to come.