Marcello Lippi - One of the greatest managers of our time
4.85K //
01 Nov 2012, 12:46 IST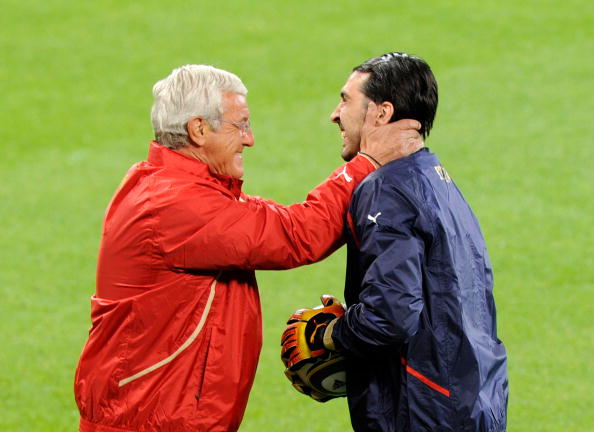 If managers are rated as great based on just their accolades, then Marcello Lippi will be right there at the very top, among the elite of Football management, who have won almost everything world football has to offer. Having made it to 4 Champions League finals (1 victory), 5 Serie A titles and a UEFA cup final with Juventus before leading Italy to World Cup glory, Lippi's resume speaks for itself!
His name has become synonymous with legendary Italian managers, but looking past Italy and his second stint with Juventus, how much do we really know about Lippi?
Part of the generation of great Italian managers like Giovanni Trapattoni, Carlo Ancelotti, Arrigo Sacchi and Fabio Capello, Lippi's trip to the top that saw him carve a niche for himself as a master tactician and a team player was not an easy one but it was one that follows the much clichéd line that "Hard Work Pays"; and in this case, it actually did!
He was a man who could bring the best out of teams that one would call mediocre, but were built around a philosophy of team spirit and unity. His teams played like, well, teams, rather than a group of individuals together on the pitch. Lippi's teams have always been built around his core beliefs and ideals, like when he said:
"A group of the best players do not necessarily make for the best team."
It was a philosophy that required the manager to put faith in his players, and Lippi never hesitated in doing that with all his teams over the years and more often than not, it worked!
Probably the most accurate description of Lippi came from Sir Alex Ferguson, who has always rated him as one of the best managers of his generation. Sir Alex's United team and Lippi's Juventus have had numerous epic battles down the years and he spoke about his respect for Marcello in his autobiography Sir Alex Ferguson: Managing My Life.
"Marcello Lippi is one impressive man. Looking into his eyes is enough to tell you that you are dealing with somebody who is in command of himself and his professional domain. Those eyes are sometimes burning with seriousness, sometimes twinkling, sometimes warily assessing you – and always they are alive with intelligence. Nobody could make the mistake of taking Lippi lightly."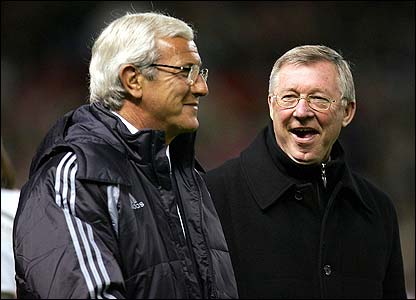 Born in Viareggio, a small city in northern Tuscany, Marcello Lippi's career in football began as a player before he moved into management. During his playing days, Lippi was a stylish centre back. Though he was never capped for Italy, he spent most of his career in Serie A playing at Sampdoria. He started his professional playing career a 21-year-old in 1969 and spent almost a decade playing with the i Blucerchiati (Sampdoria) before moving to Italian side Pistoiese and helping them get promoted to the Serie A.
In 1982, Lippi called time on his playing career and decided it was time to make the move into coaching. He returned to Sampdoria to coach their youth team and he then got his first managerial break at Pontedera in 1985. Lippi continued to manage in the lower leagues at teams such as Siena, Pistolese, Carrarese before managing his 1st Serie A side Cesena in 1989.
Lippi famously once said,
"In this day and age you win if you become a team. It doesn't necessarily mean that you've got to have the best football players in the country. It's possible that the best, all together, don't become a team. It's like a mosaic; you have to put all the pieces together."
And he did exactly that with Napoli in 1993-94, as he managed to take a side beset with financial problems and still living in the shadows of their Maradona era to a respectable 6th in the Serie A, and also give them UEFA Cup qualification. Lippi had impressed one and all in his debut season at Napoli and Juventus were quick to sign him up as the manager, replacing Giovanni Trapattoni.
A move that would be the beginning of a golden era for Juventus and Lippi, as they dominated both in Italy and Europe; in his firstt season at the club, Juventus went on to win the Serie A title (Scudetto), ending a 9-year wait, and also reached the UEFA Cup final, where they lost to fellow Italian side Parma.
But this was just the start as the bianconeri went on to win the Champions League the very next season, ending an 11-year wait for European glory. They beat an Ajax side that under Louis van Gaal had just won the Champions League the previous year and were the team to beat in Europe at the time!
Two more Scudettos and two more Champions League finals followed in quick succession, as Juventus had once again become a force to be reckoned with in Europe. Lippi had created a side that was built on the flair & incisiveness of the likes of Inzaghi, Del Piero and Zidane while the likes of Edgar Davids, Ferrara and Deschamps offered steel and stability in defense and midfield.
Lippi eventually left Juventus to manage Inter Milan in 1999 but a 4th place finish in his first season was deemed unsatisfactory and he was sacked after the first match day of his second season at Inter. Lippi stayed out of management that season but he returned to his beloved bianconeri for his second stint as the boss and guided Juventus to more Scudettos and another Champions League Final in 2003.
Giovanni Trapattoni's disastrous tenure as Italy manager that ended after Euro 2004, led to Lippi's appointment as the manager for the national team. Italy's progress through the qualifying stages for the 2006 World Cup was quite comfortable and they were touted to be one of the favorites to win the World Cup that year.
But what was to come just before the World Cup would prove to be the ultimate test of Lippi's character and ability. Just a few months before the start of the World Cup, Italian football was embroiled in what would be it's darkest time,the Calciopoli match fixing scandal, with Juventus at the centre of the storm. Italy went into the World Cup unfancied and also under intense pressure with the integrity of Italian Football as a whole cast under a shadow, a very dark and gloomy one!
But led by Lippi, Italy defied the odds and expectations as the team, with captain Cannavaro, went on to lift the World Cup, beating France on penalties in the final; a moment that Lippi went on to describe as his "most satisfying moment as a coach".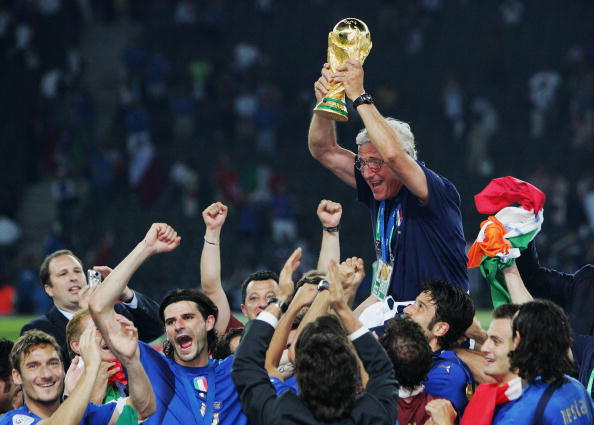 How did he do it? Lippi had infused the team with a siege mentality and the feeling that they were up against the world and the impact of his man management was incredible! The Italian squad performed like a team, together and living up to Lippi's mantra of "team spirit and unity".
Lippi stepped down as the head coach after the tournament but the subsequent sacking of his successor Roberto Donadoni after Euro 2008 saw him return to the helm for the 2010 World Cup campaign.
But the tournament didn't go the way many expected for Italy, as they finished bottom of their group that featured New Zealand, Paraguay and Slovakia. The team looked disjoint and their failure was probably the one of those rare moments that Lippi's famed man-management tactics failed. Lippi resigned after the tournament taking full blame for the team's dismal performance.
"I take full responsibility," Lippi said. "If I was part of the success in 2006, I have to take the blame for this failure too. If a team shows up at an important game with terror in its heart and head and legs, it must mean the coach did not train them as he should have done. I thought the men I chose would have been able to deliver something different but obviously I was wrong"
Lippi kept away from management for the next two years before being lured back by Chinese Super League side Guangzhou Evergrande, and it wasn't long before he led them to the Chinese Super League title. Lippi's management career is far from over and it won't be long before we see Lippi back in charge of a European club side.
Lippi is a legend in management, be it at the club or international level, and he has proven that he is among the best that there is. His philosophy and ideas on football are a throwback to the days when football was played for the love of the game and the fans rather than the money. Lippi may not be the most interesting character in management nor is he the funniest, but hidden behind his calm demeanor and stoic face is a person who, as Sir Alex described, is "is in command of himself and his professional domain".
To many, Lippi might be a dinosaur, a man whose ideals and principles seem romanticized in the current footballing climate where money rules, but he still is and always will be one of football's greatest managers.
See who else made our elite list of Managerial Greats