Champions League football secured for Arsenal but only on Goal difference! What are the odds?
1.18K //
25 Mar 2013, 22:40 IST
It's been too long since I last wrote anything and this one maybe of interest to anyone that follows me on Twitter who also looks out for my regular Arsenal Bet of The Day. I post a bet on the day of each Arsenal game and since the start of the season anyone following the bets would be £210 up for a £10 stake. Firstly, seeing as it's getting to the business end of the season, I thought I'd look at some odds regarding the big issues. Looking at the relegation battle and our old "friend" 'Arry whose odds on QPR falling through the PL trapdoor are a best priced 2-9, this despite being below Reading in the table who are 1-16 to go down. It's quite tight down at the bottom and although Wigan have form at escaping relegation, you can get 11-10 on them being a Championship side next season. Personally speaking, I think one of Villa (2-1) or Southampton (a decent priced 8-1) will be claiming their parachute payments next season. I know Dave would quite fancy the Saints to go down so Arsenal can pick up Morgan Schneiderlin. Of course, until they reach the often fabled 40 points, no one can assume they are safe. Sunderland 7-2 right through to Fulham 150-1 are the odds between the clubs caught up in the fight to stay up.
Next let's look at the best odds for clubs finishing in the Top Four. Man Utd have won the title so that offers no value at 1-250 , meaning you would win a whole £1 if you staked £250 on the Old Trafford outfit adding to their Title Wins. So taking Man United out of the equation where do we stand?
Position
Team

Played

GoalDifference

Points

1
Man United

29

38

74

2
Man City

29

25

59

3
Chelsea

29

28

55

4
Tottenham

30

14

54

5
Arsenal

29

23

50

6
Everton

29

11

48
The odds on Man City gaining a Top four finish are 1-200 which again offers little value. Even Chelski at 1-6 is not exactly going to make anyone rich. It is hard to argue with the experts given that City are already 9 points clear of 5th place and Chelsea are 5 points adrift. It is fair to assume therefore that the bookies see there only being one Champions league spot up for grabs. Currently in pole position are Tottenham who, since beating Arsenal however, have gone on their customary end of season blow-up having lost heavily to Inter Milan, losing at Liverpool and being beat by Fulham at home. Tottenham are best priced even money to gain a top four finish. They have a tough run of games over the next month whilst Arsenal on paper at least look to have the easier run in, with the exception of hosting the Champions elect at the Emirates. At present, the experts have Spurs just slightly favoured over Arsenal but it is marginal. Surprisingly, although they only lie 2 points behind Arsenal, and have just beaten Manchester City, the bookies completely discounted Everton. You can get between 9 and 12 to 1 for the Toffees to break into the top 4. Interestingly Everton at home is Arsenal's game in hand over their North London rivals. A win for the Gunners over Moyes' boys could see Arsenal finish Merseyside hopes and really begin breathing down Tottenham's necks.
So if the bookies are correct and it is a straight 2 team North London race, let's have a look at the 2 sets of fixtures and maybe try to predict the results to see if those bookies have gotten it right or wrong.
Spuds
Swansea Away
Difficult trip, Swansea's a difficult place to go BUT their form since winning the cup has gone off the boil. Then again they won't want to be losing two home games on the spin.
Let's say 1-1 draw: 1pt
Everton Home
Everton could, if results go their way (beat Stoke at home & if Spuds lose to Swansea), actually draw level on 54 points if they beat Spuds. I can see another tight game here seeing as it's sandwiched between Spurs' QF ties against FC Basel.
Another draw 2-2: 1pt
Chelsea Away
The run of games does not get any easier for Tottenham and I can't see anything other than a Chelsea victory here.
Chelski win 3-1: 0 points
Man City Home
Just when Tottenham fans think it can't get any worse, the reigning PL champions come rolling into town. The game will be another tight affair.
Draw- 2-2: 1point
Wigan Away
This is the start of a run of fixtures against clubs that whilst look easy on paper are actually teams fighting for their very survival. Wigan usually find form at this time of the season and will have enough to dent the Spurs' CL ambitions here.
Wigan to win 2-1: 0 points
Southampton Home
Although Saints are another team fighting for their lives, I see Tottenham having too much for them on this occasion.
Spurs win 3-0: 3 points
Stoke Away
Next up is a trip to the always welcoming Stoke City and their marvellous simian supporters whom I am sure will welcome the visit of Gareth Bale like a long lost brother. Sadly, Stoke have been pretty dire since turn of the year and I can't see anything other than a Spurs win here.
Spurs win 2-0: 3 points
Sunderland Home
Depending on how the battle at the bottom goes this could either be a gimme or a real battle. Either way I can't see past Tottenham
Spurs win 2-1: 3 points
This run of predicted results would give Tottenham 66 points and a GD of +17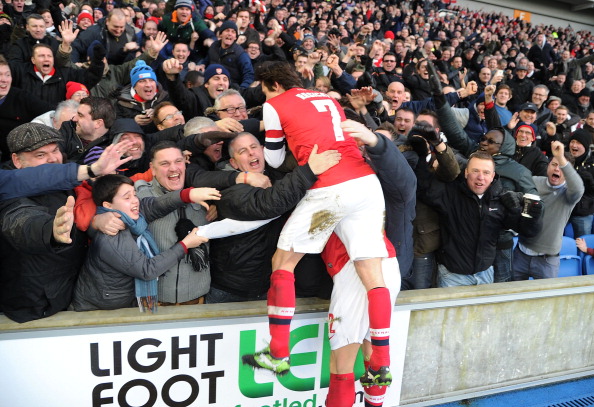 Now let's focus the crystal ball on Arsenals run in-
Reading Home
Even the most optimistic Royals fan would struggle to see anything other than a Home win here.
Arsenal win 4-1: 3 points
WBA away
A tricky fixture but not one Arsenal are beyond winning. However I see WBA being more of a handful than last season's final fixture and we can't rely on another keeper throwing goals in here. Lukaku seems to be hitting some form too.
2-2 draw: 1 point
Norwich Home
I would hope Arsenal learned their lessons of treating clubs like Norwich lightly and put in a good performance here against a side that should be all but safe.
Arsenal win 2-0: 3 Points
Everton Home
Tricky match here and one that will be a very tight affair, particularly if Everton are still in the  hunt for 4th themselves.
Arsenal draw 1-1: 1 point
Fulham away
Another potentially difficult London Derby for Arsenal against a team whom have just beat Tottenham away. A lot will depend on keeping Berbatov quiet.
Arsenal draw 1-1: 1 point
Man Utd- Home
This could be a very bad day as United could in theory wrap up the title here. The sight of Van Persie celebrating this could make for a very ugly atmosphere, you just know deep down he will open the scoring too. Taking off the Arsenal tinted glasses and I can't see past a Man United win.
Utd win 3-1: 0 points
QPR Away
By the time Arsenal roll into Loftus Road, QPR could be dead and buried. I can't see past an Arsenal win here to get CL fight back on track.
Arsenal win 2-0: 3 points
Wigan Home
As stated previously Wigan usually come into form this time of year, a hard earned nervy draw here I fear.
Arsenal draw 2-2: 1 Point
Newcastle Away
Newcastle away from home in their last fixture of the season brings parallels with having to go to another team with Barcode shirts last year. The game will be open with plenty of goals.
Arsenal win 3-2: 3 points
This would give Arsenal a total of 66 points and a GD of +29
This would see Arsenal taking the CL spot from Tottenham by a greater GD.
Nervy times are ahead as I think anyone will see and no wonder the bookies can't really split the two clubs.