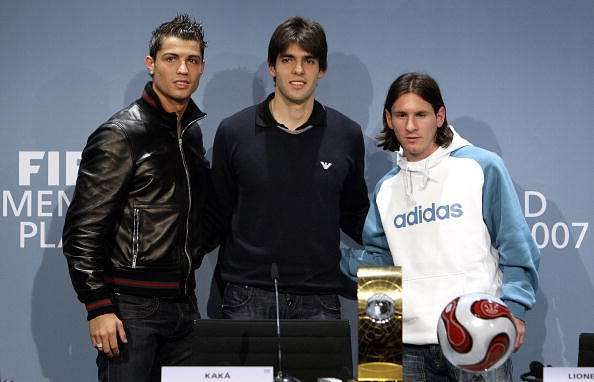 The Ballon d'Or award has become a personal duel between Lionel Messi and Cristiano Ronaldo in the recent years, however, in the early 2000s, there were a number of talented and legendary players who won the prestigious individual accolade.
Barcelona and Real Madrid players feature prominently on this list although a number of Serie A players also won the award in this decade. From Figo in 2000 to Lionel Messi in 2010, let us take a look at what the Ballon d'Or winners of the past decade are up to at the moment"
Luis Figo (2000)
Then
Probably the most controversial transfer in the history of football, Luis Figo won the Ballon d'Or award in 2000 while he was at Real Madrid, but it was largely for his performances when he was in Barcelona.
Considered to be one of the three standout Portuguese players along with Eusebio and Cristiano Ronaldo, Figo first created a name for himself at Portuguese giants Sporting CP, before really hitting his strides at Barcelona.
A highly controversial world record transfer to Real Madrid followed where Figo continued to put in amazing performances on the wings, Finally, in 2005, the Portuguese superstar moved to Inter Milan where he called time on his career in 2009.
Now
After his retirement, Figo has actively been involved in football's governing body FIFA even running for Presidency in 2015, before withdrawing. Now, Figo is actively involved in Futsal and is even the President of burgeoning Indian league Premier Futsal which was held successfully in 2016.
Michael Owen (2001)
Then
The only Ballon d'Or winner from Liverpool, Michael Owen burst onto the scene as a fresh-faced seventeen-year-old. His goalscoring exploits soon made him a first-team regular as he guided Liverpool to an unprecedented five-trophy haul in 2000/2001 season.
At his peak, Owen was renowned for his pace, agility and goalscoring skills. Undoubtedly Liverpool's and England's talisman in the early 2000s, Michael Owen won the Ballon d'Or in 2001 slightly controversially ahead of Real Madrid and Spain legend Raul Gonzalez.
Now
After his spell at Liverpool, Owen made a big money move to Real Madrid, but injury problems saw his role restricted and he made a move back to the Premier League when he joined Newcastle.
After his spell at Tyneside, the Englishman controversially joined Liverpool's arch rivals Manchester United where he won a Premier League title with Sir Alex Ferguson. The striker finally called time on his career in 2013 at Stoke City.
After retirement, Owen has taken up the role of a football commentator and pundit at BT Sports. He also owns a minority stake in the social media company Sportslobster along with F1 driver Mark Webber.
The former Liverpool man is also an avid horse enthusiast and keeps tweeting regularly about his horses. In April 2006, Owen was controversially appointed as Liverpool's first official international ambassador.
Ronaldo Nazario (2002)
Then
Considered to be one of the greatest strikers of all time, Ronaldo Nazario was an absolute phenomenon at his peak. A three-time FIFA World Player of the Year and two-time Ballon d'Or winner, Ronaldo at his peak was known for his devastating turn of pace, acceleration, quick dribbling and clinical finishing skills.
The Brazilian striker played for some amazing clubs in his prime such as Cruzeiro, PSV, Barcelona, Inter Milan, Real Madrid, AC Milan and Corinthians and he was successful throughout his career.
Winner of the Ballon d'Or award thanks to his amazing performances at Real Madrid in the 2001/02 season and his amazing goalscoring exploits in Brazil's 2002 World Cup triumph, Ronaldo is undoubtedly the greatest out and out striker of this generation.
Now
Ronaldo retired finally at Corinthians in 2011 and following his retirement, Ronaldo became a member of PokerStars SportsStar even playing a charity poker match against Rafael Nadal in December 2013.
The Brazil legend also owns a minority stake in Fort Lauderdale Strikers which plays in the North American Soccer league. Having served as the ambassador for the 2014 FIFA World Cup, Ronaldo has continued his work as a United Nations Development Programme Goodwill Ambassador.
Pavel Nedved (2003)
Then
One of the greatest Juventus players of all time, Pavel Nedved was initially bought as a replacement for Zidane and boy did he live up to expectations. In a Juventus career spanning close to 9 years, Nedved won over the hearts of the Juve faithful with his stunning performances.
The Czech republic international was at his absolute best during the 2002-03 season where he guided Juventus to the Serie A title and also the Champions League final where they lost heartbreakingly to rivals AC Milan.
Capable of playing in a variety of midfield positions including the role of a support striker, Nedved is easily one of the greatest Serie A players of all time.
Now
After retiring from football, Nedved has taken up marathon running seriously even completing the Prague marathon in 2012 in a time of 3:50:02. He was appointed to the Juventus board of directors in 2012 and he still remains a member.
In 2015, Nedved was appointed as the vice-president of Juventus.
Andriy Schevchenko (2004)
Then
An AC Milan legend, Andriy Shevchenko was one of the most prolific strikers in European football. At his prime, the Ukranian striker was capable of tearing apart opposition defences single-handedly.
The striker had his most successful years in AC Milan where his goalscoring prowess guided the Italian club to multiple league titles and the Champions League title in 2003. Schevchenko at his peak was so good that he won the Ballon d'Or award ahead of Barcelona legends Deco and Ronaldinho in 2004.
in 2006, the Ukranian made a move to Chelsea. Shevchenko struggled to make much of an impact at the London club and he finally called time on his stellar career in his hometown club of Dynamo Kyiv in 2012.
Now
After his retirement from football, Shevchenko stepped into politics and even took part in the 2012 Ukranian party election. However, the move was not as successful as his football career and Schevchenko's party did not win any seats as they could garner only 1.52% of the total votes.
After serving as the assistant manager for Ukraine national team in 2016, the former AC Milan striker was appointed as the manager after Ukraine's dismal performance in the
Euro 2016 championships.
Ronaldinho (2005)
Then
The first step towards Barcelona's dominance of modern football was achieved with the signing of Ronaldinho. One of the most skilled players ever to play the game, Ronaldinho's signing in 2003 ushered in a new era of dominance for Barcelona.
A first league title in six years was a direct result of the Brazilian's artistry. Who can forget the way he destroyed Real Madrid at the Santiago Bernabeu in 2005 where even the Madridistas stood up to applaud – a gesture that is only reserved for the very best opponents. ( Maradona. Ronaldinho and Iniesta).
Thanks to his astonishing performances with Barcelona, Ronaldinho won the Ballon d'Or in 2005.
Now
After his spell at Barcelona, Ronaldinho went on to play for European giants AC Milan followed by spells in Brazilian clubs, Flamengo and Atletico Mineiro. He then went on to Mexican club Queretaro before he last played professionally at Fluminense.
Ronaldinho also played in India for the Goa 5s futsal team. Currently, the Brazilian superstar is officially back in Barcelona on a 10-year contract and is the Catalan club's ambassador.
Fabio Cannavaro (2006)
Then
Considered to be one of the greatest defenders of all time, Fabio Cannavaro had successful spells at a number of top clubs in Europe like Napoli, Parma, Inter Milan, Real Madrid and Juventus. While there is no denying Cannavaro's stellar club career, the Italian centre-back is more famous for his contributions in Italy's stunning 2006 World Cup triumph.
He was named the 2006 FIFA World Player of the Year and won the Ballon d'Or award in 2006 which made him the only defender in over a decade and only the third of all time after Beckenbauer and Mathias Sammer.
An inspirational leader and one of the most consistent performers for club and country, Cannavaro will go down as one of Italy's greatest players of all time.
Now
After playing a single season in UAE club Al-Ahli, Cannavaro called time on his career and immediately went into management. After serving as the assistant manager in Al-Ahli in 2013, Cannavaro was appointed full-time manager of Chinese Super League club, Guangzhou Evergrande.
After a mixed spell, the Italian left his job and took over as manager of Al-Nassr in the 2015/16 season. Currently, the former Real Madrid defender is the manager of big-spending CSL side Tianjin Quanjian.and he will be looking to guide the team to the league title.
Ricardo Kaka (2007)
Then
Brazil superstar Ricardo Kaka is the last player other than Messi and Ronaldo to win this prestigious individual award. During his spell at AC Milan, Kaka was quite simply the best attacking midfielder on the planet.
Capable of gliding past opponents effortlessly, Kaka was capable of picking out incisive passes and scoring crucial goals. The Brazilan's finest season was arguably the 2006/07 season when he almost single-handedly inspired Milan to the Champions League title in 2007.
A true number 10 who was capable of creating something out of nothing, Kaka's many injury concerns and his subsequent move to Real Madrid saw his from taper off.
Now
After his ill-fated spell at Real Madrid, Kaka made an emotional return to former team AC Milan before finally making a move to MLS side Orlando City. The Brazilian number 10 still plies his trade for Orlando City and he was one of their top performers last season where he scored 9 goals and grabbed 10 assists in 24 appearances.
Cristiano Ronaldo (2008)
Then
One of the two standout players of this generation, Cristiano Ronaldo is easily one of the greatest players of all time. In 2008, when Ronaldo was a Manchester United player, he won the first of his 4 Ballon d'Or awards.
Signed in 2003 by Manchester United, Ronaldo played an integral role in Manchester United's stunning 2007-08 double where they won the League and the Champions League.
Cristiano Ronaldo had such an impaact during his 6 year spell at Manchester United, that he is still considered by many to be the greatest Premier League player of all time.
Now
Ronaldo joined Real Madrid from Manchester United in 2009 for a then world record fee of £80 million and he has been worth every single penny so far. Ever since his move to Real Madrid, his goalscoring exploits have been simply mind boggling. In 373 appearances, Ronaldo has scored an astonishing 384 goals and has been at the forefront of Real Madrid's two Champions League triumphs in the last 3 years.
He is already the club's record all-time goalscorer and he has broken a host of goalscoring records during his time at Madrid such as having the most hat-tricks and he is also the all-time Champions League top scorer.
The Portuguese superstar has won 1 La Liga, 2 Champions Leagues, 2 Copa del Reys, 2 FIFA Club World Cups and 2 UEFA Super Cups with Real Madrid and he will be hoping to add to his trophy haul this season.
Lionel Messi (2009 and 2010)
Then
The greatest number 10 Barcelona have had and will probably ever have, Lionel Messi is a footballer who defines an era. One of the two standout footballers of this generation along with Cristiano Ronaldo, Lionel Messi has won a staggering 28 trophies with Barcelona.
The only footballer ever to win the Ballon d'Or five times, Lionel Messi is an absolute phenomenon. The diminutive Argentine has been Barcelona's main man since 2008 and has put in some spell bounding performances in La Liga and the Champions League.
Messi earned his first two Ballon d'Or awards playing as a false number 9 under Pep Guardiola and he played a huge role in Pep's Barcelona being considered as one of the greatest club sides of all time.
Now
The Argentine maestro has remained at Barcelona and although under the stewardship of Enrique, Messi now plays on the right wing there has been no change in his importance to the Barcelona squad.
Messi has added another three Ballon d'Or wins to his trophy cabinet and the only thing missing in his almost perfect career is an international trophy having faced heartbreak in two Copa America finals against Chile and the 2014 World Cup final against Germany.