Di Matteo gets it right!
1.08K //
15 Mar 2012, 15:35 IST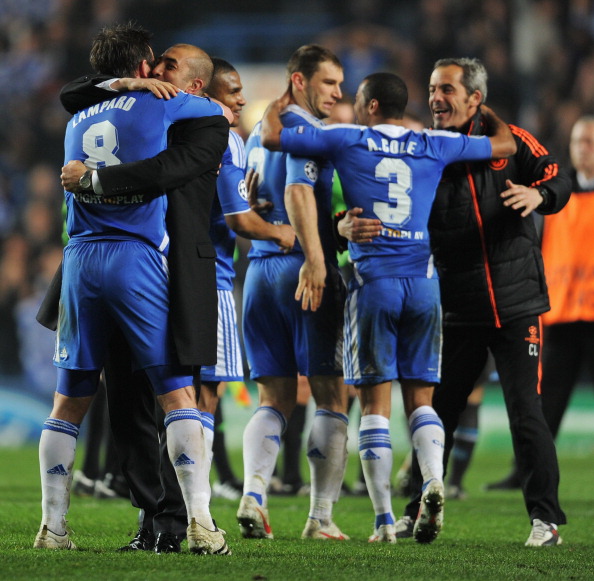 Rewind back.
A string of performances which left one wondering – "What is AVB doing?"  "Is this really 'Chelsea' ???" etc. The results seemed to suggest the same.
A quick look at the results which marked the beginning of the end for AVB -
After the successive wins against Man City and Valencia which momentarily lifted the pressure off AVB, some results were unacceptable by Chelsea standards. Here's the stats:
3 successive 1-1 draws – Wigan (away) , Tottenham (away) , Fulham (away)
Then a disaster : 1-3 home defeat to Aston Villa
A Temporary revival with a 2-1 win away to Wolves
Revival seemed to be complete with a 4-0 win over Championship side Portsmouth in FA Cup
A scrappy 1-0 home win vs Sunderland
A disspirited 0-0 draw away to Norwich
Another scrappy 1-0 win . This time, away at QPR in the Cup (better known for events preceding the match, they were much more interesting! )
A lucky 1-1 draw at Swansea (own goal by Swansea player in the dying moments)
That unforgettable 3-3 against Man Utd which (whether they were penalties or not) should have been won.
Worst ever display at Goodison, lucky it was only a defeat by 2 goals.
Escape from disaster against Birmingham, Daniel Sturridge earning the replay.
And aah! that night in Naples!! Need I say more?
3-0 home win against Bolton seemed to drive away the storm clouds, for the time being at least.
Nail in the coffin: 1-0 away defeat to WEST BROM of all clubs!
ENTER ROBERTO DI MATTEO for damage limitation!!!
2-0 win in the Cup replay at St Andrews
Another scrappy performance. This time, struggling to beat a 10 man Stoke. Drogba ensuring 3 valuable points.
And then the day that mattered – Aiming to overturn a 3-1 deficit against Napoli and go through to the quarters of the UCL, did Chelsea have it in them?
AVB should have learnt a thing or two about tactics, substitutions, and team selection from his former 'assistant'. I shudder to think what would have become of this game had AVB still been in the dug out, with high defensive line composed of slow defenders against a team renowned for pace and attacking ideals.
Right from the start, one could see the inspiration, the desire and the motivation. Where had all that gone during the reign of AVB?
Didier Drogba was at his best. Using every moment on the pitch to motivate his teammates, and more importantly, the fans. That yearning and desire from within to win, no matter what, and that ability to reproduce the same to a crowd of 37000!
Terry: recovering quicker than expected and showing everyone the meaning of leadership, and a bonus as well, getting himself on the score sheet! Were you watching, FA?
Lampard: had a good game, and to put away such a crucial penalty at such a crucial time, this man is simply a legend!! Amazing!!
There you have it – the "old guard" of Terry, Lampard and Drogba, who apparently got AVB sacked, might have raised the chances for Roberto Di Matteo to take up the job on a a permanent basis. If they can put in performances like that when it matters, why complain?
The team selection was spot on, formation perfect. No highline defence, Old Guard determined to turn it around, it was just a perfect night for Chelsea.
And the best thing was, Robbie tried Drogba and Torres together and it wasn't as bad as the partnership has been made of. My sincere feeling is that if given about two or three games, Drogba and Torres can still form a lethal partnership!
Hats off to Roberto Di Matteo for getting it right!!! [Roman was watching! ]