Fantasy Football, Gameweek 12
911 //
17 Nov 2012, 11:23 IST
The weekend is upon us again and that means another weekend of enthralling football action from the Barclays Premier League. Its also time for tinkering with our favourite game of football fantasy. Saturday is the D-day for all fantasy football lovers and addicts. It is the day for our usual custom of hair pulling and in depth analysis our mothers would have been proud of if we had spent that amount of effort and dedication on studies instead.
Let me give you a heads-up on five players I think you should spend that final transfer on, and identify five that may come to hurt your score in the near future and increase your medical bills from constant increase in stress levels.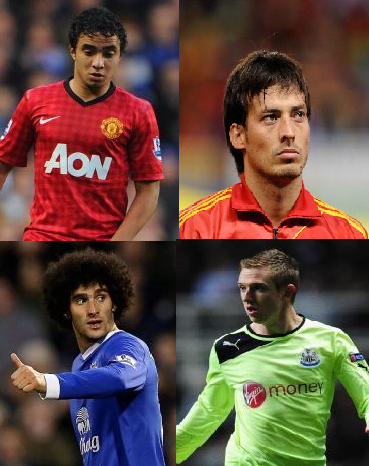 Defender – Rafael (Manchester United), 6.4 million
The Red Devils have a nice run of games up until Game week  16 when they meet their city rivals Manchester City. The next four games sees them facing Norwich (A), QPR (H), West Ham(H) and Reading(A). So its a nice stretch of games with high probabilities of clean sheets. Rafael can always chip in with assists every now and then. That's an added bonus.
Midfielder – Shane Ferguson (Newcastle United), 4.4 million
The cheapest midfielder who will see first team action this week. With Gutierrez out for six to eight weeks the Nothern Ireland international will find himself thrust into action on the left side of the Newcastle midfield. The Irish lad has a nifty left foot and is known for his crosses into the box. At 4.4m he is a bargain and may end up creating the space you craved for the big-time midfielder or forward that you needed.
Midfielder – Marouane Fellaini (Everton), 7.6 million
Six – the number of goals Marouane Fellaini had scored in his last three seasons combined and the number he has scored this season alone. its certainly a hair-raising fact and if you don't have the Belgian in your side you have missed out on something special. The time is still ripe to get him into the mix and worth taking a negative before his price soars to the heights of the stratosphere. If you're crunched on money, a pick on Pienaar may pay some dividends as well.
Midfielder – David Silva (Manchester City), 9.3 million
The Spaniard has looked lost and distraught at times on the field and it has reflected on his fantasy scores. The highest scoring fantasy midfielder from last season looked somewhat of his classy self last week and a game at home to Villa may just provide the launchpad he needs this season. Next week's game against Chelsea shouldn't perturb you from making the selection as a Chelsea defense without Terry is a different animal.
Forward – Luis Suarez (Liverpool), 10 million
He will make you curse at him a lot while he misses a whole load of chances each game, but its hard to find another forward in the division who is playing at the level of the Uruguyan. This season may just be his and you should grab him while the price is still low.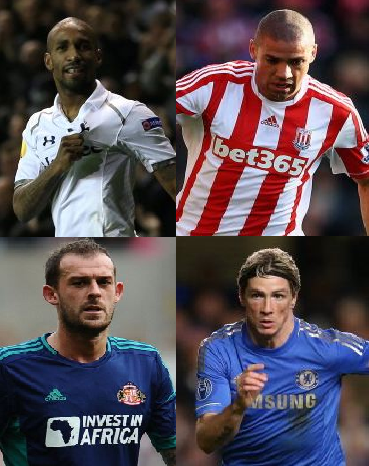 Forward – Steven Fletcher (Sunderland), 7.1 million
The law of averages seems to have caught up with the Scotland international. Fletcher seemed to have found the Midas touch when he arrived upon the Wear but its time we take logic into consideration that his 5 goals in 5 matches is not going to last for much long.
Forward – Jermain Defoe (Tottenham) , 7.9 million
Jermaine Defoe has certainly looked much more threatening than he has in the past but if you are going gamble on which forward AVB is going with this week, then be my guest.  Forwards are the biggest point scorers in fantasy football and its too big of a risk to keep the Spurs man up top. It is an unnecessary risk especially when Dimitar Berbatov, Suarez and Demba Ba lie in the wake.
Forward – Fernando Torres (Chelsea), 9.7 million
Torres came into the season winning yet another international medal with Spain and the the Golden Boot as a measure for his contribution. Early goings saw Torres find the back of the net and doings things like this. The season, however, becoming yet another disaster and with each game passing by, Torres's confidence is reminiscent of a sinking ship. Well, even for well wishers, its advisable to not be on the ship that seems to be going the same direction another one went in the year 1912.
Midfielder – Jonathan Walters (Stoke City), 6.4 million
He might as well be named "The Illusionist". Listed as a midfielder only to find himself as the main support to Peter Crouch upfront. That should mean goals from midfield, or at least opportunities to set up a few. Walters fails to deliver on both counts most of the times and ends up robbing precious points and transfers made elsewhere. If he isn't out yet, maybe its time you press the yellow thingy beneath his name
Newcastle Defenders
We tend to base a lot of our judgement on previous season's form. Last season, Newcastle were a strong defensive unit and their defenders provided many a point on the cheap. This season, however, is a whole different story with no consistency at the back plagued by both injuries and suspensions. Keep them on the watch list but to keep them in the team just for reputation's sake would be foolhardy.