Flashback: Tottenham Hotspur 2-1 Arsenal
873 //
03 Mar 2013, 00:43 IST
With the North London Derby between Arsenal and Tottenham Hotspur on tomorrow's horizon, here is a synopsis of what happened the last time Arsenal went to White Hart Lane, the home of their bitter rivals, on the second of October, 2011.
Simply put, Spurs won 2-1.
Rafael van der Vaart scored the 10,000th goal in the history of Tottenham Hotspur FC to give his side the lead in the 40th minute, but Arsenal's livid players complained to the referee that the Dutchman had handled the ball before beating Wojciech Szczesny.
Feeling hard done with the outcome, the Gunners dominated the opening exchanges in the second half and Aaron Ramsey popped home with the equaliser. But their defensive frailties continued to haunt the Emirates Stadium side, and that, coupled with giving the ball away, saw Kyle Walker give his side the win with a stunning 25-yard blast that Szczesny had no chance of stopping.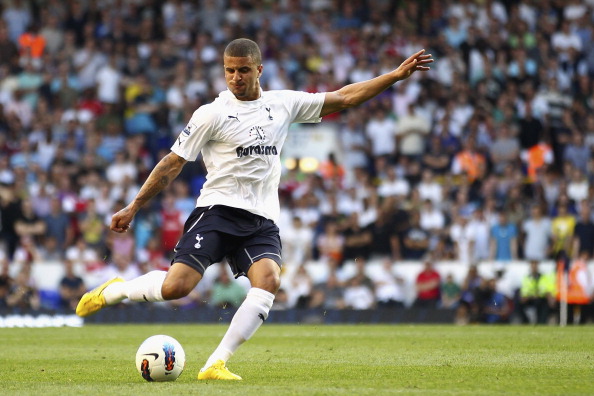 Although Arsenal matched Spurs blow for blow, the hosts had the edge over their fellow North Londoners in a game which England manager Fabio Capello had come to personally oversee.
The Poland international had been the busier of the two keepers on that day, saving from Scott Parker and the strike duo of Jermaine Defoe and former Arsenal striker Emmanuel Adebayor.
But while Friedel was not tested as much, he had Spurs skipper Ledley King to thank for the countless blocks he made to keep out Robin van Persie and Theo Walcott.
Both sides had gone into the match with different emotions.
This was an Arsenal side still dealing with the aftershocks of the departures of Samir Nasri to Manchester City and Barcelona's long-drawn out capture of Cesc Fabregas. Their exiting the Emirates and a slew of injuries and suspensions saw Manchester United decimate them 8-2 and lose 2-0 at home to Liverpool.
Languishing just above the relegation zone in 16th, cynics of the Gunners signalled their relegation. Harry Redknapp's side was just outside the European berths with a game in hand.
Spurs, on the other hand, despite losing their first two games rather heavily to the Manchester clubs (3-0 against United, 1-5 at home to City), picked up by winning their three fixtures prior to the Arsenal game, disposing of Wolverhampton (2-0) and Wigan Athletic (2-1) before hammering Liverpool 2-0.
While Arsenal's new deadline day transfers were still finding their feet, Spurs had gone about their business in smart fashion. In addition to deadline day signing Scott Parker, the Lilywhites snapped up veteran goalkeeper Brad Friedel early in June.
Like most North London Derbies, this game was frenetic from beginning to end.
It was Spurs who fired the first salvo. Scott Parker's effort was directed straight at Wojciech Szczesny after Alex Song had conceded possession in a dangerous area. Emmanuel Adebayor, who left Ashburton Grove in acrimonious circumstances, set about winning over the fans on the other side of North London following his temporary move for Manchester City over the summer.
Arsenal played a mismatched midfield, with Mikel Arteta, Francis Coquelin and Aaron Ramsey fielded in the centre of the park. Alex Song was stationed at centre back.
It was Arsenal who failed to trouble Friedel through a combination of profligacy and resolute defending. Theo Walcott's angled drive bobbled wide off Ledley King, the resulting corner was headed goalwards by Ramsey, but Benoit Assou-Ekotto cleared off the line.
Two minutes before the half-hour mark, Gervinho spurned a glorious opportunity after collecting Robin van Persie's pass and firing carelessly wide. Arsene Wenger's reaction said it all: the lanky Frenchman was jumping up and down, fists clenched in frustration at his side's ineptitude to look a gift horse in the face.
And Spurs made them pay. A lack in communication between new arrival Per Mertesacker and right-back Bacary Sagna saw van der Vaart gambol into acres of space before contentiously firing past Szczesny.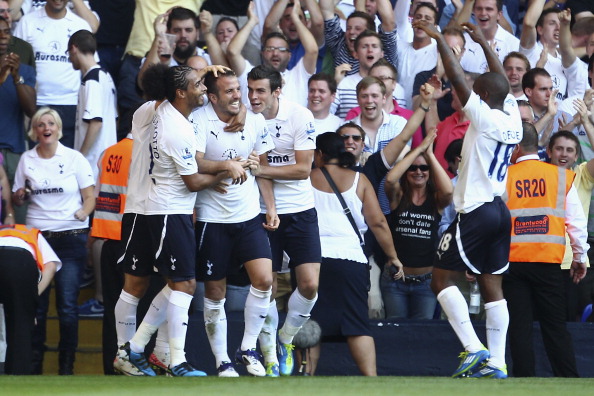 It was contentious because of an apparent handball just before he'd shaped to shoot. A gaggle of Arsenal players mobbed referee Mike Dean, who refrained from booking the Netherlands midfielder, who'd already gone to celebrate with the home fans at the far end of the stadium.
Had he received a caution for that handball, the goal would have surely been disallowed and the number 11 would have been sent off: he'd already been booked for a crunching tackle on Kieran Gibbs earlier in the first half.
Arsenal, feeling hard done by the apparent lack of pivotal refereeing decisions their way, came out of the traps running in the second forty-five minutes.
And it was goal scoring hero van der Vaart who would be guilty of not doing enough to let that happen. Younes Kaboul's defensive header fell straight to Song, who crossed into the box to a waiting Ramsey. The Welshman's movement was to be tracked by his Dutch counterpart, but he failed to block Song's incoming ball and could only watch as Ramsey tucked home the cross to draw Arsenal level in the 50th minute.
But as the minutes ticked by, Arsenal's nervousness grew, and they were caught napping on more than one occasion. Gareth Bale sent Adebayor sprinting clear almost immediately after his former team had drawn level, but an instinctive Szczesny save kept the scores level. The lack of recycling possession meant Arsenal's front trio of Walcott, van Persie and Gervinho were starved of service when it mattered most during the game.
And while Arsenal were throwing possession out the window, it fell straight into Spurs' laps.
Substitute Sandro was allowed all the time in the world to cross, and while it was intercepted by the Arsenal rearguard, the loose ball fell straight to the waiting Walker, who needed no invitation to lash a deadly, swerving volley past a stranded Szczesny to give Spurs the lead.
The Gunners had anticipated this would happen: a minute before Walker's goal, Yossi Benayoun had come on for Theo Walcott, with Pat Rice vehemently telling the Israeli to tell his team mates 'to keep the football'.
Wenger flung on Andrei Arshavin with thirteen minutes left on the clock and despite Per Mertesacker coming forward with increasing frequency, Spurs held on for the final whistle.
It was the giant German who would be guilty of allowing Bale to seal the win. A lack of understanding between him and Song saw the Welsh speed demon slide a shot towards the Arsenal goal, only to see it roll inches wide.
The Ashburton Grove side pressed Spurs with a succession of late corners, with even Szczesny joining the attack, but Harry Redknapp's men held on for a win.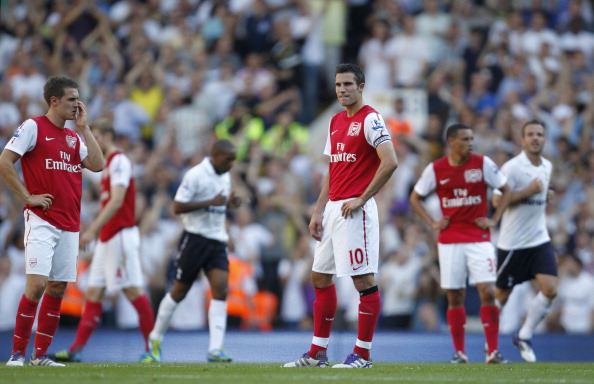 The result left Arsenal in 15th place, four points above the relegation zone in a nascent Premier League table, while Spurs were just outside the Europa League spots with 12 points from six games.
The Aftermath:
As the season wore on, Tottenham rose as high as third, and Redknapp declared his men outside title challengers.
But it was around that time that he was being linked with the then vacant England job, and that could have affected his players. When his team did visit the Emirates in the reciprocal fixture, they raced to a 2-0 lead with goals from Louis Saha and the returning Adebayor…
…before Arsenal opened up their batteries. Bacary Sagna had been hauled off injured with a broken leg at White Hart Lane and had been making his comeback a few weeks prior to this game, and he scored the first of Arsenal's goals to pull them back before van Persie bashed home the equaliser just before half time.
Spurs were then given a taste of Arsenal's own speed demon as Theo Walcott scored twice in quick succession after Tomas Rosicky had announced his return from yet another injury by putting Arsenal in the lead early in the second half.
To compound Spurs woes, Scott Parker was sent off in the second half to reduce the visitors to ten men in stoppage time.
As the latter months of the Premiership went by, Arsenal had re-established themselves in the top four while Spurs had only won three of their final six league fixtures. Roy Hodgson had been appointed to the England chair, meaning Redknapp missed out.
On the last day of the season, Arsenal secured themselves a third place finish and Champions League football for yet another year. It was fortunate that they did: Spurs had finished fourth, despite winning their last league fixture and were also guaranteed football among Europe's elite.
But Chelsea's eventual win in Munich against German side Bayern Munich in the Champions League final meant they were automatically assured Champions League football for the 2012-13 season, meaning Spurs cruelly missed out on Europe's top table and had to settle for a place in the Europa League instead.
On that day:
Tottenham Hotspur 2-1 Arsenal (van der Vaart 40′, Walker 73′; Ramsey 50′)
Tottenham Hotspur: Friedel; Walker, King, Kaboul, Assou-Ekotto; Parker (Corluka 90′), van der Vaart (Sandro 63′), Modric; Adebayor (Livermore 84′), Defoe
Subs not used: Cudicini, Bassong, Giovani dos Santos, Pavlyuchenko
Arsenal: Szczesny; Sagna (Jenkinson 64′), Mertesacker, Song, Gibbs; Coquelin, Arteta, Ramsey; Walcott (Benayoun 72′), Gervinho (Arshavin 77′), van Persie
Subs not used: Fabianski, Santos, Frimpong, Ju-Young Park