Inter Milan: The Unsolved mystery
1.04K //
01 Jul 2011, 11:59 IST
Inter Milan's appointment of Gian Piero Gasperini as their manager has finally ended the top job speculation that had surrounded the Milan Club for quite a sometime. But for the fans of the Nerazzurri club, the mix of anxiety, hope and prayers that has been the regular emotional sortie associated with the club for the last two decades has only started.
There is an old cliché that money doesn't buy you success.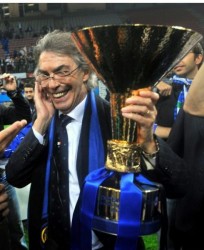 Inter's owner Massimo Moratti and the fans have stood witness to the demonstration of the clichéd line many a times. For some vague reason, Inter Milan has not been the club that has been winning trophies on a consistent basis that it should be,considering the stature the club has and also the money spent by the President on transfers in the last 16 years. And its not about money spend or recovered or those balance sheets. Impatient ,immaturity and short temper, this has been Moratti's way of handling the man management aspect of Inter Milan. Consider this, 4 managers in a year, that too for a club of Inter Milan's level. There is something really really wrong and it has some roots to it.In Moratti's bid to buy success instantly, Inter have come to be associated with the managerial musical chair which has made them infamous.
The beginning of the 1990's started the hard time for Inter Milan, especially with fierce rivals Juventus and city rivals A.C.Milan enjoying rich success both in domestic as well as European competitions.  Massimo Moratti took over from Ernesto Pellegrini in 1995 and immediately decided that the club had to get back to its glory days and give happiness and pride back to their loyal fans as in the Golden Era under Angelo Moratti from 1955 to 1968.   Thus began the musical chair of mangers and spending of exorbitant transfer fees at Internazionale.
Moratti appointed Roy Hodgson for the 1995 season but he lasted only for 2 seasons. With Hodgson's departure, stability failed to resume as Luciano Castellini and Luigi Simoni came and went, with Simoni being a fan favourite thus making Moratti a target for the fans when he was sacked. By the end of June 1999 Inter had appointed Mircea Lucescu, with Castellini and Roy Hodgson making comebacks to the club. The season was the most disappointing one for the club with an 8th place finish and the failure to play in a European competition for the first time in a decade. But the money was flowing in the club with 2 world record transfers as its witness. €19.5 million for Ronaldo from Barcelona in 1997 and €31 million for Christian Vieri from Lazio in 1999.
The 1999/2000 season saw the appointment of Italian manager Marcello Lippi who had considerable success at Juventus, for many people it was a coup. Nonetheless Inter had a manager who knew "how to win" and they also had new imports coming in, most notably the Serbian midfielder Vladimir Jugovi? from Atletico Madrid and experienced French defender Laurent Blanc.  Journalists, fans and even for that matter even A.C. Milan supporters thought that finally Inter Milan has got the right combination to succeed.  So at the end of the season what we see??No trophies and the decade being Inter's first decade without wining the Seria A title . Lippi being sacked going into the new season and had the appointment of Marco Tardelli who only lasted for a single season. This season also embarked a new low for Inter Milan when they were defeated 6-0 by city rivals A.C. Milan.
From 2001 to 2004, Inter had 3 managers Héctor Raul Cúper, Corrado Verdelli, Alberto Zaccheroni (and yes the money was still flowing, that included the high profile Argentinian Hernan Crespo from Parma.)Under Cuper they came agonising close to capture the prestigious Scudetto only if they defended a lead for 45 minutes against Lazio, on the last day of the championship. They did well as they reached the UEFA Cup semi-finals and the next season reaching the UEFA Champions league semi-final only going down to AC Milan on away goals. And when things were finally to fall in place or at least there was a hope, Moratti's impatient got Cuper sacked and Crespo being transferred, after having a single season in the Club. Alberto Zaccheroni took over but remained only for a year.
2004 July saw the appointment of Roberto Mancini, who won the Coppa Italia in his debut season followed by the Super cup. Calciopoli struck Italy at the end of the the 2005-06 season.Inter were awarded the Seria A for that season following points deduction of AC Milan and Juventus and further tribunal decisions relegating AC Milan and Juventus.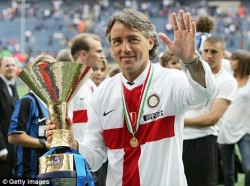 With virtually now competition Inter Milan won the Seria A for the next 2 seasons. But Mancini's side winning the league 3 times in a row didn't convinced the critics as one title was awarded because the original champions had their points stripped and the following two seasons ,Inter Milan being easily the strongest team, with its rivals still fighting the relegation blues. But when things were looking to get better, again, Mancini was sacked.
Jose Mourinho was appointed the new manager and Inter Milan won their fourth straight league title.José Mourinho's appointment at the club was something which grabbed  the headlines.Inter had appointed the self-proclaimed special one,a true character of his own, who had tremendous success with Porto and English club Chelsea. For a man of his stature,there was no doubt that he will bring success ,but the question now was that will he be successful at Inter.And there was the question if him dealing with Moratti.It was not about the money but was about the 2 different characters  working  towards the success of a club who had the pedigree of being a top club and not a club which was taken over by billionaire as his pastime. José had a fallout with his earlier owner and everybody just had all the eyeballs on how Morrati behaves ,especially he had a past in which he had showed high immaturity.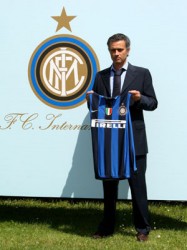 The next season they won the treble, the first in Italian football. This success all came against tough domestic and European opposition and probably it was the best time Inter fans had almost in 2 decades. And as far as managerial stint goes, José's was easily the best, which had success written all over and no one to cast a doubt over it.Jose left for Real Madrid at the end of 2010 season.Though he left ,it was a tremendous era under him.2 years is a short time to call something an era but this was the magnitude of Jose success. When he left again the managerial musical chair started with Rafael Benitez being appointed, sacked by December.Benitez appointment didn't came as a surprise.Though he had a bitter ending to the Liverpool tenure,he was responsible for the so called 'Rafa' revolution at Ainfield,and though he was not expected to do one but he was certainly expected to carry forward what Jose had done for the club.Call it negative media feedbacks or Morrati's impatient or Inter's not up to the mark start of the season appointment,he was sacked by December.And then appointment of Leonardo till the season end, where they won the Coppa Italia and Super Cup.Leonardo who was a year earlier sacked by the city rivals AC Milan,left the club and went to the Marseille where he is now the Director of Football of the newly cash rich club.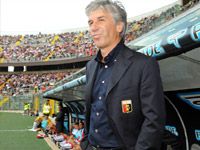 It's barely a week, Inter have announced that Gian Piero Gasperini will be the new manager. Gasperini became known at Genoa for his attacking philosophy. He used this philosophy to take Genoa from Serie B to fifth place in Serie A. Jose Mourinho praised Gasperini in 2009 calling him "the manager who gave me most difficulty" in Italy.  Genoa sacked Gasperini in November due to a sluggish start.  Clearly, that decision was made because of the success Gasperini brought to the club.  Genoa made a hasty move, and now Inter Milan could benefit. And he has been also considered for the rise of Thiago Motta and Diego Milito.His success doesn't depend on how brilliant his tactics are. To be honest he will be fighting the odds, where his predecessors were good tactician. The players get paid too much, are spoilt and have ego's between them, there is so much pressure now from fans, there is no patience for young players to develop, they buy the best players but then use to incorrectly or don't use them enough.But there is one thing,some of the above reasons are pure speculations.Like the ego thing.Consider this,if there was so much ego then why the same players were achieving success at the International level??Inter had good participation of players in the Italian team ,when the won Euro 2000 and World cup 2006.  This has been truly Inter's problem and Gasperini has to take care of all of that. But one thing he cannot control is his sacking and Moratti's patience over him.One thing is there,money is not a problem.Everybody has to understand that even Morrati is passionate about the club and he has been associated with the club for more than 3 decades now.Gasperini who is also sometimes known as Gasperson,is certainly no pushover.Inter Milan are a very good squad with spirited players ,who all somewhere down the line understand the passion of the supporters for the club,the magnitude of the club Inter Milan and what it means to play in that Black and Blue stripe.  Who knows, it may be Gian Piero Gasperini who starts a new era for Inter Milan.