La Liga 2013/14 Season Review
3.84K //
20 May 2014, 21:35 IST
This was, without any shadow of a doubt, one of the most exciting La Liga seasons of all-time. The most important positions at both ends of the table were not certain until the very last day, and in the very end we had a new champion outside of the Barcelona/Real Madrid monopoly for the first time in 10 years. At the bottom the drama also didn't relinquish.

The predictability factor that has brought about so much sneering from outside of Spain was obliterated by one magnificent manager and one magnificent team. Atlético Madrid returned to the very peak in Spanish football as they won their first La Liga crown in 18 years. Atleti's title winning season was built from the back first and foremost, as they came away with the best defensive record in the league with just 26 goals conceded.

Atleti's highest rated player was not a defender, however, instead it was a midfielder who bridges the gaps between the defensive and attacking transitions. A real workhorse in midfield, and the player that perhaps epitomises the values of Simeone the best. Gabi ended the season with a WhoScored rating of 7.57, and was the most frequent passer on average with 57.5 per game, highlighting his influence on the team.

This isn't to say the defenders were not on their game though, as Diego Godín showed with his 7.47 rating. Godín provided the all-important goal to secure the title, but his work in defence with 2.8 interceptions per game is what stood out the most. Atleti's 26.4 tackles won per game too, shows how they were built on the ability to regain possession quickly and directly counter on their opponents. Atleti are perhaps one of Spain's most deserving league winners ever, and while they didn't appeal to the eye as much as Barcelona in previous years, their efficiency and hunger has to be respected.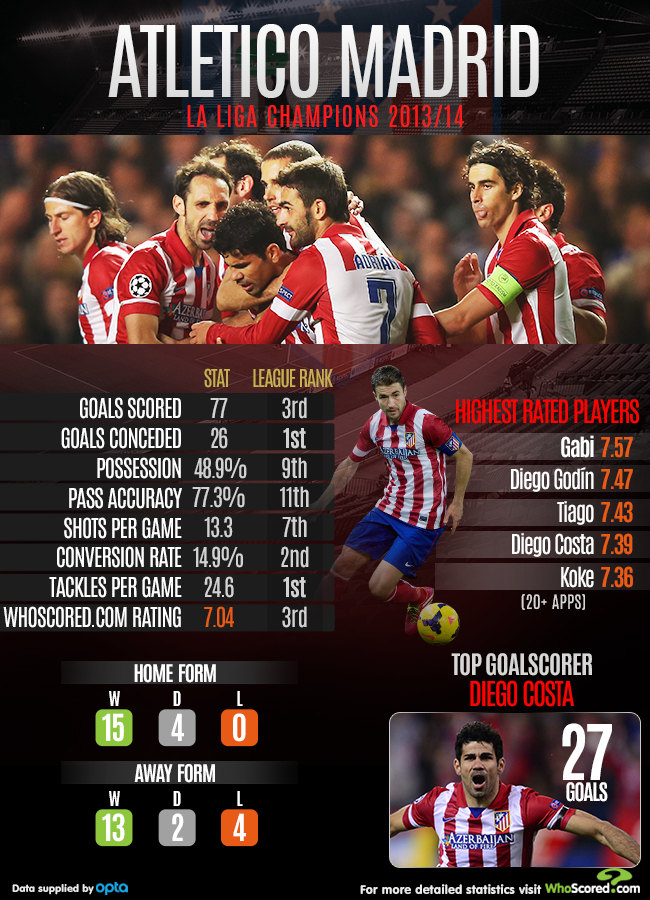 Koke and Diego Costa did provide the entertainment for anyone watching Atleti though, and the relationship on the field between the pair was brilliant to watch unfold. Koke ended the season with 13 assists, second overall only to Ángel Di María's total of 17, and the Spanish youngster also bagged six goals. His transition from a soothing, deep-lying midfielder to all-action interior midfielder is one of Simeone's finest actions.

Diego Costa, meanwhile, ditched the histrionics for the most part and focused on becoming one of the most feared strikers around, harnessing his aggression in positive fashion. The striker finished up with 27 goals, 35% of Atleti's final total to be exact. Questions remain about how sustainable this Atleti success is, but for now they can enjoy their moment as champions.

As far as the chasing pack goes Barcelona did well just to be there at the bitter end. It was a mediocre season by their standards as they came away empty handed on all fronts, and with Luis Enrique at the helm they will hope to recapture the values which made them great. Dani Alves, with a 7.4 rating, and Lionel Messi, with 8.42, were Barcelona's sole representatives in WhoScored's Team of the Season.

Enrique will need to assert his authority defensively when he arrives, as Barca have been shaken all too often. 27% of their goals conceded this season (9 of 33) came courtesy of opponents' corner kicks. The problems at Barca are all too evident and have been for some time, they must be addressed before they slip further off the pace of Europe's elite.

Real Madrid meanwhile ran out of gas in the final stretch, lacking the motivation and desire to assault the title on the final day. Cristiano Ronaldo was as immense as ever, tallying 31 goals, while Gareth Bale managed 15 in his debut season. Those at the Bernabéu may argue a bigger prize was always in mind though, as they are set to thrash it out with Atleti for the Champions League. Di María did have an extraordinary season though, facilitating for the loss of Mesut Ozil, which caused concern for many.

Elsewhere Athletic Bilbao returned from a dismal season under Marcelo Bielsa to come back in scintillating fashion with the often-underrated Ernesto Valverde. The football, when at its best, was fluid and incisive. Ander Herrera recaptured his best form and was the highest rated player overall with 7.38, but Ander Iturraspe's call-up to the Spanish squad highlighted the notion that he was the backbone of Athletic over the course of the season. Aymeric Laporte emerged out of defence too, and if Athletic manage to keep him, amongst others, they could improve on their 4th place finish next season.

Villarreal impressed too, finishing sixth after their year in Segunda, and became the highest ranking newly promoted side since Celta Vigo in 2005/2006. In fact, all three promoted sides ended up retaining their top-flight status, something done recently in only 00/01 and 11/12. Real Betis were one of those that did go down, suffering a staggering decline from their 7th place finish last season to finish bottom with just six wins all season. The club brought in too many players, going with quantity over quality, and in the process lost the unity that made them so good in the first place. Osasuna too, after 14 consecutive seasons – the sixth longest run in La Liga - were condemned to Segunda.

Valencia were Valencia, never really finding consistency and when they did it would inevitably come crashing down. Sevilla were buoyed by the pairing of Carlos Bacca and Kevin Gameiro who managed 29 goals in the league between them, and narrowly missed out on Champions League football. They did claim a Europa League prize, however. Real Sociedad, as expected, couldn't repeat the efforts of last season, dropping to 7th despite only attaining seven fewer points.
Elsewhere certain individuals have increased their reputations significantly, and as tone of La Liga tends to suggest, if you play well in a team outside the big two it's likely you'll be moving on soon. Ivan Rakitic is one of them, and he finished as the 4th highest rated player overall in La Liga with a 7.60 rating, bagging 12 goals and assisting 10. He was the most influential player for his team this season, and this was reinforced by a world-class display against Real Madrid in March.

Keylor Navas meanwhile produced freakish displays in goal at Levante, producing 160 saves – the most in Europe's top 5 leagues - and achieving an overall save success rate of 84.52%. Antoine Griezmann exploded as many hoped he would too, with the livewire Frenchman bagging 16 goals. His partner in crime Carlos Vela also managed the same total, and if la Real can keep even one of them it will be a miracle.

La Liga 2013/2014 will go down in the history books - spare a thought for 2014/2015, which has so much to live up to when writing a new chapter.