Manchester United: A Look At The Summer Signings
2.13K //
07 Jul 2011, 23:07 IST
We're into July already, which means that the Summer Transfer Window is officially open and now clubs can engage in buying and selling of players. Till the 31st of August, we will be seeing players agree to move clubs (or be forced to), maybe force a move from the current club to a bigger club or just sign a multimillion pound contract and stay put. The next couple of months will define what the squads will look like for the upcoming season.
Manchester United are a club that do not usually spend big money on too many players unless the management really thinks it's necessary. This was seen very clearly when Cristiano Ronaldo and Carlos Tevez left and the void wasn't really filled. This time around though, things are looking different and United have let the strings of their purse loose and have already snapped up 3 players. In spite of winning the league last season, United don't seem to want to rest on their laurels as they realize that the gap is narrowing and that the title race is getting closer and closer with more teams now fighting for the top spot. For all that happened last season, there were some major frailties in the United squad, which the management has tried to address by the three signings so far.
Let us have a look at the three players that Manchester United have signed so far:
PHIL JONES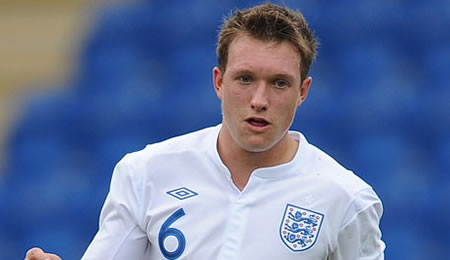 A 19 year old lad, Jones is definitely one for the future.  He came through the youth ranks at Blackburn before turning professional on 1 July 2009. He made his senior debut two months later, in a Carling Cup victory at Nottingham Forest, and went on to make a total of 40 appearances for Rovers. The robust central defender, who can also play in midfield, has been capped seven times so far by England at Under-21 level.
In a move that surprised many around the world, United decided to make a move for Jones and snatched him away right under the noses of Liverpool FC who were supposedly very close to signing him.
Considering that United activated a £ 16.5mn release clause to get their man, it wouldn't seem like he'd spend too much time on the bench. But United have what is undoubtedly the best centre back pairing in the world in the form of Captain Nemanja Vidic and Rio Ferdinand and with Chris Smalling(who plays alongside Jones for the England under-21's) and Jonny Evans as superb backups,  Jones' move was pretty much baffling on the surface.
–> Then why was he signed??
Going into the depths we see that the move seems pretty justified. Firstly, Rio has been somewhat of a crock for the last 2 years. He's hasn't started too many games (31 in the last two seasons) which puts too much pressure on Vidic. Thus some sort of insurance was needed to cover for him. Also, Jonny Evans, for some reason hasn't been able to replicate the form he showed a couple of seasons back when he deputized for Ferdinand and contributed immensely in the clean sheet record. Chris Smalling is new to the side and in spite of his impressive performances last season, giving him too much to do wouldn't be too smart. One major advantage in Jones' case is that he can play as a deep lying midfielder, something that Owen Hargreaves (remember him?) did really well for England and in his short stay at United. Manchester United desperately needed somebody who can break up the opposition attack especially with the slight dip in form that Fletcher showed last season. You can't rely on Michael Carrick to be the destroyer and playmaker in midfield can you?? And now that Wes Brown and John O'Shea have moved to Sunderland, Jones' signing seems even more perfect.
Every transfer has a downside and in Phil's case a major worry is that he missed most of last season with a serious injury. How well he has recovered from it and how he adjusts to the rigors of United's training and fitness regime will be seen over time.
All in all, it's a very good signing and United have potentially unearthed another gem. Whether he lives up to his huge price tag remains to be seen but the prospect of having a future England centre back pairing(Jones-Smalling) playing at United is exciting.
ASHLEY YOUNG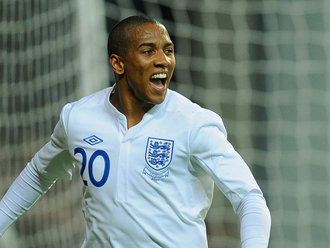 United have always had the luxury of having at least 2 world class wingers in the playing 11. Right from George Best, Andrei  Kanchelskis, David Beckham, Cristiano Ronaldo, Ji Sung Park and Nani. That Ryan Giggs has played with 5 of the above is testimony to his longevity and excellence. Top quality wingers are as it is a rare breed in England, so Ashley Young's addition to the side has only increased United's threat from wide areas. Giggs is expected to play a more central role this season as his pace would've surely dropped a bit and getting past players won't be as easy.
Nani, for all his abilities faded out a bit towards the end of the season, which was possibly the reason for his omission from the Champions League Finals starting XI. Also, he tends not to track back too often and can get marginalized and a tad impatient if his fancy stuff doesn't come off. That then forces Rooney to trackback and play wide swapping with Nani maybe, which renders him that much less effective. Manchester United had to move swiftly to address this situation combined with the snail's pace but inevitable decline of Ryan Giggs, thus they splashed another £ 20mn to land Young from Aston Villa. Villa would be furious with Manchester clubs for taking away their best players (Gareth Barry, James Milner to City).
–> Why was he signed?
Just like Nani, Young is two footed, although he's better off with his right foot, cutting in from the left flank. But that's where the similarities end. Ashley is a much much better dead ball specialist than Nani can ever be. It was frustrating for United fans last season to see corners not go beyond the near post man and direct free kicks being smashed straight into the wall (Ok Rooney got one against the Hammers, what else). Young has been brilliant at dead ball situations ever since he's started playing regularly at Villa. I'm not comparing Nani and Young and I've still to mention how he'll fit in with Valencia and Park as competition, but here are some stats.
From 07/08-10/11, Ashley Young has provided 30 dead ball league assists: 7.5 per year. Nani has averaged 4.25. Beckham -averaged 4.77 per season in his MUFC career.
Ashley Young is 7th on the PL assist rate list with 0.46 assists per game, behind Giggs, Bergkamp, Cantona, Fabregas, Henry & Beckham.
I'm not trying to say one bit that Young is better than Beckham, NO WAY! But the stats do give an indication as to who the dead ball specialist at Old Trafford would be. Also, my comment about Young being primarily right footed is backed by this amazing stat.
Ashley Young has scored 32 goals in the Premier League – 100% on his right foot, 34.4% from outside the box, 37.5% from dead balls.
–> How would he fit in?
Now coming to the Valencia issue. Tony V, as he's fondly known is an almost totally right footed player. I can recall at most 2 occasions when I've seen him play on the left just twice which is incidentally the same no. of times I've seen him use his left foot, one of them being an assist for Rooney's 2nd goal against West Ham in the 4-2 win at Upton Park last season. Also we saw in the UCL Finals that Valencia was stifled considerably for being very one dimensional and not having the ability to cut in to shift the ball onto his left foot. Nani came on and one could see a slight difference in United's wing-play (not that it made any difference though). Valencia mostly plays through the centre as an Attacking Midfielder for his national side Ecuador. So maybe Young, Nani and Valencia can after all play in the same 11 without having to compromise for positions. Nani/Young can also play through the centre and run past players making it a very attacking and fluid system with Rooney/ Chicharito upfront. This is a similar situation to the Berbatov-Tevez-Ronaldo-Rooney issue where only three of them could actually play together and all 4 could be brought on to save/win dead games(Remember 5-2 v Tottenham at Old Trafford?) Personally I am looking forward to seeing Nani on the right and Young on the left and then switch flanks in between. It was brilliant when Giggs and Ronaldo or Ronaldo and Nani did it. Absolute nightmare for the full backs. It brings another dimension to United's attack. Manchester United fans would just hope that that price tag doesn't lead to a case of too much too 'Young'.
DAVID DE GEA
After six very successful years at Old Trafford, Edwin Van der Sar finally decided to hang up his gloves at the age of 41! A brilliant keeper and a down to earth person who amassed over 800 caps in his glorious career and won the Champions League twice (At Ajax and United). Such a player would be missed by peers and fans alike.
For United, filling these huge gloves was never going to be easy. They'd already experienced such a situation 11 years ago when the monster goalie Peter Schmeichel decided to call it quits (he later joined City for which Gary Neville never forgave him). United tried a number of keepers(read jokers) like Massimo Taibi, Mark Bosnich, Fabien Barthez(who wasn't that bad), Andy Goram, Roy Carroll and Tim Howard (who has been brilliant after joining Everton) before landing VDS.
–> Why was he signed?
To avoid such a situation again, SAF had to act and act fast. Top quality goalkeepers are a rarer commodity in the modern game than wingers. Other than Spain, no other country has been able to produce top quality goalies over the last decade. England has produced some fine comedians like David Seaman, Rob Green, Paul Robinson and Ben Foster (who United sold to Birmingham) to a certain extent. Casillas, Buffon, Reina, Valdes were never going to leave their respective clubs, so SAF set his sights on David De Gea after losing Manuel Neuer (Who never wanted to leave Germany) to Bayern Munich.
United got their man from Atletico Madrid for a massive £ 18mn after a lot of speculation from both the parties, before Sir Alex confirmed that DDG was the man(boy) they were looking to, to replace VDS.
At 6 ft 4 in, David is an imposing figure in goal. He looks very lean, and United's physical fitness staff will do all they can to help him increase his upper body strength. He hardly has any weaknesses and is comfortable with either foot. With the likes of Vidic, Ferdinand, Evra etc in front of him, DDG shouldn't really have to make too many saves, but United will be confident that if needed, this young boy from Madrid won't disappoint. Some of David's achievements at this young age are:
w.r.t Atletico Madrid
UEFA Europa League: 2010
UEFA Super Cup: 2010
w.r.t Spain
Spain U17
UEFA European Under-17 Football Championship: 2007
FIFA U-17 World Cup Runner-up: 2007
Spain U21
UEFA European Under-21 Football Championship: 2011
Rather sadly, David might not be able to make it to the national side even if he manages 38 clean sheets this season. That is mainly down to the fact that he has the likes of Iker Casillas, Victor Valdes, Pepe Reina ahead of him in the Spanish pecking order. So unless these three together experience a terrible slump in form and he has brilliant game after brilliant game, one shouldn't really expect to see DDG in Spain colors regularly till he's around 29/30. By confirming this signing United have ensured that they have a top class keeper in their ranks and one that would play into the future. So, for the next 10-15 years at least, the goalkeeper's position at Man Utd looks set. And I wouldn't want to bet against it.
Transfer rumors and speculations
United have spent lavishly this season, their expenditure reaching close to £ 55mn already. One major issue remains though and that is HOW DO YOU REPLACE PAUL SCHOLES?? Yes that diminutive ginger lad has retired and United have to somehow find the next Scholes. Whether to get him from their academy like the original, or to spend a fortune is up to the manager and he knows very well that it's an issue that he must address quickly. Tom Cleverley, a young midfielder who was on loan at Wigan last year has openly said that he wants to be the player to replace Scholes thus saving a huge chunk of transfer fees which United could use elsewhere. Bold words, and if he can do even a fraction of what Scholes did in his early years at United, it would be great.
But just in case SAF doesn't seem it fit to thrust Tom into such big boots immediately, there are a few players being linked with the club, probably ones who could replace Scholes.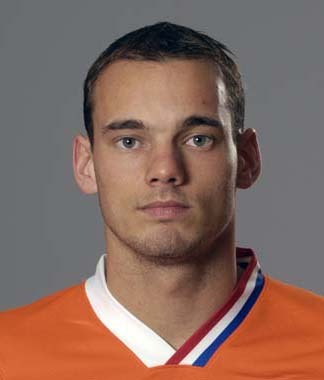 The Dutch playmaker has had an excellent couple of years for club Inter Milan and was one of the best players at the FIFA World Cup, guiding Holland to the finals where they lost to Spain. Wesley has all the abilities to replace Scholes and succeed in the Premier League. Just like Scholes, he isn't the tallest bloke around but has the footballing brain of 8 players put together. He finds a pass with tremendous ease, whether long or short and creates lots of chances for his strikers. He can shoot from range, which was a trademark of Scholes. How United fans would love to see corners being floated to the edge of the penalty area once more where a small guy would run up and smash a volley into the top corner!! A criticism of Scholes that he can't tackle is also shared by Sneijder, but Wesley doesn't try to tackle much, thus isn't as notorious. Sneijder is also a dead ball specialist and that would be deadly for United to have 4 players who can strike a dead ball brilliantly (Giggs, Nani, Young, Sneijder). Sneijder likes the way United play and Inter have snapped up Ricardo  Alvarez who is thought to be a replacement for Sneijder, which has only added fuel to the fire. The only stumbling blocks are the price tag of £ 35mn and expected wages of £ 200,000 a week which only Man City can currently offer.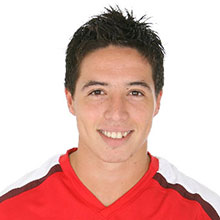 Arsenal playmaker and French star Nasri has not yet signed a contract extension to keep him at London. His ability on the ball and off it makes him a prime candidate to fill the CAM role at United if Sneijder doesn't come in. Nasri had one of his best seasons at Arsenal last year scoring 15 goals and assisting 5 in 46 appearances for the London based club. At times, Nasri was deemed to be unstoppable with his silky skills allowing him to step past defenders with ease and passing ability helping him set up chances. That he scored 15 goals is testimony to the fact that he isn't shy to make runs into the box and challenge defenders for the ball. If Samir does sign for Manchester United it would be only the second transfer between the two clubs in the last 6 years, the other being Frenchman Mikael Silvestre from United to Arsenal. Recent rumors suggest that United did make a formal bid of £ 20mn for Nasri which was turned down by Arsenal stating that they wouldn't part with the player for less than £ 25mn. What happens in this saga is to be seen. If it does happen, it would only heighten the rivalry between the two clubs.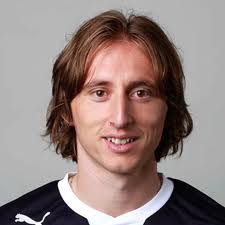 The Croatian star has improved immensely as a footballer after joining Tottenham from Dinamo Zagreb. A small sized playmaker, quite similar again to Scholes, Modric has developed into the one of the best passers in the English game currently. His ability to find teammates at long range is almost unmatched after Scholes' retirement. Modric was supposed to be the frontrunner in the race to replace Scholes, but Tottenham issued a no sale at any price warning and turned down Chelsea's £ 20mn bid after the player himself said that he would favor a move there. And now Daniel Levy has rebuffed Spurs' London rivals that Modric isn't going anywhere, the move is as good as dead for United.
Here's how United are expected to shape up next season.
General formation:
Chicharito
Rooney
Young — Carrick/Cleverley — Fletcher/Giggs —Nani
If the new playmaker does come in then expect Giggs, Carrick and Cleverley to get lesser playing time than expected, as the formation would then be:
Chicharito — Rooney
Young — New Playmaker — Fletcher — Nani
For a very attacking formation, here's what SAF could put out:
Rooney — Berbatov/Chicharito/Owen
Valencia
Young    —     Playmaker    —    Nani
Ji Sung Park is traditionally favored in the big games, so don't expect him to feature too often this season.
Also, after being left out of the UCL Finals squad, Dimitar Berbatov might not get too many first team chances with Macheda and Welbeck also returning to United after loan spells. But one wouldn't really expect the Bulgarian hitman to leave the club after being joint top scorer in the league last season, or atleast he doesn't want to leave. Only SAF knows what's in store for Dimi this time around
I expect the back four to stay pretty much the same. The arrival of Jones shouldn't really cause too much changing of the defence:
Evra — Vidic — Ferdinand — Rafael/Fabio
This, with Evans, Smalling, Jones as backup. The only issue here is the lack of backup fullbacks due to the departures of O'Shea and Wes Brown. The Brazilian twins have had their injury issues and Evra has faded away a bit in the last year and a half. De Laet has also gone on loan, so don't be surprised to see Fletcher being slotted into RB if a defensive crisis occurs.
Now that the financial fair play rule comes into action from next season, expect United and the other big clubs around the world to spend more on players. Don't be surprised if you see £15 mn+ being spent on unknown players. Guys, the transfer window has just begun to inflate.