Manchester United inch closer to the title with win at Sunderland
796 //
30 Mar 2013, 22:02 IST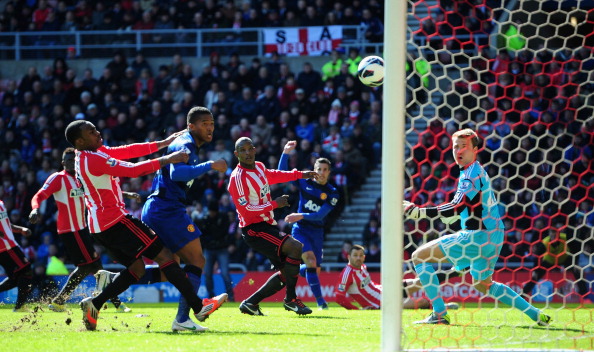 Manchester United played Sunderland in a match which had the potential to put United 18 points above rivals Manchester City. Judging by the recent Premier League form of both sides, one would've predicted a comfortable Manchester United victory. Not only were Sir Alex's men on a 6 match unbeaten streak, they also went in with 5 consecutive clean sheets. As for Sunderland, recent league form has been rather disappointing with 4 losses and 2 draws in their past 6 matches. With a crucial F.A Cup fixture coming up against Chelsea, Sir Alex rested key players like Nani, Evra and Rooney who are all likely to feature against the Blues. Despite resting key players, Sir Alex still came out with a strong side which comfortably secured 3 points. The match only had 1 goal, which came as an own goal by Sunderland defender Bramble midway through the first half.
Sunderland are on thin ice at the moment. This defeat puts them closer to the relegation zone. After a dismal defensive display and the lack of desire shown by the players on the field against United, Sunderland need to straighten things up before it gets too late. Sunderland's defence lacked coordination, particularly in the first half. Young, Kagawa and Van Persie were given ample amount of space to work their way in and around the box. Several runs were not tracked by the defence. In my opinion, Sunderland were lucky to concede just the one goal. In terms of attack, Sunderland failed to test the goalkeeper. Even in the closing minutes, it didn't look like Sunderland were really chasing the game. The players lacked desire in the middle which was reflected by the crowd as well. The Stadium of Light in known to have some of the craziest crowds which are always behind their team. However, today the crowd was rather silent and looked for a chance to get behind their team.
Robin Van Persie, who had been hailed as a fantastic summer signing, had been a frustrating figure for the fans lately. He has failed to net a goal in 11 club matches before this. He could have added to his tally today, having had a fair share of chances. The best chance came in the closing moments of the match in which he was one on one against Mignolet. His effort was comfortably guided away, leaving him frustrated to say the least. With Luis Suarez's recent form, it looks like Van Persie immediately needs to step up his game if he wants the golden boot again.
Manchester United have turned around their defensive woes which were significant in the first half of the season. This win gave United their 6th consecutive Premier League cleansheet. Man marking has improved considerably and David De Gea has been as solid as a rock. The Spaniard who showed lack of physical presence in the box has begun to show a different character altogether. He looks much stronger on corners and free kicks now. Lindegaard has been established as a second choice goalkeeper now after a rotation policy was put to effect earlier on in the season. The last time Lindegaard represented United was in United's F.A Cup replay against West Ham.
Lastly, I think it is safe to say that Manchester United will be lifting the Premier League title this time. With 8 matches left they have secured an 18 point lead which leaves City with no hope to rescue their title hopes. The only goal left for Sir Alex concerning the league would be to beat Chelsea's record of 95 points. In order to beat that record, United can only afford to slip 5 points.