Manchester United vs Sunderland: A Tactical Analysis
1.25K //
16 Dec 2012, 17:00 IST
Manchester United maintained their 6 point difference at the top with noisy neighbours Manchester City with a 3-1 drubbing of a hapless Sunderland, who now find themselves in the relegation battle. To add insult to injury, the Sunderland board is on the verge of sacking its manager Martin O'Neill. Sir Alex Ferguson too was not too pleased with his side's performance as they failed to keep a clean sheet. However, the return of Nemanja Vidic will be a boost for the team as they look forward to clinching their 20th Premier League title.
Here is a tactical look at the teams and the goals scored.
Manchester United
The Red Devils made just the two changes from the team that triumphed at the Etihad last week, with Chris Smalling replacing Jonny Evans, who he replaced last week too and Rafael Da Silva made way for Phil Jones, who was making his first start of the season. United went in with the standard 4-4-2 formation.
Robin Van Persie  (16′)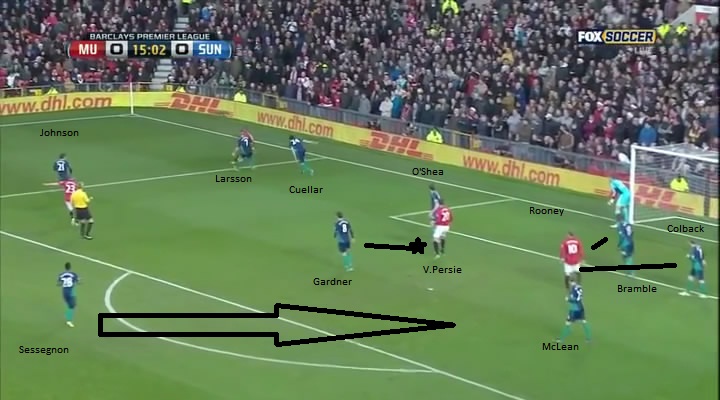 The above snapshot shows exactly why Sunderland are in the drop zone at the moment. Sessegnon is a box to box midfielder like Rooney, but here we notice that he has left the defending to James McLean. Craig Gardner too has lost his marker, Van Persie, and now it is evident that Larsson and Cuellar are a mismatch for the pace and skill of Ashley Young. Young has been in fine form this season, notching up similar assists in both the Manchester derby and this game.
In the following snapshot, Cuellar has been comprehensively beaten by Young, whose cross is met by O'Shea, only to be chested down by Van Persie and put in the back of the net in a very calm and composed manner; something the Dutchman has been doing since the start of 2011. Here, three Sunderland players; Gardner, Colback and McLean are in no-man's land as they are not marking anyone, despite the presence of Valencia, Van Persie and Rooney (who is marked by Bramble). Perhaps the absence of Danny Rose hurt, but O'Neill will have to tighten the screws on his defence to keep his job intact.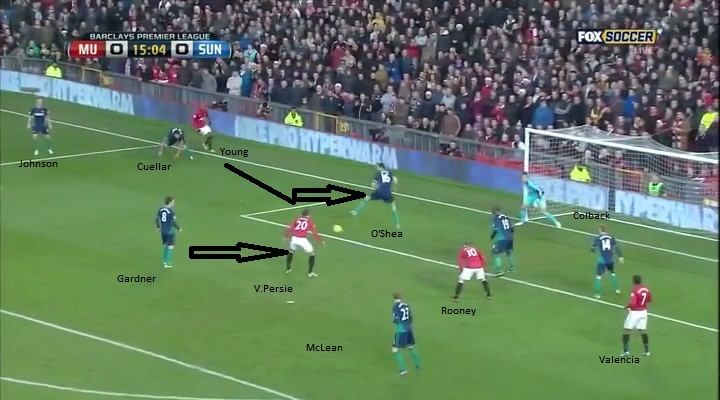 Tom Cleverley (19′)
Ever since his sensational goal against Newcastle United, Cleverly has been in fine form, and scored his second goal courtesy of a set piece straight out of the Carrington set plays. His movement to the left, along with the presence of Michael Carrick and Patrice Evra ensures that he draws out Johnson and Cuellar. He plays the ball back to Carrick, who with one touch sends the ball into the free space, which once again is left open by the disappointing Craig Gardner, as Larsson is on his way towards Carrick.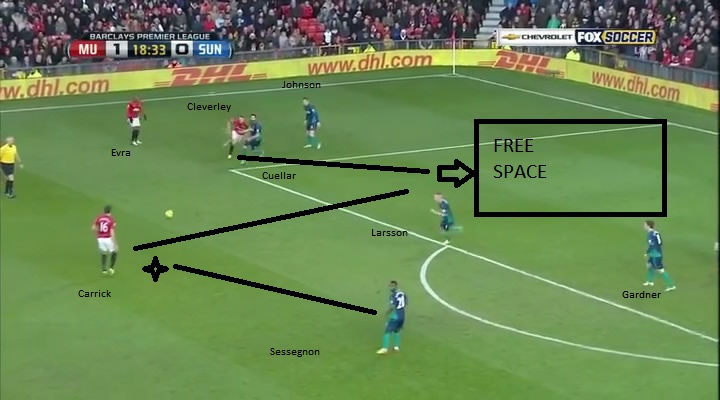 Carlos Cuellar (below) has been outplayed, and not for the first time Gardner has lost his marker Rooney, who is not picked up in the box. The presence of Smalling too nullifies Colback as Van Persie has strayed ahead of him, and McLean has been left behind, in line with Cuellar.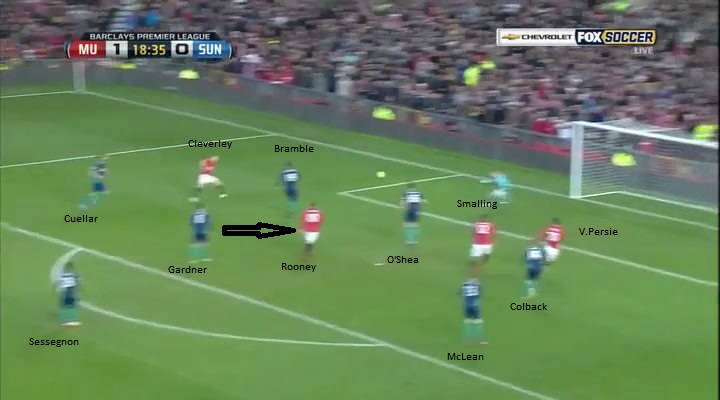 Wayne Rooney (59′)
Rooney again went on to prove why he and Van Persie made such a dangerous pair up front. Here, instead of Rooney, Van Persie falls back, just like he did at Arsenal, providing an assist for Rooney. After a bit of trickery, Young takes out Cuellar, which allows Van Persie to make his forward stride around Young.
In the following snapshot, the trickery of Van Persie, takes out a hapless Cuellar and also Bramble.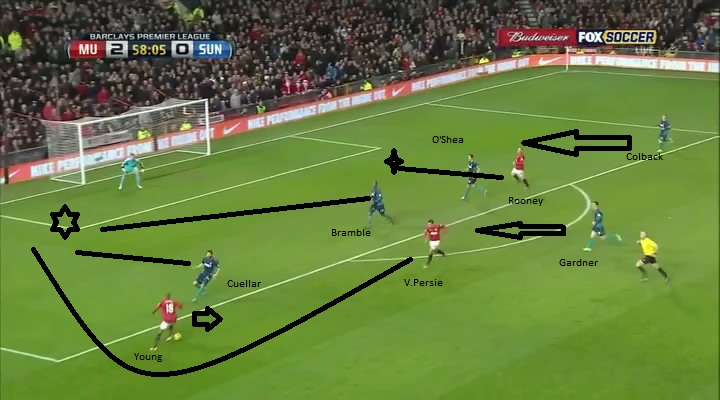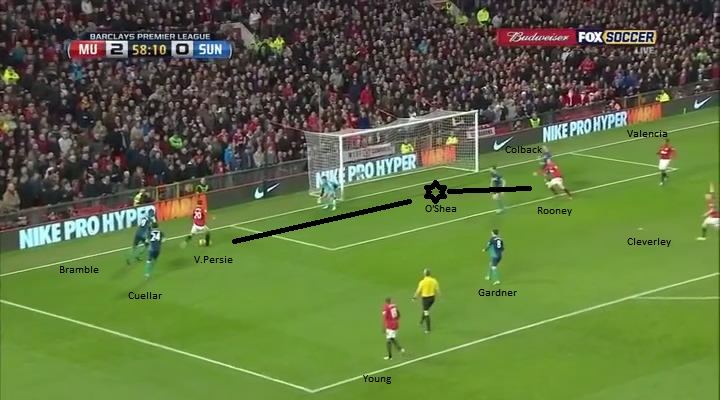 Sunderland
Titus Bramble replaced Danny Rose who was injured in the game against Reading, which saw them win 3-0.
Here is a tactical look at the only goal scored by Sunderland.
Frazier Campbell (72′)
Manchester United took their foot off the gas and began to defend with desperation after going up 3-0. The introduction of Paul Scholes only slowed the game down and the introduction of a recovering Vidic proved to be worse. Here, Tom Cleverley fails to pick up the run of Frazier Campbell and Smalling is way off his line, and so too is Phil Jones. The first cross races past the goal, without being touched, only for Stephane Sessegnon to play it back into the box (in the following snapshot) for Frazier Campbell to get a free header into the goal. Tom Cleverley must take responsibility for losing his marker.