Why Manchester United can continue their spending spree - A look at their financials
1.72K //
20 Jan 2015, 22:12 IST
From 2007 to 2012 Forbes magazine listed Manchester United as the most valuable football club in the world recording revenues of at least $300 million in each season. In 2013, Real Madrid leap-frogged United to take the first position, even though the Red Devils won the Premier League that season.
Sir Alex Ferguson had built such a legacy that it felt unassailable. With his inspired vision & shrewd transfers, he made United one of those teams, who would spend less, but achieve more. But Sir Alex's and his dear friend and former chief executive David Gill's retirements at the end of the 2012-13 season were a huge blow to their fans as well their finances.
Their replacements David Moyes & Ed Woodward, previously executive vice chairman, got off to a horrid start landing only one player in the summer among a host of targets. If the summer transfer window was a trailer, the season turned out to be a horror movie. Moyes failed to perform, while Woodward was responsible for off-field failures. United still commanded the market as the second most valuable club in the world, but things were about to change.
New manager Louis van Gaal did change it in his first season spending a whopping £150 million. This signalled the dawn of a new era at Manchester United. But United fans must feel assured that they are still financially one of the most secure teams in world football.

Stephen Morrow, senior lecturer in sports finance St Stirling University, says,
"Manchester United and Real Madrid to are in prime position financially because of their business model and financial structure that provides them with the additional income required to stay within FFP limits"
The point here is United, even after shelling out £150 million pounds in the transfer, are safe from FFP. United have one of the most reliable market structures in the world. The one which can only be matched by Real Madrid. As of April 29, 2014 they have a staggering 659 million fans around the world, almost a tenth of world's population and at least 300 million more than any other club. Commercial, matchday and broadcasting incomes continue to make United the most powerful, not valuable, club in football.
Finances
The first quarter results of 2015 showed an increase of £8.9 million in profit & total revenues amounting to £88.7 million for the fiscal first quarter, which ended 30 September 2014. Losing a Champions League place alone has cost United several million pounds. Essentially, they have not gone completely out of the radar thanks to a £750m 10-year deal with Adidas.
Although, the deal kick starts from next season and is not included in this year's fiscal report it paid huge dividends on investors, who did not back out of the faltering club. In fact, Ed Woodward secured five more sponsorship deals with Nissin and Abengoa (global), Association of Football Federations of Azerbaijan – AFFA (regional), Maybank and Gloops (renewals of regional).
United signed some of world football's best players including Angel Di Maria and Radamel Falcao. Keeping in mind all these advancements, Woodward has been right on the money from beginning of this season. Had he been this active last season, United would never have gone down the ladder. Champions League miss was a costly one and Woodward explained how the club has negated the losses to some extent,
"While we recognize that the 2014/15 fiscal year financial results will reflect our absence from the Champions League, we signed the largest kit sponsorship deal in the history of sport in the first quarter and, with that concluded, we are excited to focus our efforts on the meaningful growth opportunities in sponsorship, digital media and retail and merchandising."
Key Financials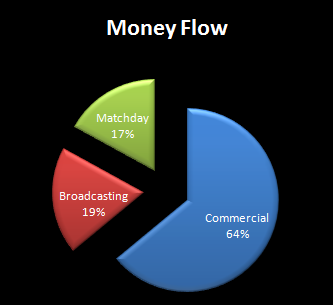 Commercial revenue for the quarter was £56.8 million, a decrease of £3.1 million, or 5.2%, over the prior year quarter.
Broadcasting revenue for the quarter was £16.8 million, a decrease of £2.5 million, or 13.0%, over the prior year quarter, primarily due to non-participation in the UEFA Champions League in the current season.
Matchday revenue for the quarter was £15.1 million, a decrease of £4.2 million, or 21.8%, over the prior year quarter, primarily as a result of non-participation in the UEFA Champions League and one fewer domestic cup home game.
While commercial percentage of total revenue increased from 60.8% to 64%, but both broadcasting and matchday reveues percentage decreased. Missing out on champions league and ousting from the league cup without playing at home (loss against M.K.Dons at their ground) cost United around 2 million pounds. The Old Trafford club lost out on payments from Nike from failing to qualify for the Uefa Champions League.
Louis Van Gaal has stated how important a FA cup run is. Surely it is critical for the prestige of the club but also for their finances. A FA cup triumph, which United last won in 2004, will come a long way in helping their financial causes. It will include several home matches as well as matches against top teams which will attract viewers around the world. To negate some of the losses, the club may organise friendlies in the Middle East, which will somewhat compensate for the loss of Champions League match days.
The fall in income could have been more but was partially compensated for by an increase in sponsorship money and a lower wage bill. The wage bill has dropped by 6.6% to 49.4 million pounds. This is due to the removal of some elite players which included veteran defenders Namanja Vidic, Rio Ferdinand, Patrice Evra alongwith players like Danny Welbeck, Shinji Kagawa and Alexander Buttner. Luis Nani, Tom Cleverley and Javier Hernandez are on loan with other clubs.
Other Vital numbers
Total operating expenses for the quarter were £92.8 million, an increase of £2.6 million, or 2.9%, over the prior year quarter.
The club also announced a record annual revenue of £433.2m for the last season. This is the club's total income and does not include outgoings such as wages, taxes and transfer fees.
However the debt increased by £1.2m from last year to £362.2m.
Manchester United have predicted this season's revenue to be betweeen £385m to £395m. Only the absence of champions league has resulted in missing out on £38m to £48m. David Moyes' sacking and Louis van Gaal's appointment has significantly boosted United's operations on and off the field. The day Van Gaal was appointed, the market rose for United and signalled the dawn of a new era.
Can they continue their spending spree?
Clubs these days are ready to splash hefty amounts of cash to bring in their targeted player. Managers buy them according to their merit but the money involved outweighs the quality of the player. More often than not though clubs are willing to pay. Manchester United did the same in the last summer transfer window spending almost £150m to bring in some world class players. But they still remain one of the few clubs who can afford to continue spending for some time.
UEFA FFP rules has strangled some of the clubs from further spending or has limited them from spending big. The spending constraints for 2013-14 season was limited to a loss of £45m in 3 years for the Champions League and £105m for the Premier league. This means a club cannot afford a combined loss of 105 million pounds in 3 years which will result in warnings from UEFA and eventual suspension if the club do not comply with the rules. Same goes for European competitions as well.
Where clubs like Paris Saint German, Chelsea and Manchester City have incurred huge losses in previous years, Manchester United continue to make profits. Which of course keeps them at bay from FFP rules. Red Devils' chief executive Ed Woodward announced a profit of £8.9 million after one of the worst seasons in two decades. Whereas Manchester City lost £23m even after winning the Premier League.
So Manchester United are well within UEFA FFP rules and can continue spending and strengthening their squad in the next summer. The likes of Gareth Bale, Marco Reus, Kevin Strootman, Mats Hummels and even Lionel Messi are being touted as United's next targets.
Let us take an example. If any of these clubs wanted to sign Messi, whose buy out clause is 250 million pounds and commands a salary of 20 million pounds per annum, then Manchester United and Real Madrid will be the only eligible ones.
Sky Andrew, one of Britain's leading football agents, says there are five clubs who could secure Messi's services and where he might be interested in playing. He told, "Manchester City, Chelsea, Manchester United, Paris Saint-Germain and Real Madrid are the clubs that have the financial backing and the profile to attract a player of his stature. However, the question they will be asking themselves is 'can we spend 200 million pounds, plus his wages and stay within the financial fair play (FFP) rules?'
Unlike United, other big clubs have failed to diversify their income to cope up with their spending without incurring any losses. Manchester City, after signing Wilfried Bony for £28m, are left with only £2m to spend in this transfer window. They have already been charged by FFP, who had fined City £49m, £32m of which was suspended, and they could only name a 21-man Champions League squad this season.
Stephen Morrow said: "Any club that signs Messi will need to have recurring football income to cope with the cost of buying him. So of these five clubs, only Manchester United and Real Madrid have diversified income streams. Unlike Chelsea, Manchester City and PSG, they are not reliant on benefactor-owners and raise significant revenue through sponsorship, television and other commercial deals. Manchester United have substantial cash reserves compared to the other big clubs that might consider buying Messi, so this would be a huge advantage."
This clearly explains United's position in the market. Louis van Gaal will be needing reinforcements next summer and he will be delighted with the financial condition of the club. But if he fails to land Champions League qualification this season, United will undergo heavy losses, even more than they incurred this season.
Ed Woodward has done some fine business and it remains to be seen whether Van Gaal and Woodward can create the same magic that Sir Alex and David Gill created. Whether they do that or not remains to be seen but at the present moment Manchester United are well placed and miles ahead of other big clubs.
If you are interested in reading the financial report, click here.