Alvaro Morata, Diego Costa or Paco Alcacer: Who should start upfront for Spain?
3.30K //
31 Mar 2015, 19:05 IST

Alvaro Morata's goal in Spain's 1-0 win over Ukraine on Friday night has led to plenty of praise in the local media, with the Juventus centre-forward's first senior international goal featuring on the front of both AS and Marca the following morning, amid claims that Spain had finally found a proper number nine.
Morata's apparently match-winning display, along with recent Champions League and Serie A goals for Juventus, has also led the UK media to speculate about a potential 40 million Euro move to Manchester City next summer.
Such talk is pretty overblown, as it often tends to be when the fresh-faced Morata is involved. It is true that the 22-year-old scored the only goal on Friday night in Seville. But the win was more down to excellent displays from teammates such as Isco, and man of the match Gerard Pique, as well as profligate finishing from the visitors.
During his 64 minutes on the pitch, Morata was often an isolated figure. He played just 10 passes (although at 100% completion), a very low tally considering Spain as usual had most of the possession (63%). He also won zero aerial battles and played zero key passes to create chances for teammates, two usually important jobs in the traditional centre-forward role he was trying to play. Among his 20 touches in total were three shots, one on target (which went in via a deflection off Ukraine centre-back Yevhen Khacheridi), and a weak penalty claim.
Although he had scored his first senior international goal on his first competitive start for La Roja, Morata himself admitted on Spanish TV after the game to not being fully happy with his night's work. "I feel good personally, but it was not my best game for the national team," he said. "I must keep getting [club] games, and working hard to return."
Coach Vicente Del Bosque looked at the positives at his post-match news conference, picking out Morata's ability to occupy the opposition centre-halves as particularly pleasing. "Morata did very well, he scored a good goal from Koke's pass, he generated space, fought with their centre-halves," the veteran coach said. "He showed motivation and mobility."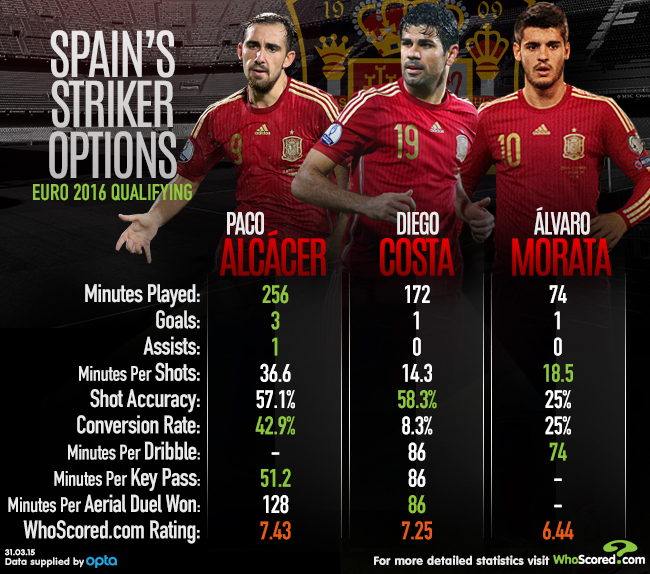 The veteran coach did, however, admit the Ukrainians had come into the game in the second half, with the home team unable to keep possession and kill the game as they used to do so clinically. "We played well in the first half," Del Bosque said. "But we dropped off in the second half. We dropped our intensity and let them control the game. We lacked mobility, had difficulties up front. That is something to study and correct."
Difficulties up front are not a new problem for Spain. At least since all-time top scorer David Villa broke a leg playing for Barcelona in December 2011, La Roja have struggled to integrate a pure goalscoring forward into their XI. Those tried have included Roberto Soldado, Alvaro Negredo, Fernando Torres, Fernando Llorente and Michu, before Brazil-born Diego Costa was brought in -- to very limited success - for last summer's World Cup.
The experimentation has continued through the current Euro 2016 qualifiers. With Costa injured, Valencia's Paco Alcacer was given a first senior start in last September's opening qualifier against Macedonia. Alcacer, then just turned 21, grabbed a goal and an assist in a 5-1 win. Less impressive was that in 56 minutes on the pitch, as his team dominated against such weak opposition, he had just 23 touches of the ball; by far the least of his teammates in advanced areas.
For the 2-1 defeat in Slovakia in October, Costa was back in the number nine role. He had five shots, three on target, but could still not find his first international goal. Meanwhile he made just 25 passes over the 90 minutes, although two of these were key passes creating chances. Alcacer came off the bench with 20 minutes remaining and had just three touches of the ball in total. One of those was for Spain's goal on the night, but La Roja still lost the game.
For the 4-0 win in Luxembourg a few days later, both Alcacer and Diego Costa started up front in a 4-4-2, and both scored. But given the opposition that is not so relevant in truth.
In a 3-0 win over Belarus last November, Costa was again injured so Alcacer was Spain's starting centre-forward. The Valencia man had just two shots - and did not score, although he did hit the woodwork. Over 90 minutes on the pitch, he managed only 25 touches of the ball, with zero key passes and zero aerials battles won, again showing that although his team won he was a pretty peripheral figure.
Meanwhile, fellow youngster Isco was man of the match, with a superb goal, and a phenomenal 127 touches in 79 minutes played. It is no surprise that Spain's midfielders are more important in general play than centre-forwards, but it seems clear that Del Bosque wants to try and evolve their tiki-taka style, to get a centre-forward more involved in creating danger around the opposition penalty area. For whatever reason, this evolution is not really taking place.
Which brings us back to Friday night against Ukraine, when Isco was again Spain's best attacking player by far. The Real Madrid playmaker had 95 touches of the ball, two key passes, three shots, six dribbles and was fouled six times. He was especially impressive when continually trying to make things happen through the second half, as teammates including Andres Iniesta and David Silva faded.
Although Isco had played much better, goalscorer Morata garnered the majority of the headlines in Spain on Saturday morning, perhaps as local fans and pundits are still crying out for a proper number nine. In reality his display was pretty similar to that of Morata and Costa in previous qualifiers. If anything, the statistics show that the Chelsea man is the most likely to link with his teammates, hold the ball up, and provide chances for colleagues.
Morata now looks likely to be benched for Tuesday's friendly against Holland in Amsterdam. With Spain looking to get at least some pride back in a rematch of their still painful 5-1 defeat at last summer's World Cup, the traditional number nine experiment should be parked for now. Instead Del Bosque seems set to again play Cesc Fabregas or David Silva up front as a 'false nine', and they are sure to be much more regularly involved in the play.
All of which means Spain still have not found a real number nine. Even with Morata's goal and headlines against Ukraine last Friday, it could be that Costa - fitness and Jose Mourinho allowing – will get another chance to learn the role in their next qualifier in Belarus in June.