Newcastle Preview: Lineups, Pat Rice, Midfield Issues and Strike Options
767 //
29 Dec 2012, 19:25 IST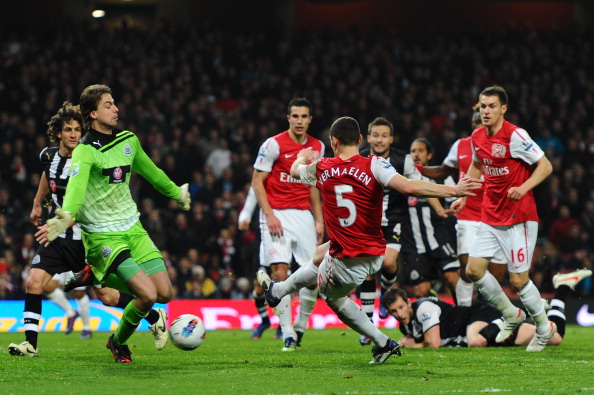 The past week must have been the longest week in the history of weeks. First, there was impending doom, or the apocalypse as it is called, to get past. Once that was done, there was Wigan Athletic, who we made look far more dangerous then the eastern wave hitting Washington D.C.
There was the tumultuous midweek non-Arsenal football, where we had to endure Spurs scoring 4 goals, and Alex Ferguson escaping capital punishment, yet again, despite clearly having a go at the officials.
But fear not. Arsenal are in action tonight. So, there's a great chance to flush out the misery of last week. Let's start positively, and with some good news. Former assistant manager Pat Rice, who served the club in various roles for 44 years, as youth team player, captain of the first team, making 528 appearances, youth team coach, senior team coach and finally as assistant manager, received an MBE, in the Queen's New Years' honors list. He was of course delighted with the honor.
I'm delighted and honoured to be receiving an MBE. The news of the award came as a complete surprise and I'm just so flattered to be included in the Queen's New Year's Honours List.Football and Arsenal have been my life and I have so many fantastic memories during my career. I have been lucky to have played and worked with so many great individuals, and through hard work I have enjoyed some success along the way.It has been a privilege to have represented Arsenal Football Club for more than forty years, a great club with great values. I am also proud to have represented my country on many occasions, and also a special mention to Watford Football Club, who I enjoyed a short spell with as well.I would like to take this opportunity to thank everyone who has helped me throughout my career, and importantly, a special thank you to all my family, who have always been there for me and supported me throughout my career.
I think it is fantastic, that a man serves a club for 44 years in these times and ages. Rice has seen it all, from the 1971 double winning team, to the 1989 Anfield win, all the way down to the Invincibles! Young players need to take loyalty lessons from this man.
Speaking of which, Jack Wilshere has promised to repay the faith Arsene Wenger has shown in him, despite his young age.
He's always been there for me, He showed faith in me when I was 18, and he stuck with me throughout the whole time I was injured. He knew the only thing that would get me better is games, and he stood by me. I need to thank him for that, and yes, he was a big part of why I signed. I'm very happy here. I've signed a long-term deal, I'm not 21 yet and I see my future here. We have got a good crop of young players, and good young English players as well. We've got Coquelin, Ramsey too – we are all coming through together and we are all improving as we get more experience. Chambo's 19, I'm 20, Jenko is 20, Gibbs too. When you get to 25 or 26, that's when you hit your peak and we all want to be here for that. We want to create something and we want to win things for Arsenal together.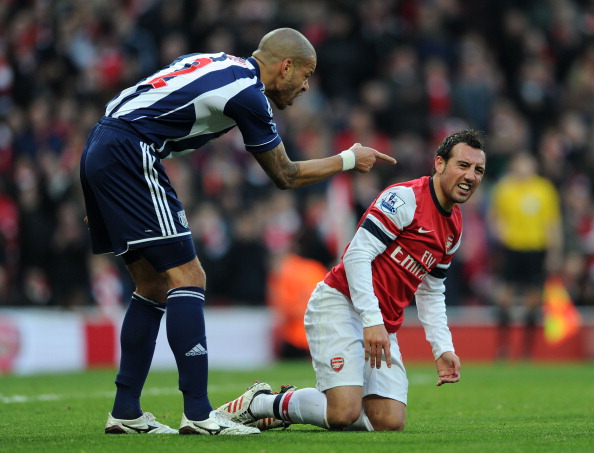 One player who is certainly enjoying playing alongside the Englishman is Santi Cazorla. It is delightful to watch the two dynamo sized midfielders dictate play week in, week out. What's more, both of them are great at ball retention, something which we were guilty of not doing enough of last season.
He has amazing potential. I did not know him well when I arrived because he was not at the training sessions due to his injury, and everyone was already talking about him, saying that when he returned, the team would improve, and that has been the case. Every day he is gaining more confidence, he is forgetting about the injury, and he is a key player that can influence the result in a game, and thus, we are all very happy to see him 100 per cent again. He was out for a long time and it was an injury that takes time to heal. It is always hard to come back from injury, especially if it is very long. You always have that fear up until you start getting your confidence back, and you start getting back to your old self, and he has done that quickly. Every day that goes by we understand each other better. It is very easy for me to play with them. Mikel is more of a tactical player, a very important player in any side. He always has to be well positioned, to cover the open spaces that we leave further up the field.
There however is the feeling that something is still missing in the midfield, despite the presence of 3 excellent technical players. And that is presence. Abou Diaby's injury worries haven't helped a bit, and Coquelin doesn't look half the player he was last season. This has often resulted in Mikel Arteta having to play a heavy pressure role, every week, and you could see it taking a toll on him.
There have been the odd performances where our midfield has been completely overrun, due to the lack of physical presence. While Michael Essien was linked to join the Gunners on loan during the summer transfer window, there have been a host of new names to have popped up, to fill that void in midfield.
While none of the names mentioned in that post may be the definitive answer, it will surely be a step in the right direction. This potential weakness in midfield could cause us more points than we think, as the season progresses, and the club would do well to sign a handy player in that position.
Arsene Wenger has revealed that he will be a busy man during the transfer window. There are various positions that need some fixing in the squad. For me, the main positions that still require some repair are defensive midfield and an experienced goal getter.
Now, don't get me wrong. As much as I like Olivier Giroud, I feel it is something that has let us down this season. We have created several chances, but many of them have gone begging, for want of a better finish. Giroud seems like the kind of player at the moment who will do a good job of pulling in the defender towards him, and create space for the others, but not one that will guarantee you 20 goals a season.
He doesn't really have enough pace, or enough guile to trick defenders, but he uses his extremely good physique and balance to get into good scoring positions, and harry defenders.
Theo Walcott has been used as a striking option, but clearly he is not the solution. He had a decent game at Reading, partly because Reading are worse than my Sunday League Team. They played such a poor line, and gave him enough freedom to run in behind them, using his raw pace.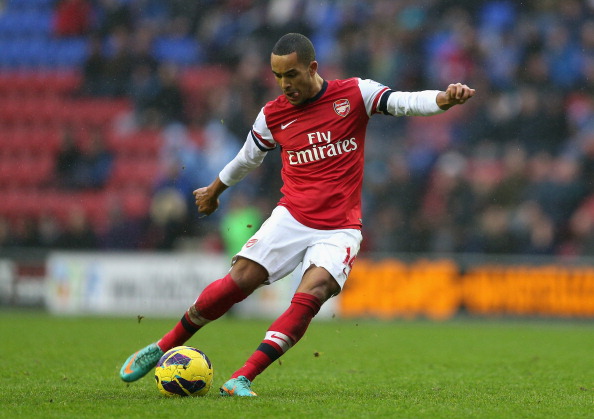 At Wigan, he was a shadow of himself, as he struggled to get past a solid and physical defence. He had to work in spaces, but was robbed off the ball far too often. Yes, he won the penalty, but apart from that he was average. Let's get this straight, he is not going to be a Thierry Henry. Not now. Not ever. The quicker he realizes his attributes suit well to the wing, the better. And sign the ting already!
Finally, our 'other' attacking option, Lukas Podolski. There have been talks of how playing Podolski on the left has hampered his real attacking and goal scoring instincts. For me, Podolski is playing in the right position.
He is not a winger. Let's face it. He cannot beat too many defenders, for want of pace. What he does best, is drift inwards. He doesn't make too many mazy runs, but is a direct attacker who loves running into defenders. That said, playing him as a striker, wouldn't work, simply because he is not a striker.
In the current system, where we play a 4-5-1, which naturally progresses to 4-3-3, Podolski wouldn't fit up top. He struggles to get past defenders, which is a massive problem. When played on the left, he finds space for himself, as well as the left-back. As we have seen so far this season, he has linked well with Gibbs and Wilshere, the two closest players to him on the left side of the pitch.
For these, and only these simple reasons, I feel that a goal-savvy striker would really bolster our squad by leaps and bounds, and may eventually prove to be the final piece of what has been a puzzling puzzle.
One of the strikers quoted is Demba Ba, who will be turning out for the opposition tonight. But, these rumors have been quashed in their infancy by the manager. A loan move for Thierry Henry is nothing but a surface smoothener. Arsenal fans will go nuts, if a new striker doesn't arrive next month.
As we speak about transfers, rumors are that Reading are the front runners for the signature of Andrei Arshavin. As much as I love Arshavin, I think it is best for all that he leaves. He was delightful, but just one half bad season later, he found himself in a lurch. This season, he has played as a sub a few times, and in the Capitol One Cup, where he provided 6 assists in 2 games.
Marouane Chamakh, too, looks on his way out to West Ham. Clearly, this move would suit everyone involved. West Ham, not so sure. That's their problem anyways. If they can get the goalscorer out of the Moroccan, then great! I am sure Sam Allardyce will be a revered person in the history of the game.
Right, team news then. Tomas Rosicky and Olivier Giroud are both fit, having missed the clash at Wigan due to cold. Abou Diaby and Andre Santos will return to training in the coming week.
Newcastle are in the midst of a player crunch at the moment. Vurnon Anita was injured in the midweek game against Manchester United. He joins Hatem Ben Arfa, Jonas Gutierrez, Yohan Cabaye and Steven Taylor in the treatment room. Additionally, Mike Williamson is suspended, but Cheik Tiote returns after serving his suspension.
Newcastle have gone completely off the boil this season, and you would think it is partly due to the Europa League burden on them. Having to play Thursday and Sunday has clearly taken a toll on a limited squad.
Arsene Wenger has called for consistence, and says that the consistent teams will be rewarded. Yeah. Bit like saying Francis Jeffers is useless, or Robin van Persie is a traitor. Goes without saying.
I prefer Giroud to start through the centre, because Walcott wouldn't be able to deal with the physicality of Collocini and Perch. It would be like two bullet trains charging down on a Maruti 800, on speed boosters.
Newcastle gave it their all in midweek, and surely will be a bit tired after that, as well as deflated after the late loss. But the French duo of Sylvain Marveaux and the Bigiriman have really impressed. They can certainly cause Arsenal problems. Cheik Tiote is a good player, but known to have a light fuse. Arsenal have to dominate midfield, to win this game.
Papis Demba Cisse and Demba Ba have never clicked as a partnership, despite playing together at club and country level. However, their unpredictability makes them two of the most dangerous strikers in the league. The defence will have to be on their toes again.
Arsenal need a win to stay within touching distance of Chelsea, and anything but will be a major disappointment.
Enjoy the game wherever you are!