Player of the season nominees – Franck Ribéry
3.24K //
09 Jul 2013, 22:11 IST
With the season having ended, Sportskeeda decided to let its viewers rate the 30 best players of the season.
We will be shortlisting 30 of the best performers this term, and let you pick your winner.
What do you think? Have your say at the end of the article.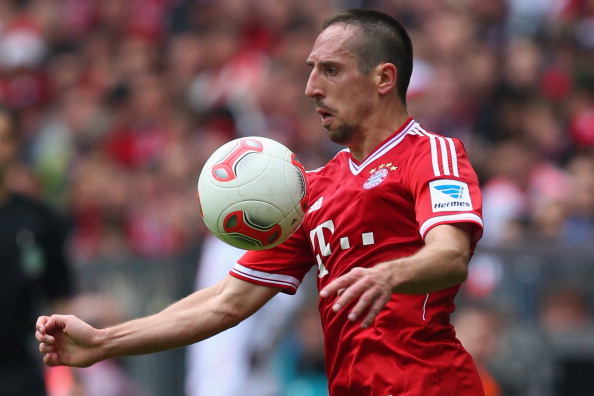 When Franck Ribéry was younger, he was strongly disliked by France's rather fickle fanbase. Whenever he turned out in bleu, the man who sported a scar Zorro would be proud of would be booed, whether it was in Saint-Etienne, Lyon, the southern bastion of Marseille, the mining town of Lens or the French capital of Paris.
He was barracked because of his outspoken views and his publicly-known desire to jump ship from Marseille to Lyon, a statement that made French fans go oh mon dieu with a sharp intake of air that smelled strongly of garlic.
In the antithesis of all things French, however, he has found his calling. Swapping Marseillaise sky blue for Bavarian red and making the much sought-after move from his flair-centric homeland to a more efficient German Bundesliga with Bayern Munich has seen Ribéry become one of the most desired players in his position.
Along with that metamorphosis from temperamental talent to world-class wonder, the man adoringly called Kaiser Franck in his adoptive Germany has also won over fans from France, the same fans who would pelt him with jeers whenever he took to the field. Last season only showed how much Ribéry has improved as a player and as he enters the twilight of his career, his excellent performances for Bayern make him one of the nominees for Player of the Season.
The partnership
It was often Thomas Müller and Arjen Robben who battled for the spot on the right wing but on the left, it was Ribéry who made a starting slot his own.
As far as Bayern's wingers go, only Muller narrowly edged out the 30-year-old with 3,478 minutes. Ribéry clocked a total of 3,258 minutes last season (source: Kicker magazine) and contributed a team-best 18 assists. Statistically, last season was his second-best in a Bavarian shirt.
He also found the back of the net 11 times.
His direct running and willingness to work hard and draw out defenders are one of the reasons Mario Mandzukic and Mario Gomez were able to plunder goals at will and he is sure to repeat his consistent performances next season.
A deadly player
Bayern's midfield is as deadly as it is steely and cannot be underestimated. In a world where it is often said that you cannot judge a book by its cover and when are you expected to expect the unexpected on the football pitch, Ribéry is the perfect example in a nutshell to show just how good a team Bayern Munich are.
Few teams can claim to have four world-class wingers. Fewer players still can claim to nail a permanent berth to their starting place. Then-coach Jupp Heynckes was not afraid to make changes on the flanks when required but it was Ribéry who would remain largely unaffected by the experienced German's tinkering.
There can be few teams better equipped than Bayern Munich going into next season and Ribéry is sure to thrive on an understanding with Bastian Schweinsteiger, Toni Kroos and new arrival Mario Gotze in the centre of the park next season as well.
Ribéry has developed into a complete player at Bayern and saw a lot more of the ball last season than he did previously. With a pass success percentage of 87.8% (Source: Bloomberg Sports) and passed the ball an average of 55.9 times a game. That in terms of end product translated into a total of 3.2 chances a game, by far the best in last season's German league and more than double his output of the 2009-10 season.
In addition, stats show that Ribéry was one of the best crossers across Europe last season. Although his average of 29% (45 of 155 crosses) might seem low, his average of 1.7 successful crosses a game means he was well above the European (and MLS) average of 23.2%. Only seven players in Germany have better crossing abilities than him.
That only further highlights his consistency, with 25% of all his crosses having been met by a team mate in the span of his last three seasons. For a player whose main strengths included his creativity and flair, his goalscoring is only an addition to what is a very complete arsenal and it is these qualities that make him such as stand-out player.