Premier League Column: Week 15 – Late drama at Etihad as RVP steals the show
687 //
11 Dec 2012, 10:15 IST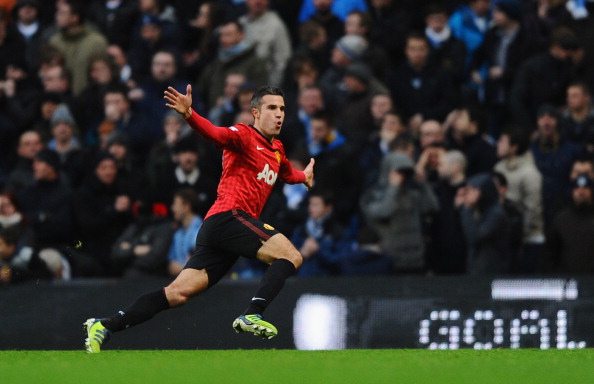 It was goals galore in the Premier League this week, with some top-class football played over the weekend.
 

Top three games of the weekend
 Manchester City 2 Manchester United 3
Sunday saw the arrival of the much anticipated Manchester derby. Of course, titles cannot be won in December, but it enables the winner to send out a message to their rivals of what is to come. Manchester City started the game better, settling into the game quickly and passing the ball about with confidence and fluidity.
United made the Citizens' possession count for nothing though, as Wayne Rooney's sliced effort trickled into the bottom corner of Joe Hart's goal to turn the game in favour of United with sixteen minutes played. The Citizens' chances of getting back into the game took a further step back, as influential Captain Vincent Kompany was forced off through a groin injury, and was replaced by Kolo Toure, who has had a limited number of games this season.
Wayne Rooney further doubled United's lead, as he scored his 150th Premier League goal.
The game looked to be out of reach, but there was more drama to come in the second half. Controversial forward Mario Balotelli was given a rare start, and was replaced by Argentine forward and former United player Carlos Tevez after the break, and this signaled a change in approach for Man City.
Yaya Toure installed some hope for City on 60 minutes after he calmly slotted in after some impressive saves from custodian De Gea.
United were then restricted to very few chances, and City finally drew level after right-back Pablo Zabaleta drilled home from just inside the box with four minutes left.
City then had numerous opportunities to snatch a win, but it was United who stole the three points. In the 92nd minute, Manchester United were awarded a soft free-kick, and van Persie dispatched it into the top corner, albeit with a hefty deflection off the boot of Nasri, to send the league leaders six points clear.
Man City were very impressive in this game, with David Silva and Zabaleta putting in crucial performances. This suggests City have enough about them this season, and there is certainly a lot of football to be played.
As for United, they managed to win without putting in a top notch performance, but I still fancy City to clinch the title due to the strength in depth they have in their team, and perhaps their exit from the Champions League will help improve the all-important league results.
 Swansea 3 Norwich 4
Chris Hughton's Norwich are all of a sudden enjoying life in the Premier League this season after picking up some very important wins, and this was a great result against a strong Swansea outfit who are impressing all in the league so far. Defender Steven Whittaker opened the scoring with a well struck effort, before Sebastian Bassong headed in on 40 minutes.
Holt then ensured that the Canaries went in at half time with a strong lead as he made the score 3-0 with a well-timed header. The first half performance was rather unlike the Swansea of late, but in the second half they almost staged a spectacular come-back!
Five minutes after the interval, Michu struck to give the Swans a lifeline. Eight minutes later, Canadian midfielder Jonathan de Guzman slammed in from inside the box to make the home fans start to believe. That belief was cut short though as Robert Snodgrass' fee-kick found its way in to make the score 4-2 in favour of the away side with thirteen minutes left to play. Michu then halved the lead on 92 mins, but it was too little too late and it was the Canaries who took the three points back to East Anglia.
A reassuring attacking performance from Norwich, and against Swansea, they can take a lot of confidence from this game. It will be interesting to see how Swansea recover from this, but I'm sure manager Michael Laudrup will not let their heads drop.
 Everton 2 Tottenham 1
David Moyes' Everton have enjoyed a good start to the 2012/13 season, and continued in winning fashion against AVB's Tottenham. Tottenham weren't at their best, and they didn't play very impressive football.
It was the second half though that will get everyone talking. On 75 minutes, Clint Dempsey sent the away side cheering with a stunner from long range. Spurs' defence was still shaky, and could only hold on until the last couple of minutes.
Former Spurs' man Steven Pienaar scored a rare headed goal for what he thought secured a point for the Toffee's. However, Nikica Jelavic felt like Everton could snatch all three points, and in the 91st minute sent the home fans into raptures as his shot found the bottom left hand corner of the goal to leave manager David Moyes very pleased.
He told BBC Sport Football, "It is as good a finish as we've had. We've had a few like that where we've lost and felt low so we were due one. The position we are in the table doesn't shame the way the players have been playing, they have been doing that well."
 Results in full
Arsenal 2 – 0 West Brom
Aston Villa 0 – 0 Stoke
Southampton 1 – 0 Reading
Sunderland 1 – 3 Chelsea
Swansea 3 – 4 Norwich
Wigan 2 – 2 QPR
Manchester City 2 -3 Manchester United
Everton 2 – 1 Tottenham
West Ham 2 – 3 Liverpool
Fulham 2-1 Newcastle
Team of the Week