Probable Match preview: Real Madrid vs Bayern Munich
928 //
14 Dec 2012, 23:26 IST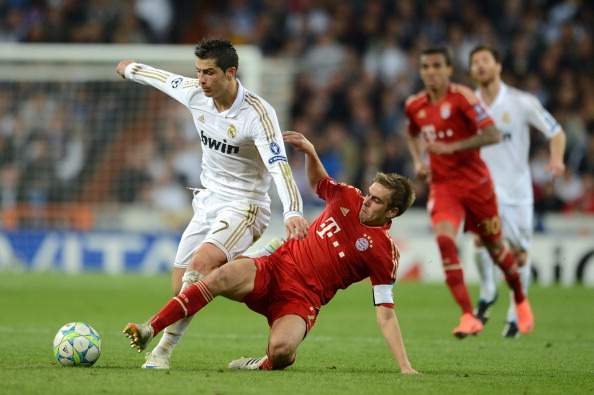 Fate has made these two powerhouses of football meet many times over in the past. The more successful of the two on paper has come out on the undesirable end a greater number of time. Whether we speak of the encounter where a fan now immortalized as the 'Madman of Bernabeu' yanked poor old Muller's matted locks just before he took a penalty (he scored, much to 'Madman of Bernabeu's annoyance), or last year, when Sergio Ramos sent the ball into the exosphere and beyond while taking a potentially decisive penalty, and it did turn out to be one, as Schweinsteiger made no mistake in converting his spot kick and making Bayern win over Real Madrid for the umpteenth time.   Whatever the result may be, any match between these two teams is a cracker, and can very well be labelled as European football's 'El Clasico'.
When I say 'many times' in the first line, I mean that very literally; the Bayern Munich- Real Madrid match has been the most common one, having taken place 14 times in the Champions League and 19 times in the European Cup. Real's biggest ever home loss in the Champions league also came at the hands of the Germans, when they beat them with a resounding 4-2 scoreline. The Madrid fans labelled the Red boys from Munich the 'Bestia Negreda' (Black Beast), since both of them were fear and competitiveness personified for them. Although their last clash ended with Real Madrid on the winning side, Bayern still went through due to their performance in the first leg and Manuel Neuer's heroics in the penalty shoot outs that followed.
This article deals with the possibility of a mouth watering clash between these two teams in the first knockout rounds of this edition of the Champions League. Since the article is dealing with probabilities and possibilities, I shall also take into account injuries and transfers that will take place in the course of the two months left before the clash. Also, to keep things short and sweet, I shall be considering the first match held at the Allianz Arena as one that ended in a draw at 1-1.
Starting XI
Bayern Munich
After Gomez's long time in convalescence and Mandzukic's successful escapades in the Bundesliga, he finally earned his place in the starting IX again. Muller could be shifted back into his role just behind the striker after putting some stunning displays of skills, with both assisting and goal scoring crossing the double digits. Kroos was pushed back into a defensive roll recently, as he could put his body into the line, and also have a mean pass or two in him. Robben rightfully took his place on the right wing, and his link up plays with Philipp Lahm, combined with Ribery's and Alaba's on the left wing make Bayern's wing the meanest and most efficient in all of Europe. The defense remained unchanged for most of the year, but they will be lacking the services of marquee signing Javi Martinez.
Real Madrid
Real are now staring at a 14-point gap between themselves and Barcelona, and any hope of major silverware rest with the cup tournaments. And after losing and tying with Borussia in their two fixtures in the Group stages, Real hope to break their jinx with German clubs, especially Bayern. With Xabi Alonso being ruled out due to a stress fracture, Jose has turned to Michael Essien to back his team. The former Chelsea man seems to be finding form similar to his under the same manager in his former club. They also plan on fielding the scoop of the season up front, having transferred him for a 50 million euro price, beating high spenders Chelsea to the punch, who put in a half hearted attempt after their own #9 started scoring at a decent enough rate. Although there has been a slight dip in the 'El Tigre's form, Falcao and Ronaldo still have a healthy one-upmanship between them, and both are scoring more prolifically than any other strike force on the planet. Mesut Ozil also rejected an offer from Manchester City, choosing glory over money, and hopes to perform well against a team fielding half his national teammates.
What to Expect
If you still didn't get it, I need to spell it out, C-R-A-C-K-E-R, how's that? After a first leg draw at the Allianz, Real have the scary advantage of the away goal, and with the inclusion of Falcao in their squad, it seems like a match tilting a bit towards Real, but for anyone writing Bayern off, I'd ask you to hold your horses, the men from Bavaria have a trump card or two up their sleeves too.
Disclaimer: This article is a purely a work of fiction, dealing with probabilities and possibilities. The author accepts the responsibility of being the awesome person he is, and asks you to kindly refrain from arguing about any further possibilities.