The central midfielder is the heartbeat of a football team. Every world-class team in the history of the game has had a generational midfielder – a player who'd step up as the team's central nervous system. Some of the best footballers over the past century have plied their trade in midfield and have driven their teams to glory.
This is a difficult list to make, and there's a ridiculous number of names to choose from. It's impossible to pick only five legendary midfielders without ruffling a few feathers, and I have probably missed out on a few great names in the process.
I'm not going to include wide midfielders and wingers in my selection. I've only picked central midfielders – the big hitters who have made a name for themselves with their machinations in the middle of the pitch. These players have hit astonishing heights during their careers and have won the most prestigious trophies that football has to offer.
We've all been inspired by the greats of the game, and I owe a debt of gratitude to the players who've made the game lovely for me to watch. I've reveled in what these players have brought to my childhood, my growth as a player and my broadcasting career.
These discussions on football's 'best ever' often land us in a world of disagreement, and you'll have to spare me my fair share of self-indulgence. This is my famous five.
---
#5 Andres Iniesta
Andres Iniesta was somebody who could thread the ball through the eye of a needle. His vision was legendary, and what set him apart from the rest of the chasing pack was the incision and precision of his passes. While his partner-in-crime, Xavi, brought an air of calm to proceedings, Iniesta complemented his teammate by taking Barcelona's game to a whole new level.
Xavi might have been the better passer of the two, but Iniesta's attacking game was exceptional. He had the footwork to die for - I'd usually find myself just sitting there applauding his brilliance. With Iniesta on the pitch, you always knew a particularly tasty pass was just around the corner.
I don't think I'll ever forget Wembley 2011. I remember Rio Ferdinand on television saying Barcelona were simply too good for them. Have we seen a better performance than that? I don't think so. Iniesta has etched himself into footballing history as a truly special player and was terribly unfortunate to miss out on the Ballon d'Or.
I've heard some people say that Barcelona's tiki-taka was boring – I can never agree with that. It was an utter treat to watch them in action as a commentator. The amount of work that goes into achieving those levels is ridiculous. Iniesta was a big-match player, a serial winner who never shirked responsibility and did what his team needed him to do.
---
#4 Xavi Hernandez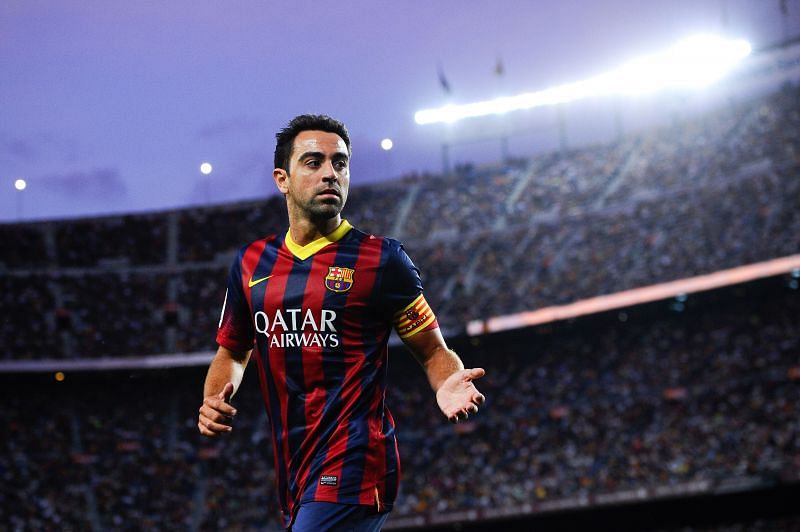 Xavi Hernandez is the best midfield passer I've ever seen. I know this statement will bring up a lot of debate, but you could scarcely argue with the maestro's ability on the football pitch. For me, Xavi is ahead of Iniesta on this list, simply because he was a slightly better passer of the ball.
Xavi was obsessed with the ball. It's surprising that he doesn't have much of a defensive reputation because he was a very good screener ahead of the back four. You wouldn't find him going into crunching tackles in midfield, but he still won the ball back because he was such a quick thinker. Xavi did play in a deeper role for Barcelona but had no problem easing up the pitch when the situation called for it.
Pep Guardiola's Barcelona side revolved around its midfield and Xavi was the focal point. He constantly asked for the ball, passed it around incessantly, and was incredible at it. Xavi's another player who should've won a Ballon d'Or, but it's understandable that he didn't win it, given the ridiculous level of competition he faced.
The fact that only Lionel Messi has more La Liga assists than Xavi is a testament to his status as an all-time great. I don't remember seeing anyone pass the ball as well as he did and I'm happy to listen to anyone who thinks otherwise, but they're not going to change my mind. He was always on the same wavelength as Iniesta, and the duo dominated every game they played for both Barcelona and Spain.
If Xavi and Iniesta played for Spain at the Euros this summer, I'd reckon they would've gone on to lift the trophy. We've all grown up on legend, and Xavi and Iniesta will likely provide enough inspiration for the next three generations.
---
Also Read: Fabrizio Romano's Transfer Roundup: Arsenal transfer news, Update on Harry Kane's future and more
#3 Zinedine Zidane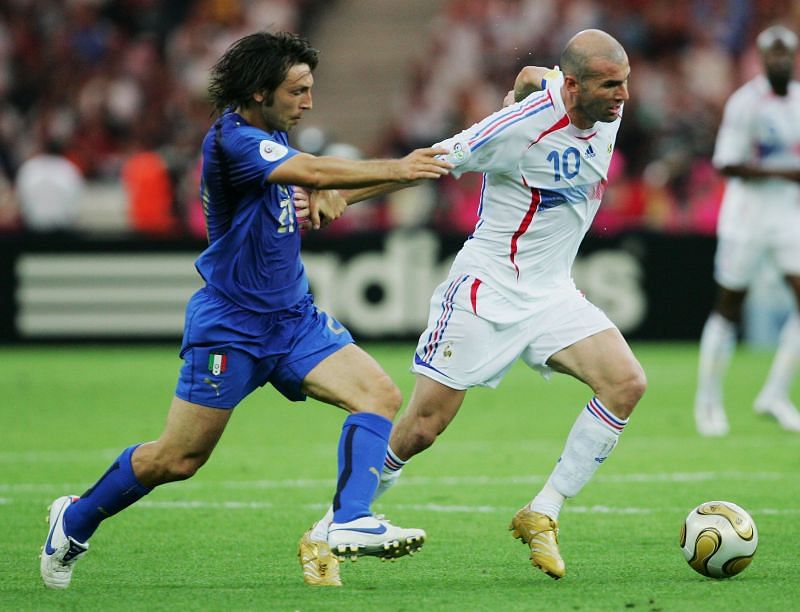 I had a commentary position when France faced Spain at Euro 2000. If there ever was an opportunity for me to truly appreciate Zinedine Zidane's greatness and skill, that was the day. My first-hand experience of Zidane's elegance and silk was immense – the man was on a playground, toying with his opponents. He had already won the World Cup and the Ballon d'Or by then but for me, that game was his magnum opus.
When some players reach a certain level of ability, they inevitably tend to become arrogant. There was never a hint of arrogance in Zidane's game, though – he was calm and composed, and played with a sense of purpose. His talent was off the scale, and it was no surprise that he moved to Real Madrid.
It's not easy being the best when you're surrounded by the best, but Zidane seemed perfectly at home in a star-studded Real Madrid squad. It was incredible how he operated – he was a massive influence on any team he played for. He could glide across the pitch with his head up, surveying the landscape for his options. Zidane's goal in the Champions League final at Hampden Park was sublime and will likely be remembered forever.
He was a very clever player on the pitch and is just as tactful as a manager, leading Real Madrid to a series of Champions League titles before taking a break from the sport. As both a player and a manager, he hung up his boots when he was at his peak and always knew when it was time for him to go.
I distinctly remember watching the 2006 World Cup final, and we could hardly believe our eyes as Zidane turned towards Materazzi. I wonder what would've happened if he'd stayed on the pitch. France may well have won another World Cup. I don't think Zidane is too bothered by it today – he had already achieved footballing greatness by then.
---
#2 Michel Platini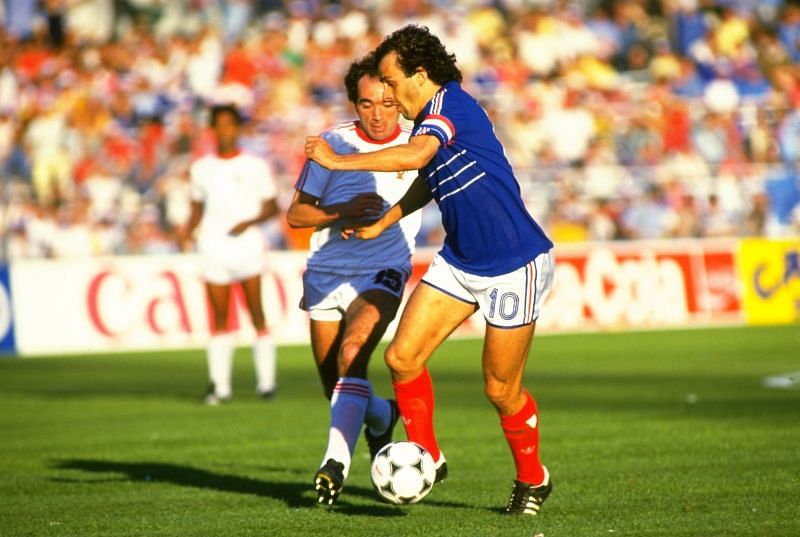 I didn't expect to ever play a game against Michel Platini. I'd gone back to my hometown in 1984 – I was already a Liverpool player by then – and I remember watching Platini tear his opponents apart at Euro 1984. He ran that tournament as France's #10 and scored nine of their 16 goals. A year later, Liverpool faced Juventus in the European Cup final, and I could scarcely believe it. Here I was worshiping the guy the previous year, and now I'm playing against him!
Platini was one of the most intelligent operators I've come up against – football never seemed to be a struggle for him. He replaced Liam Brady in a brilliant Juventus side and was a pivotal presence in the team alongside the likes of Paolo Rossi, Zbigniew Boniek, and Marco Tardelli. Boniek, in particular, would make run after run into the box, and Platini would be more than happy to ping balls into his path.
You could never afford to switch off against Platini. He was always a split second away from creating danger and was one of the most lethal opponents I've come across. Platini had a lovely natural style and always seemed to be in the right place at the right time. He was a hugely entertaining footballer and it was no mean feat putting my admiration for him aside when I played against him.
He courted a fair share of controversy during his playing days but was a joy to watch with the ball at his feet. In more ways than one, Michel Platini was a trailblazer and would often leave you in awe of his phenomenal skill set.
---
#1 Bobby Charlton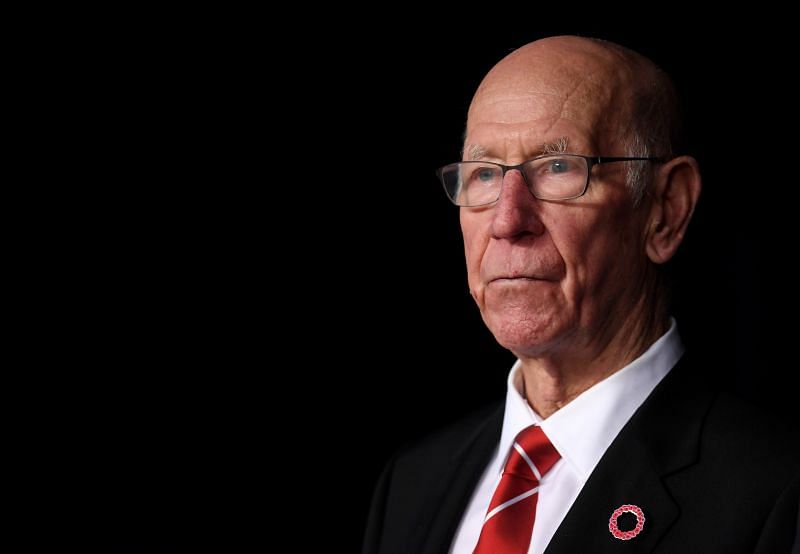 Bobby Charlton was my first hero as a kid. Growing up in a football-mad environment in Ireland, I was basically fed a regular diet of Bobby Charlton. He was my number one before I even started following an English club. Most of the guys on this list have won a ridiculous number of trophies and he's won the biggest one of them all – the World Cup.
I was eight years old when I went to my first game – when Manchester United defeated Derby County in 1972. Bobby Charlton didn't score that day, but he did play his part in the victory. It was the first time I saw Charlton in the flesh, and I found myself wallowing in the delight of being in that arena and watching it all unfold. That was the day I knew I wanted to be on this stage.
He also played for my hometown club, Waterford, for a very brief spell in 1976. I remember throwing him the ball as a ball boy and I was absolutely awestruck. I think he played only three games for us, but the mere fact that the great Bobby Charlton was representing my town was huge!
When I played football on the streets with my mates, I was Bobby Charlton. He was my dream player and I'll forever be grateful to him for inspiring me on to better things. Despite wanting to be like him as a kid, there was a certain stage in my teens when I realized I was never going to be the gallant midfielder that he was. Today, I can say that I was part of one of England's best-ever teams - Liverpool in the 1980s - and Bobby Charlton was instrumental in getting me there.
They say you should never meet your heroes, but Bobby Charlton was a true gentleman when I met him. He's achieved incredible things in his career – 106 caps for England and over 600 appearances for Manchester United. He had the respect of the world, and players like Franz Beckenbauer and Pele put him on a pedestal. I can assure you - it doesn't get much better than that.
---
Also Read: David James column - Greatest foreign XI in Premier League history
Edited by Vishal Subramanian