June 1, 2013. As Antoine Griezmann calmly side-footed the rebound into the net off the post, Real Sociedad's away fans breathed a sigh of relief among the despair at Estadio Riazor, knowing very well what was at stake that night. Lying two points behind Valencia, Sociedad had to better Los Che's result in order to cap off their third season following promotion to La Liga with UEFA Champions League qualification.
Griezmann wheeled off in celebration, in the knowledge that the goal was arguably the biggest he had ever scored. After all, the 22-year old, bought by Sociedad in 2009 when they were languishing in Spain's second division, had possibly boosted his outfit to a spot among Europe's elite, a success unprecedented in his fledgling career.
They had Alvaro Negredo to thank as well, as the Sevilla striker's four goals put Valencia to the sword and condemned them to a defeat, thereby ensuring la Real's re-entry to the continent's biggest club competition. As the young team from Basque, billed to finish the season in mid-table at the very best, hurled their manager Philippe Montanier into the air, Deportivo's gloom perfectly juxtaposed the situation, the hosts earning their second relegation in three years on La Liga's final matchday.
The state of affairs for either team couldn't have been more contrasting. Yet, the similarities between the two were uncanny. Exactly 10 years ago, the Spanish first division was far from the Barcelona-Real Madrid duopoly that the world has witnessed of late, as Sociedad and Deportivo battled hard for the La Liga title, narrowly losing out to Madrid and coming second and third, respectively.
However, from the heights of success came crashing a stark reality of their standing, as Sociedad sunk to Segunda Division in 2007. Deportivo followed suit soon afterwards, dropping down a division in the same season that incidentally saw Sociedad celebrate their return to La Liga.
Forced to tighten their purse strings while in the second division in fear of a financial crisis, Sociedad shunned hopes of excessive expenditure, instead turning to the massive potential of a vastly-talented Basque region.
"Our philosophy was: get back to our origins, start again, follow our ideals, deepen them, be who we are," insisted the club president, and so they did, backed by a loyal fan base that bought almost 20,000 season tickets even during the club's darker times in Segunda Division.
It is a philosophy that they have stuck by even following their promotion, evidenced by the fact that Carlos Vela was among only three players on the club's books this season to have been bought for any money at all. Instead, they banked on young, Spanish talent to form the core of a team, their financial prudence deservedly reaping its rewards in the current day.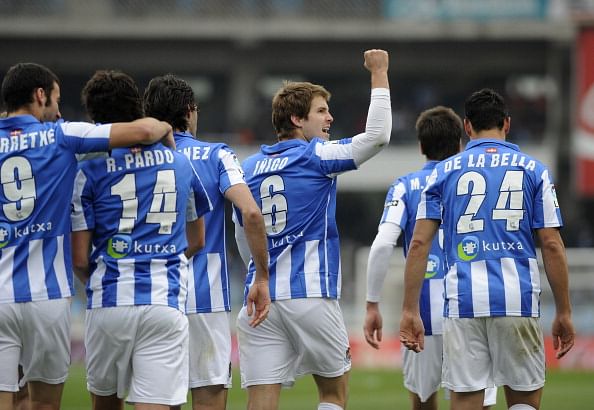 The trio of Inigo Martinez (22), Ruben Pardo (20) and Asier Illarramendi (23), all home-grown players, formed the team's crux, and are all expected to become regulars in Spain's all-conquering squad in the coming years, while seasoned professionals like club skipper Xabi Prieto and right-back Carlos Martinez lent experience to an exuberant side.
The smart signings of Vela and Uruguayan midfielder Chori Castro in the summer helped immensely as well, making la Real a team not only effective, but also easy on the eye. Many have criticised Sociedad's apparent weaknesses at the back, but they have more than made up for their defensive inabilities with their swift, counter-attacking football and clever transitions, outscoring even Atletico Madrid in La Liga this season.
Not in the same mould as Barcelona and the Spanish national team, Sociedad have not knocked the ball around their players meaninglessly for minutes together. A 51% possession average for the season hardly seems flattering for a top-four team, and neither does a pass completion of 78%, both numbers eclipsed by other sides lower than them on the league table.
The side has not looked for a star to carry them through times of trial either, with their top scorer lying in joint ninth in the overall La Liga goalscorers' table. Instead, they have built a 'team' in every sense of the word, with their inverted wingers and deep-lying forwards running at opposition defences at pace and the defence looking to release the attackers with long diagonal balls, a good reason for them having the joint-highest average pass length in the league.
Understandably, therefore, have the likes of Vela shown their reluctance to move away from Anoeta in search of a bigger paycheck. The Mexican, who could be bought back by Arsenal for a measly fee of €4 million thanks to a clause in his contract, suggested that the creative freedom and environment afforded at Sociedad would easily allow him to turn a deaf ear to Arsenal's calls, if they came looking.
"It could happen at any time, but I don't want to think about it," said the 24-year-old. "My life is here, and it's wearing this shirt that I want to discover European football next year."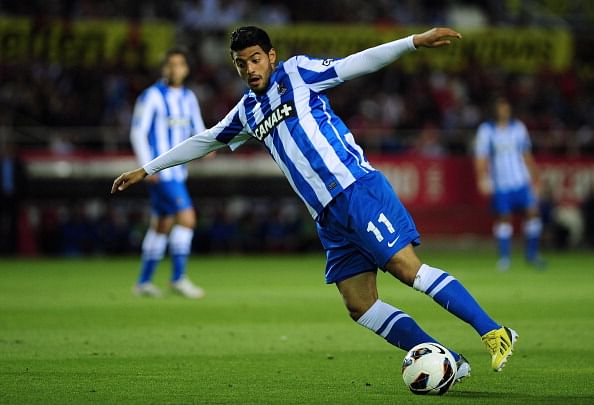 Similar thoughts are echoed by defender Inigo Martinez, who shot to fame after providing consistent displays at the back through the season, and scoring from beyond the half-line twice in two months against Athletic Bilbao and Real Betis. Despite being wanted by the brighter lights in European football at the age of 22, he wants to stick on to the club where he came through the ranks as a youth.
"Of course I will stay at Real Sociedad next season," Martinez said. "I will not miss the party of playing for La Real in Europe for anything in the world. I am very happy there, that is the club of all my life, they backed me from the beginning. Now it is my turn to return that confidence. I have a contract until 2017 and am only thinking about staying."
The season had not started very well for Sociedad, as they were hammered 5-1 on the opening day of the season by a Barcelona team looking to avenge their defeat to Real Madrid in the title race the previous term. Montanier's side were left languishing in 17th place after 10 weeks of football, having won only three and lost six, with the Frenchman then odds on for the sack. However, a massive change in fortunes saw them drop to only two more defeats for the remainder of the season, clinching a top-four berth and defeating Barcelona and drawing with Real Madrid on the way.
With a qualifying round in Europe yet to play and no guarantee of a return to the Champions League fold in a year's time, given the exertions of continental football, there is no doubt that there are challenging times ahead for the Basque club. However, the summer represents the crack of dawn for la Real, and with the future bright, there certainly could be sunny times ahead in the coming years at Anoeta.