Robert Lewandowski - Is Bayern Munich really the best club for him?
2.07K //
06 Mar 2013, 21:03 IST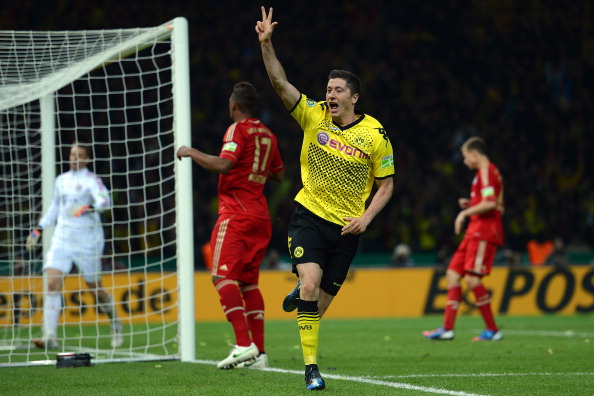 Football is a strange game they say, which is true in more ways than one. A striking legend in Andriy Shevchenko, who boasted a goal scoring record of 127 in 208 games for AC Milan in a domestic league with a reputation for being defensively minded, flopped miserably after Chelsea paid 30 million GBP for him. A few years later, when the Blues shelled out 50 million more for a mercurial Fernando Torres, it happened again.
And then there's the opposite side of the coin. An 18-year-old left-back, who was having a miserable time in Southampton colours, was offered to Birmingham for 3 million GBP. (Birmingham refused to meet the asking price.) Later, that player ended up joining Tottenham Hotspur, and today, Gareth Bale is among the elite footballers in the world. The recent story of Michu and his bargain 2 million GBP price also falls in this category. Hence, it can be assumed that the career graph of any footballer depends not only on his talent and potential but also the practicality of his transfer moves. Reputations are made and broken in a season or two.
So, amongst the most sought after names making the rounds in the transfer circuit, we take a look at one of Europe's top marksmen –  Borussia Dortmund forward Robert Lewandowski. The Polish forward has been impressing since the past two seasons both in the domestic and international circuit, may it be scoring the first goal in Euro 2012 or scoring against Real Madrid in this season's Champions League group phase. After bagging an impressive 32 goals in 58 games for Polish side Lech Poznan, the Polish poacher made the move to Dortmund, where after a slow start he fired in 22 goals in 34 games last season. This season, Lewandowski has 16 goals in 21 games, which emphasizes his consistent goal scoring credentials. Now 24, Lewandowski's excellent finishing, superb ball control and excellent aerial ability have caught the eyes of Europe's top sides. Among those are the Bavarian giants Bayern Munich. In this article, we take a look at the feasibility of the move for both club and player.

Currently the front runners to land the Polish striker, Bayern have had a reputation of snapping up strikers who have done well in the German Bundesliga. Mario Gomez and Claudio Pizarro were both bought from fellow German sides (Gomez from Stuttgart and Pizarro from Werder Bremen), and this season's man of the moment, Mario Mandzukic, was bought from Wolfsburg, another Bundesliga side.
So what exactly does Bayern have to offer to Lewandowski? Quite a handful, by the looks of it. Arguably one of the strongest sides in Europe, Bayern have made the Bundesliga title their own this season, smashing records all the way. With Pep Guardiola set to take charge, Lewandowski will be working with a man who has an excellent record of working with young players, and aiding their development from the youth team to the starting XI. Bayern's style will also suit Lewandowski well, with wingers like Arjen Robben, Franck Ribery and Xherdan Shaquiri providing excellent wing play, and a rock solid midfield in the form of Toni Kroos and Bastian Schweinsteiger who can play delicious through balls for him to thrive on. Bayern's system of breaking with wingers will be similar to the style employed by his current side Dortmund, where an equally impressive trio of Jakub Blaszczykowsi, Mario Gotze and Marco Reus provided the service. Other than that, the prospect of shifting base only to a different city rather than to a different country will appeal to him.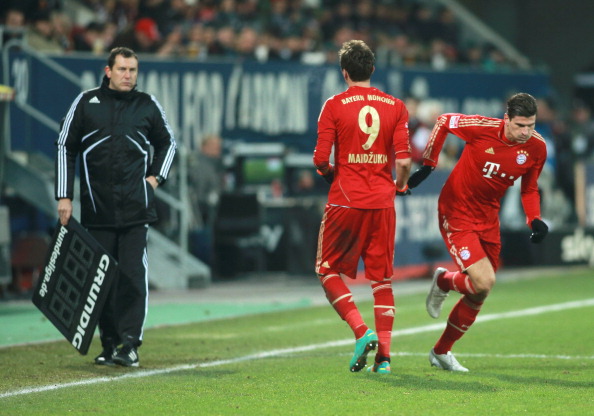 The move to Bayern though will pose a few complications. One must wonder if a Bayern side averaging 17 shots a game, and scoring 64 goals in 24 matches really needs another centre forward to boost an already eye-popping attacking unit. Even if Lewandowski does make a move, he will be competing with 2 brilliant forwards in the form of Mario Gomez and Mario Mandzukic, not to mention Claudio Pizarro who hasn't been bad either. Considering Bayern's preferred 4-3-3 formation, only one of those 4 forwards will get the nod to start, leaving the other 3 to patiently await their turn. Furthermore, considering that all 4 of Bayern's forwards will be established strikers of their national sides (Pizarro-Peru, Lewandowski-Poland, Gomez-Germany, and Mandzukic-Croatia), the competition for places will be immensely fierce. For a young forward trying to make a mark, that scenarios might not necessarily be the best option; especially amongst strikers with more experience than him.
Another factor of concern to Lewandowski, should he make the move, will be Bayern's excellent youth system. Their youth academy has produced notable names on a regular basis – Dietmar Hamann, Piotr Trochowski, Michael Rensing, Owen Hargreaves, Zvedjan Misimovic and Thomas Hitzlsperger to name a few. In the current Bayern side, Bastian Schweinsteiger, Toni Kroos, Thomas Muller, David Alaba, Diego Contento and captain Phillip Lahm are all Bayern's academy graduates. And with such a strong youth recruitment foundation and an excellent mentor in Pep Guardiola, one slip up might see him slip down a few notches in the pecking order.
Considering all the alternatives, Lewandowski has atleast until this summer to make a decision on his future. And with added interest from Chelsea, Manchester United, Manchester City and Inter Milan, he might have a fair bit of assessments to make before he makes the next move. Or he could reject all that and stay with Dortmund. That'll have the manager Klopp-ing.