Roman Abramovich: Too much Vodka or Calculated Madness?
1.01K //
22 Nov 2012, 11:29 IST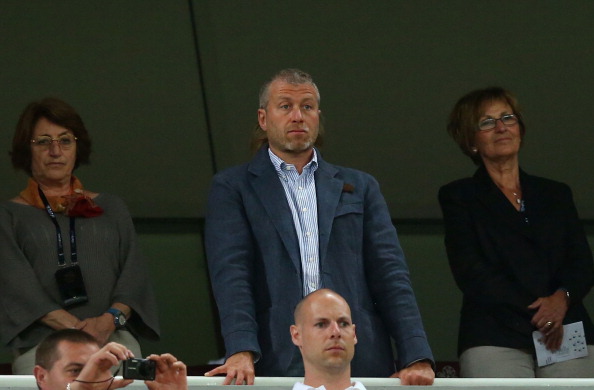 Before you read this let me just make it clear. I'm not trying to justify the decision here. I'm merely trying to fathom the reasons Abramovich might have for sacking Di Matteo.
Much as the Blues would like to ignore or forget it, the world was laughing at Chelsea Football Club yesterday. The Russian oligarch in keeping with his facial hair, made a rather sketchy decision. He called his team's Italian manager, and told him, "Roberto, all you've done in the last six months is win the first ever Champions League trophy in the club's history and an FA Cup. That's just not acceptable. You're fired." A knee-jerk reaction some are saying, to their crushing loss to Juventus in the Champions League that left their status as champions in tatters. But surely if you've made gazillions of dollars in business, you must have some rationale behind taking such dramatic decisions?
First and foremost, Antonio Conte's men deserve massive credit. Their performance in Turin was brilliant. They outplayed the European Champions and Chelsea had no answer. For that, the responsibility must lie with Di manager (see what I did there?). The result in Turin meant Chelsea had gone five games without a win. Not a streak by which a manager should be judged. But this is Chelsea. Things are different at the first of the 'sugar-daddy' clubs. The daddy demands success, of huge proportions, in an outrageous time frame. The point is, is it justified? Most commentators of the game keep reminding people that running a football club is different from running a corporate venture. The challenges are different, the timelines are different and the personnel are wildly different from your average office go-er.
This is probably a concept that Abramovich, despite being at the helm of the football club for the best part of a decade has not been able to grasp. But then, no individual in history has ever invested so much money in a football club. Nobody has tried to literally write their own history like Chelsea have. That, is where they are different. People of power at Chelsea, and this includes the players, are paid outrageous amounts even by their high standards. That brings with it, a gigantic responsibility which it seems few understand. Surely, the owner outlines exactly what he wants when he appoints his staff. The roles are defined, the objectives are set in stone. This applied to Roberto Di Matteo as well.
Roman Ambition
Abramovich has made no secret of his objective. He doesn't want to beat Barcelona. He wants to be Barcelona. That means winning the Champions League, the Premier League the FA Cup, the League Cup, the respect of the world, the admiration of an entire generation. And all that in style. Make no mistake, the team's style of play has been just as important to him as winning. Which is why, Di Matteo might still have not been the Russian's favorite person in the world even after that magical night in Munich.
Abramovich wants history. He wants a legacy. Not just statistics. He wants Chelsea to be the absolute royalty of world football and with the resources at his disposal, it's more than simply a pipe dream. That is why the performance is just as important as the result. That's the reason Inter Milan have to remind the world that they won the treble, while Barcelona are judged by the world with the treble as their reference point. Would the 1999 Champions League final be any less special if Manchester United had equalized and won it in the first half itself? You bet! They say that 20 years down the line nobody cares how you played, just that you won. But what does it tell you, when 20 years down the line, someone does remember, not just that you won, but how brilliantly you played? That is what winning is all about. That is what Roman Abramovich wants, no, demands of his team.
Right Man, Wrong Time
Roberto Di Matteo will always be a Chelsea hero, both as player and manager. After his spell at West Brom, ironically one of the teams that played as much part in his sacking as Juventus, he joined AVB as assistant when he took over at the beginning of last season. The 'project' never really got started and a defeat at Napoli after having benched Torres, Cole and Essien meant the Portuguese was out of a job by the end of February. In the process, he had alienated and fractured a dressing room full of fairly large 'personalities', which is just another word for football divas. They refused to take his philosophy on board and he didn't help his case by being abrasive and too direct in applying it. In stepped Di Matteo and immediately knew what he had to do. He united the squad, got the leaders on board and gained the confidence of the team. He showed them how to win again and win they did. The Champions League no less. The season ended on a high, but Abramovich was now stuck. The immense pressure from all quarters meant he couldn't help but give the Italian a permanent contract. But in the eyes of the owner, Di Matteo was not the man to take the club forward. There's a growing belief in the corporate world that leaders who solve problems and get you out of trouble are not necessarily the right men to then take you forward. Citigroup CEO Vikram Pandit seems to be one of the victims of this philosophy. Di Matteo, might be another.
The glory of being crowned European champions has masked the fact that they actually regressed in the league under Di Matteo. Of course, it could just be because they focussed all their attention on the top prize in Europe. But even after a summer of big spending that began with the signing of Marko Marin (yeah, remember him?), Chelsea still seemed to be lacking some form of solidity. They started very well, with the awesome threesome of Oscar, Mata and Hazard managing to combine well once they started playing together. But Di Matteo never looked like a manager who had the confidence of the boss. He would have to have a near perfect season to stay in the job till the end of the season.
The ideal solution would have been for Abramovich to risk the ire of fans and appoint a long term solution, or someone he was happy with at least, in the summer itself. This sacking has brought it upon him anyway. But hindsight is a wonderful thing and any number of things could have gone wrong with that. Having taken the decision despite not being entirely convinced, Abramovich was never going to need too much incentive to get rid of him. Poor young Robbie never stood a chance.
The timing of the decision is more than questionable, and the Londoners and their fans around the world have now got even more reason to dislike the man after he's appointed Rafael Benitez as the interim coach. But the spoilt Chelsea fans need to also remember that nine years back, Chelsea weren't even in the Champions League. Roman Abramovich has done a lot wrong, but gets very little credit for what he's done right. He's the man who b(r)ought them success after decades of being in the shadows of their more illustrious neighbours. He has spent millions on his project and frankly, having spent that kind of money, he's entitled to expect results a bit faster than most others. For people to say that the team is still in 'transition' and that they need a few more signings is quite strange. A look at squad and having watched their games, its easy to see that they're at par in terms of quality with the best in the world. In Turin, after going two down, they seemed deflated and defeated. Its not ability that they were lacking, it was belief. That is something that the manager needs to correct. It cannot be acceptable for players of that quality to accept defeat even after the final whistle, far less before it.
There is a method to his madness, which may not be entirely obvious or even popular, but Roman Abramovich might actually know what he's doing. At the time, sacking Villas Boas too seemed like a harsh decision, but no one's complaining about that anymore are they?