Satire: Chelsea to withdraw from the Europa League
2.51K //
12 Mar 2013, 23:35 IST
Disclaimer: This is a work of fiction and is not meant to be taken seriously. The views are those of the author and do not reflect those of the site.
Roman FC, or Chelsea FC as they are popularly known as, have decided after a big board meeting that they are withdrawing from the Europa League as they would rather be jeered and booed in their native tongue than in other European languages. Rafa Benitez, former Inter Milan manager, current Chelsea interim manager and overall a confused soul, gave a completely different view of the situation which he read out from a paper handed over to him by a certain Fernando Torres, who needed 4 attempts to pass the paper to Benitez as he missed on his first 3 tries and finally managed it on his fourth attempt, albeit it took a deflection off a journalist sitting in the front row.
"We have played very well since I came here, I have been booed by many but the facht remains, our position in Europe is not what it should be. We are a top top side and losing again at home would leave us with no place to hide, hence Mr Roman has decided to withdraw the team from the Europa League."
Benitez then tore the paper into pieces and went on a tirade about the situation at the club, constantly looking at the entrance of the press room in the hope that Roman would walk in.
"I just wish Roman would see me and hire me full time, so he can fire me later and give me a load of moneys."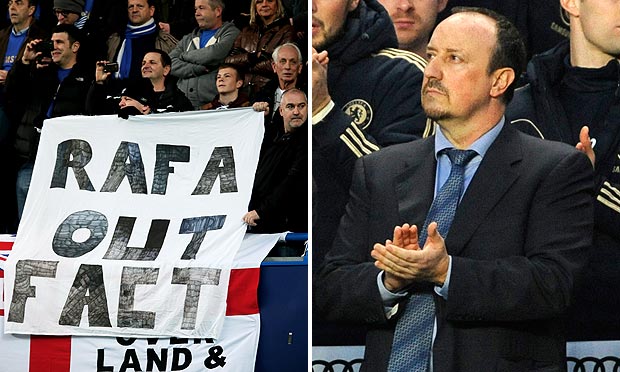 "See, we played good, we had good players, we were 2nd in the League and were in the form of our life, Torres was scoring goals for fun, our midfield was bossing every game ……Oh sorry I was talking about that one close season I had with Liverpool, did you know I won the Champions League with Djimi Traore in my team? Anyway, I think I forgot what I wanted to say, the fans waiting outside for me are singing my name ' Rafa Benitez is….' something that rhymes with 'right'."
Roman Abrahmovic, Billionaire playboy, oil mogul and someone who generally lacks facial expressions, could not be reached for a comment, although sources within the club were overheard saying that Roman carries more money in his wallet than you would get by winning the Europa League. He in fact is now thinking of purchasing the club that beat the European Champions, Steaua Bucharest, who are hoping that the big Russian with the cheque book comes and buys them 15 more Romanian League titles."
Chelsea could face sanctions from UEFA. Michel Platini, when asked to comment about Chelsea's withdrawal from the competition, said, ""Chelsea? Withdraw from the Europa League? This will lead to major sanctions for the club, how can they do this to such a prestigious competition which everyone follows. This is bigger than the Champions League any day and I will make sure that this situation is dealt with. Chelsea will get direct route to the Final of the Europa league and when they win that, we can have a triple threat match at Wembley with Chelsea. Also, Steaua will be banned from competing in any UEFA related competition, they have brought great shame to the game of football. Now please excuse me, I have a plane to catch to a certain Russian's beach party in Monte Carlo"
Chelsea Captain John "Clean" Terry was upbeat about the decision, "Having to travel so far and sit on the bench was being a pain, it's good I get to, we get to remain in London. I have this niggle in my thigh, where is that physio of ours, oh there she is…. can we finish this later?" He could not be reached for further comments.
Rival fans might be laughing at the situation but Scott Parker, Spurs Rugby midfielder, was visibly upset at not having enough hair gel for his smooth locks and was even more upset and went into an incredible 'hulk' mode when told about the Chelsea fiasco. He promptly took a ton of Spurs players to the Chelsea training ground and started a fight.
"You @$%#!#%$%, why did you enter the Champions League if you were only planning to drop down to the Europa League and then finally withdraw?"