Sir Alex Ferguson's most memorable rivalries
5.15K //
25 Mar 2013, 12:18 IST
DISCLAIMER: The opinions stated in this article are the author's alone and not necessarily those of Sportskeeda.
Here we are, deep into March as Manchester United sit on the perch with a comfortable 15 point gap over reigning champions Manchester City. If the last season could be summed up in a word, breathtaking would fit the bill perfectly. It had all the ingredients that a neutral would definitely savour. Mancini's men had disturbed the equilibrium in Manchester; but as laws of physics state, a change in a system is always led to some opposition from the surroundings. As always, Manchester United came back stronger. Last season saw Mancini's name included on Ferguson's managerial rivals list. Here's a pick of the most entertaining managerial rivalries that the Scot had to face ever since the inclusion of the Premier League.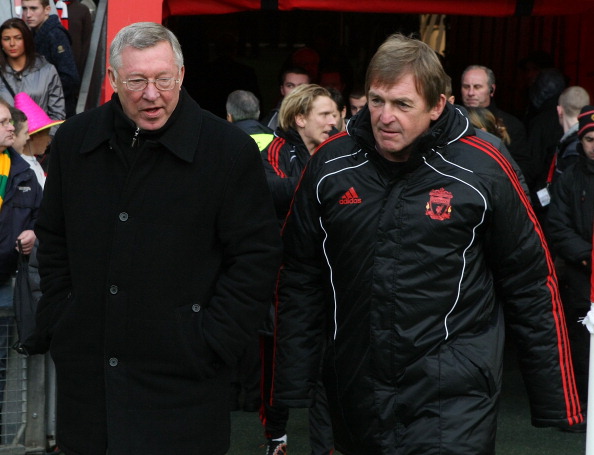 Kenny Dalglish and Sir Alex Ferguson are two men who have seen it all. One being a manager who has turned the fortunes of a club which, on inheritance, was languishing in the relegation zone, and now is the most successful English club ever. The other is a Liverpool legend. It's quite evident that hatred among the two didn't need any stirring. It would come as a surprise to every football fan if I were to state that their rivalry took off in 1969. Yes, 1969! The two first locked horns as players during the Old Firm of 1969. As young Kenny and Alex faced off, little did they know that their rivalry would last for nearly 44 years! But this section isn't about Dalglish's managerial reign at Liverpool, it's about the time when Kenny Dalglish took over the reins of Blackburn Rovers. In the early 1990′s, Blackburn Rovers were what Manchester City are today. Taken over by a Rovers fan, Jack Walker, Ewood Park was home to some of the greatest English talents to have taken to the pitch. Alan Shearer, Paul Warhurst, David Batty and Tim Flowers were all instrumental in their title-winning season. It's in this season that Dalglish finally got the upper hand over Sir Alex Ferguson. Mind games, taunts, a lot of back biting and controversies between the two made the affair more feisty. And if there were any lingering doubts about my comparison between Blackburn and Manchester City, Blackburn won the title in the dying minutes of the 1994/95 season.
Sir Alex Ferguson acted immediately by selling players such as Mark Hughes, Paul Ince and Andrei Kanchelskis, handing the baton to the younger players – Ryan Giggs, Paul Scholes, David Beckham, Phil Neville, Gary Neville and Nicky Butt. They were called 'Fergie's Fledglings'. This move by Sir Alex Ferguson led to a news-report stating:
"Fergie has finally lost it!"  
Paired with Eric Cantona, Fergie's Fledglings proved the doubters wrong by beating Blackburn Rovers to the trophy. Blackburn finished the next season at 7th and Ferguson claimed victory. This led to the downfall of Blackburn Rovers. Kenny resigned in 1999, and Blackburn were relegated in a few seasons. 1-0 to Fergie!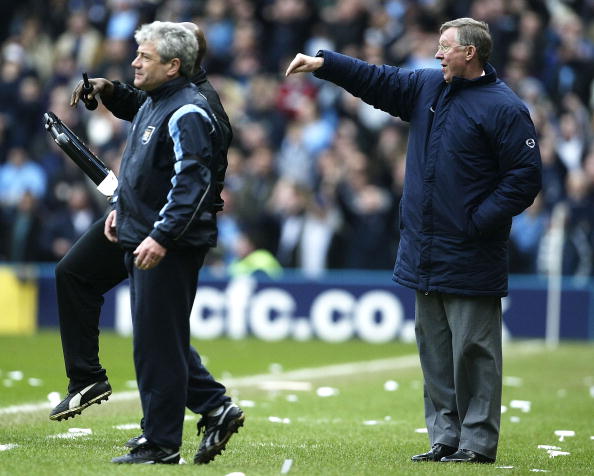 Blackburn's rise and fall curtained another story that was embroiling in the Barclays Premier League; Kevin Keegan's resurgent Newcastle United. 'The Entertainers' were a breath of fresh air and sent shockwaves around England with encouraging performances ever since they were promoted to the Premier League. Kevin Keegan and Sir Alex Ferguson had a sour relationship. After selling their top scorer Andy Cole to Manchester United, Kevin Keegan made use of their wealthy owners by signing Les Ferdinand, Warren Barton, David Ginola, Shaka Hislop and Faustino Asprilla. They were in an astonishing 12 point lead at the top when Kevin Keegan fell to the psychological mind games of Sir Alex Ferguson.
The gap kept reducing as matchdays passed, and that's when Kevin finally lost it in his famous rant stating he'd still 'love it' if Newcastle pipped United to the trophy. Unfortunately for him though, the Scot had the last laugh as they went on to beat Newcastle to the Premier League title in 1996/97. The next season saw the signing of Alan Shearer, but Kevin couldn't win the battle against Sir Alex Ferguson and resigned midway into the season. Again, Sir Alex Ferguson gained the upper hand with a youthful squad and a truckload of mind games. Keegan's departure saw the arrival of Kenny Dalglish, but the length of his reign is not something he can be proud of. That led to the decline of Newcastle United.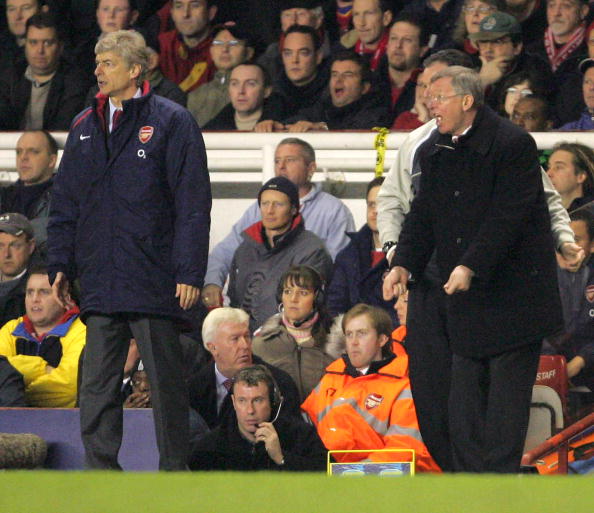 Arsene Wenger's arrival at Arsenal in October 1996 revolutionized the way football was played in England. A stern follower of possession play, Arsene struck a tactical masterclass as he implemented his style of play with relative ease. It took the Premier League by surprise and changed the complexion of the league table. But Sir Alex Ferguson is a stern observer and doesn't like any changes.
Soon after his arrival, players like Emmanuel Petite, Patrick Viera, Nicolas Anelka, Theirry Henry and Mark Overmars ensured full points at Highbury. Landing the first trophy in 1997/98, Sir Alex Ferguson was quick to reply with three back-to-back titles, including the famous treble season of 1998/99.  Many mind games followed and titles exchanged hands, but the ultimate victor still remains – Sir Alex Ferguson. With Arsenal last winning the Premier League in 2004, they don't look like a title winning side anymore. Again, another era of supremacy doused by Sir Alex.
Roman Abrahomovic has been a household name at Chelsea. Never before has an owner been so influential in any club's decision-making. His paychecks brought in great players and turned Chelsea's fortunes from being a mid-table side to title challengers. This isn't about any manager in particular, but a battle of wits vs materialism. Chelsea shocked the world with their forays in the transfer market, and again the pundits started blaming the influence of money on the game.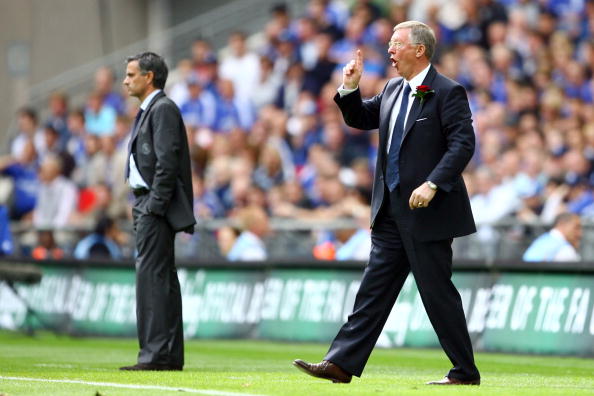 A particular Portugese though, had a great rivalry with Sir Alex during his tenure at Stamford Bridge. Jose Mourinho came into the Chelsea team after successfully guiding Porto to the Champions League in 2004. His first season in charge saw them breeze past Manchester United to land in the title in 2005. Being trophyless for three seasons isn't a regular feature in Sir Alex's resume, and he made drastic changes to his game-play to challenge Mourinho's Chelsea, finally overcoming the 'Mourinho jitters' in 2006/07. From then on, Sir Alex Ferguson has seen great managers like Avram Grant, Luis Felipe Scolari and Guus Hiddink come and go at Stamford Bridge. Carlo Ancelotti posed a threat, but Chelsea's policy of sacking managers prevented the Italian from continuing his rivalry with Sir Alex. Chelsea have not looked title contenders since then. Manchester United withstood the Chelsea revolution, and Sir Alex Ferguson again stood victorious.
Chelsea's wealth was out-staged by an Arab billionaire, Sheikh Mansour. He took over at Manchester City and began a spending spree that again raised questions about whether or not the title could be bought by money. The CEO of the Abu Dhabi group himself said,
"Investment is the only way to break the monopoly of the European clubs"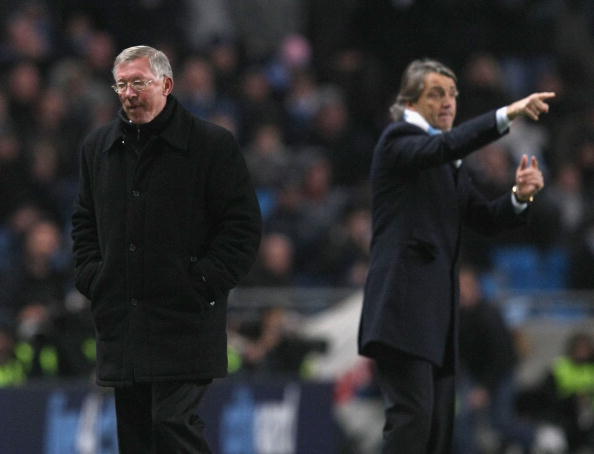 They took the whole of England by storm by winning the FA Cup in 2011 and winning the Premier League title with the last kick of the season, having done so with a 'never say die' attitude which is often attributed to their cross-town rivals. All these instances made many people believe that Fergie had finally met his match in Roberto Mancini. But just when we start to write the Scot off, he comes back stronger. Pulling off a major coup by signing Arsenal's Robin van Persie could well be the difference between the two teams in Manchester. It's too soon to write Manchester City off as title contenders. But it's just remarkable to think that he gets better and better as he ages. The age factor has never affected his job, and he still sits supreme as the man to beat.