The Footy Mumble: Clattenburg cleared, Fergie trolls Chelsea!
1.27K //
23 Nov 2012, 18:04 IST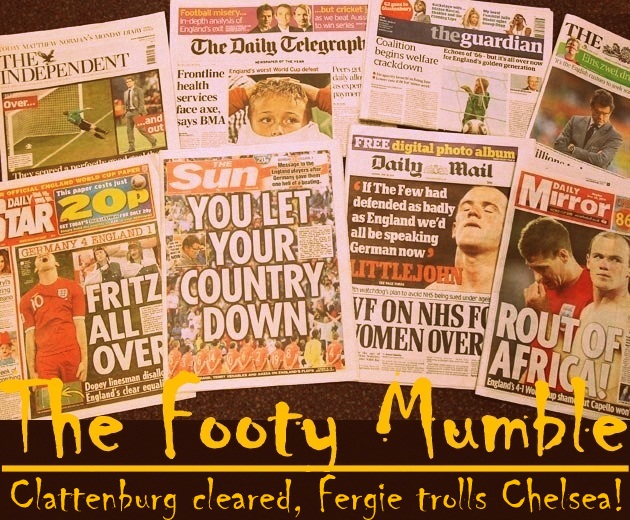 Clattenburg cleared, Mikel charged
In an expected but still amazing turn of events, referee Mark Clattenburg has been cleared of the racial abuse charge, which was alleged by Chelsea earlier this month.
The F.A investigation finally cleared Clattenburg, and found no evidence to support the charge other than Chelsea's Ramires' statement.
While that was quite obvious from the beginning, the F.A has also announced its decision to charge John Obi Mikel of using abusive language towards the referee in a confrontation which reportedly happened in the referees' room after the match on October 28th.
Mikel has already accepted the charge and requested a personal hearing to conduct his defense. If found guilty, he could be banned for up to 3 games.
Unsurprisingly, Chelsea have offered no apology to Clattenburg (not for the first time, is it?), who is reportedly considering legal action against the club.
In today's video of the day, we bring to you not a stupendous goal, like we usually do, but an incredible save by Udinese goalkeeper Zeljko Brkic in their Europa League clash against Anzhi Makhachkala.
Sir Alex Ferguson has taken the occasion of his 26th anniversary at Manchester United as a chance to dish out a few marvellous jokes, all pointed at his favorite rivals, both at the managerial level and at club level, which of course is Chelsea and Rafa Benitez.
Here are a few quotes from his pre-match (against QPR) press conference today:
On Rafa Benitez: "Benitez has been trying to get a job for a long time."
Also, "Benitez is very lucky because on his CV in 2 weeks' he could have 2 world titles to his name – and had nothing to do with either team."
Now on referee Mark Clattenburg being found innocent of racial abuse: "Everyone is pleased for Mark. Except for Chelsea."
Boy, those were good!
Liverpool bad boy Luis Suarez, who was away from the spotlight for a little while, has now found himself back in one after being called 'an embarrassment' by Swansea defender Ashley Williams.
"He dived more than any other player I've played against before – it was so bad I was genuinely shocked," wrote Williams in his new book.
"His behaviour was embarrassing. The sad thing is that he's a brilliant player and I rate him very highly, but he just possesses this temperament that I can't stand to see in a fellow footballer."
Join the club, Mr. Williams.We have been saying that for months! Or was it years?
City for Zaha, Drogba's Chelsea return dashed
And in today's transfer news, Manchester City are the latest club to be linked with a move for Crystal Palace starlet Wilfried Zaha. (Considering they were probably the only club not to be linked with the winger so far, that's no surprise!)
Any ways, the winger will cost around £20 million according to Palace, which means he will probably be sold for close to £15 million.
Chelsea might have successfully appointed Benitez, but have missed out on the alleged resigning of Didier Drogba on loan.
The striker had requested special permission from FIFA for a loan move outside the transfer window, which has been rejected.
Chelsea will now have to wait till January for a new striker then (IF the rumors of Drogba returning to Chelsea were true in the first place!)